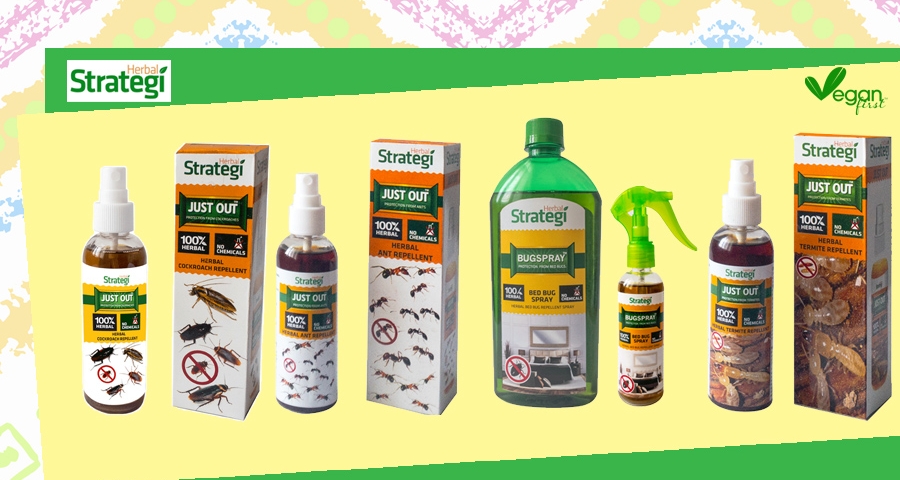 100% Herbal and Cruelty-free ways to Keep your Home Pest-Free!
While many people consider black ants a lucky omen, cockroaches, termites and the dreaded bed bugs are a different situation altogether. Whether you're afraid of them or just want your home to be pest-free, there are quick and easy solutions thanks to Herbal Strategi. We're talking about repellents that are absolutely herbal, non-toxic, chemical-free and cruelty-free – keeping you and those little bugs safe. These products don't just make tall claims, but actually, work. What we really appreciate about these repellents is that anyone can use these products in the house, you don't have to be a specialist or have to call in pest control. So, let's have a look, shall we?
1. Just Out – Herbal Cockroach Repellent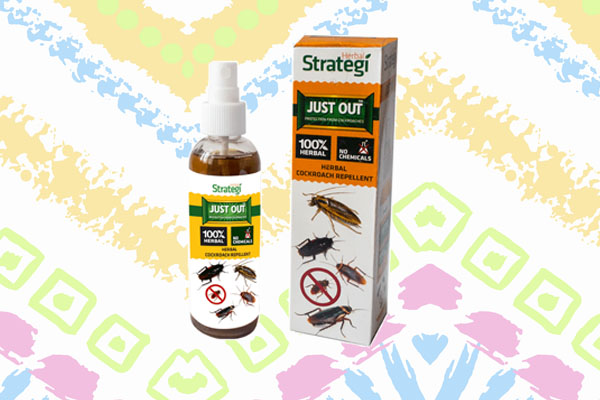 This cockroach repellent is not just 100% herbal but using this spray will help to ward off cockroaches from ever entering your house. Yes, you heard that right. If you use this spray for 10 consecutive days, cockroaches will naturally be repelled for upto 4 months, after which you can do the treatment again. The spray needs to be used on a surface (e.g kitchen counters, under sinks and bathrooms) so that it can form a "seal" around the house that naturally gets rid of cockroaches.
Buy the 100ml here and the 500ml, which comes with a refill pack here
2. Just Out – Herbal Ant Repellent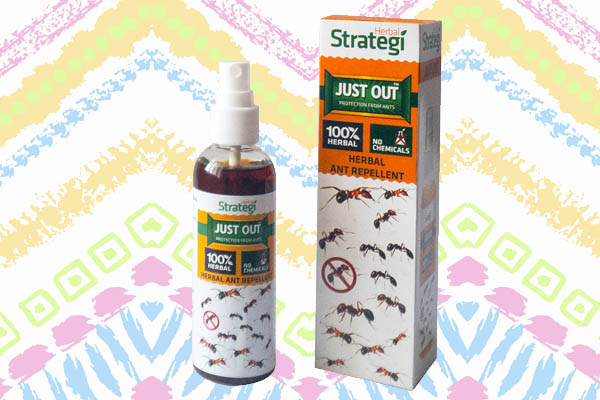 Similar to the cockroach repellent, using this ant repellent spray for 5 consecutive days will get those ants marching away! Since it's a 100% herbal and won't kill the ants or harm you in any way, it is a safe alternative to traditional chemical filled repellents. Spray this repellent on areas that are frequented by ants, you can even use it directly on the ant hill to ward them off from your home or garden.
Buy the 100ml here and the 500ml, which comes with a refill pack here
3. Just Out - Herbal Termite Repellent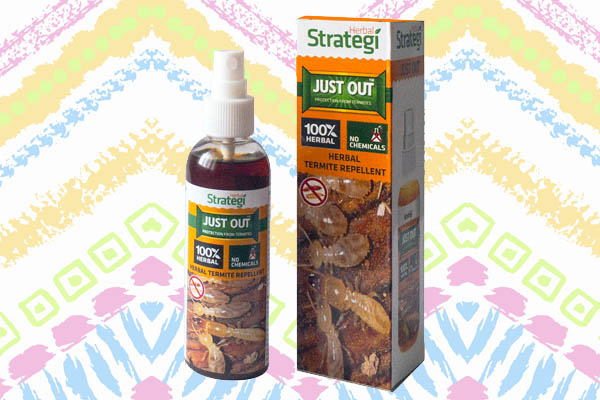 Termites can really create a huge havoc to your lovely wooden furniture. They are also extremely difficult to get rid of and often require harsh chemicals. When you're quite literally fed up of seeing these guys crawl out of the woodwork, then you're ready to try this simple solution. Just Out herbal termite repellent spray can get rid of termites in 2 months without those chemicals that are toxic to both the bugs and yourself. Spray on the areas affected by termites every 10 days for 2 months and the termites will naturally be repelled and not hatch their eggs.
Buy the 100ml here and the 500ml, which comes with a refill pack here
4. BugSpray – Herbal Bed Bug Spray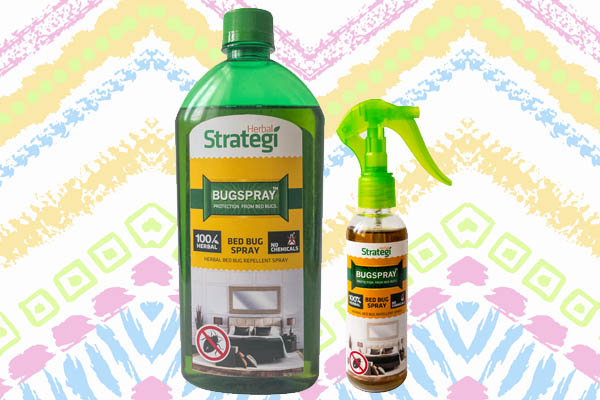 How do you know you have bed bugs? A clear indicator is when you wake up with bite marks, which don't look the same as mosquito bites. Secondly, when you begin to suspect, you will start to see these little creatures on the mattress. Don't throw out your mattress just yet, there is a solution to safely remove bed bugs without going overboard on harsh chemicals. The BugSpray by Herbal Strategi is 100% herbal and non-toxic yet very effective. The spray prevents re-infestation and doesn't allow the eggs to hatch, plus it gets rid of existing eggs, nymph and adult sized bedbugs.
Buy the 100ml here and the 500ml, which comes with a refill pack here. This one also comes in a 1 ltr bottle, which is handy for multiple mattresses.
5. Mosquito Repellents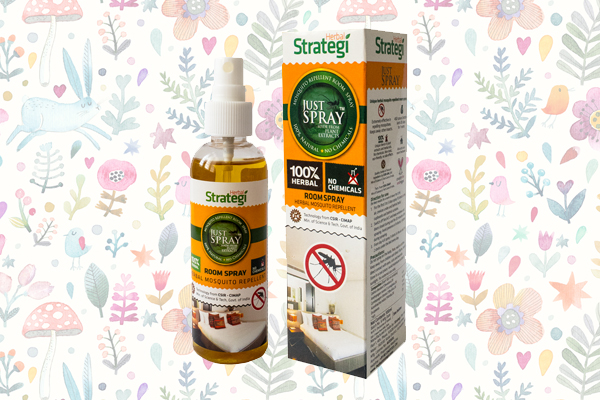 The biggest pests of them all have to be mosquitoes, and with Herbal Strategi's Just Spray – herbal mosquito repellent room spray, it is so easy to get rid of them. Using this product continuously for 3 to 5 days, has shown results - in fact we've used this in the Vegan First office, and can vouch that our mosquitoes problem isn't as bad as it used to be!
Buy the 30ml and 100ml here and the 500ml, which comes with a refill pack here.
If you need more solutions for your mosquito problem, we did an article on how to effectively get rid of mosquitoes earlier in the year with the use of sprays and incense sticks. Since that article, we've gotten tremendous feedback saying that those products work and are suitable for even the most sensitive and allergic people (and pets) in the house.
It's great that there are viable and effective pest control solutions available at our fingertips. Not only is it cruelty-free but also worry-free as it's safe to use around loved ones. If you've got a pest or household cleaning problem that you need help with, check out Herbal Strategi, they've got great alternatives.
Like this?
Read: Bollywood Actor Ayesha Takia to Launch Vegan restaurant 'Plant'
AUTHOR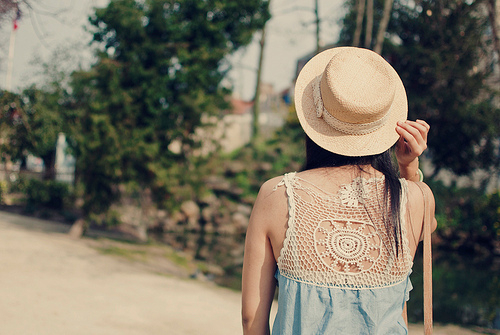 trending
Be a Vegan First Informer
Send us buzzworthy news and updates
related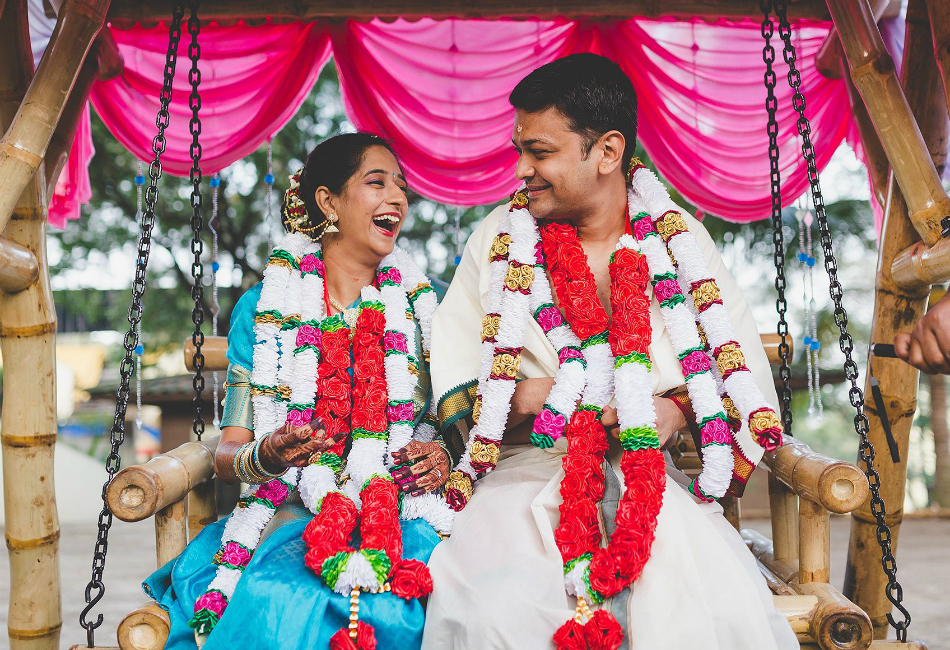 Shasvathi & Karthik's Vegan and Eco-friendly Wedding Will Definitely Inspire You!
3.8 K