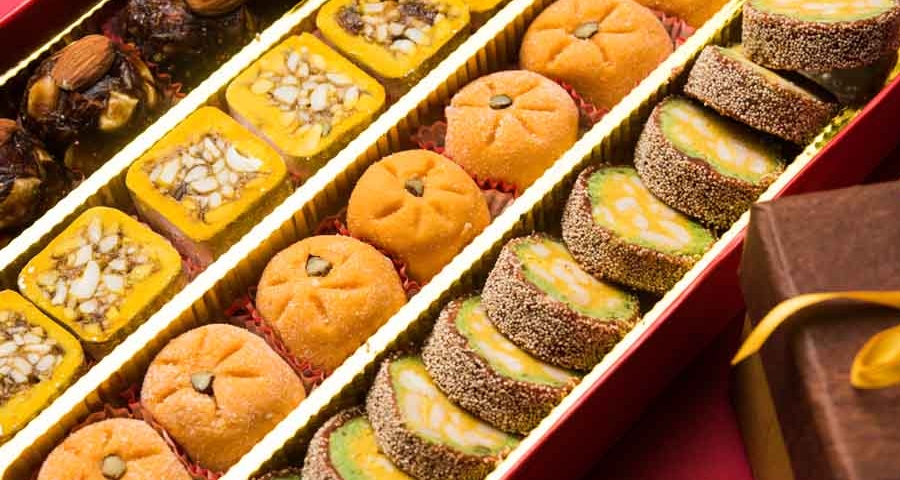 12 Vegan Sweets Vendors you can Order from this Diwali
Diwali is upon us, a time where everything looks festive and joyful - nights packed with teen patti, family gossip and of course, mithai. While most traditional mithais like kaju katli, petha and soan papdi are usually vegan, you do have to double check with the vendors to make sure that there is no ghee or any animal products used. If you're going the healthy route then a mixed box of dry fruits and nuts are always a safe bet. Weight watchers will have to take a bit of a break from their diet, especially with our list of amazing sweets and savoury products that are perfect for gifting (and eating)!
1. Cherry On top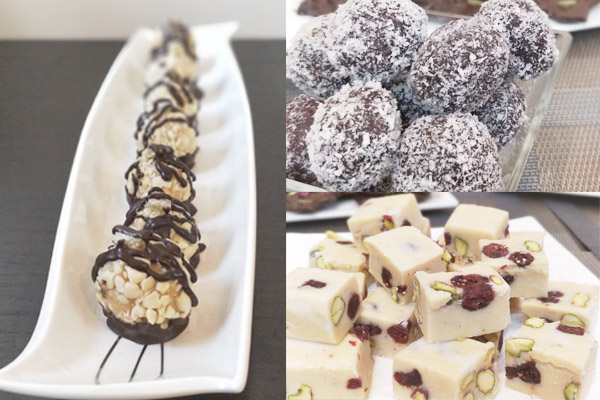 Image Courtesy Cherry on Top
Description: A home bakery based in Gurgaon run by Swati Arora.
Addres: Gurgaon, Haryana
Contact person: Swati Arora - 9899362240
Products and Price:
1. Bitter Chocolate Truffles, Rs 900 per box
2. Bitter Chocolate Truffles with coconut flavour and dusted with shredded coconut, Rs 900 per box
3. Peanut butter Thai flavoured truffle coated with roasted peanuts, Rs. 600 per box.
4. Dark chocolate fudge with wasabi nuts and caramelised almond and cashew, Rs. 1000 per box
5. Cashew and peanut butter fudge with cranberry and pista, Rs. 1300 per box
6. Dark chocolate Barks with cranberries almonds and rose petals, Rs. 500 per pack
7. Cheesecake, available in strawberry, mango and cherry and mixed berry flavours, Rs. 150 for single serve cups. For full cake Rs. 250.
8. Gulab Jamun made from Sweet potato, Rs. 1000 per bowl
Available Delivery: Delhi
2. My Pure Path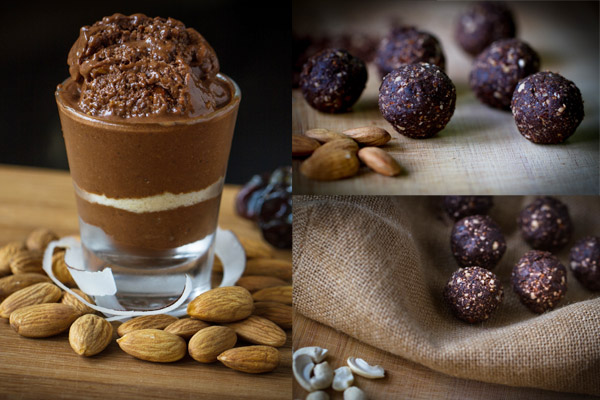 Image Courtesy My Pure Path
Description: A tiffin and catering service in mumbai that offers healthy oil free meals and treats.
Address: 201, Iris Apartment, 2nd floor, Ghatla Village Road, Opp. Agri Samaj Hall, Chembur (E),
Mumbai, Maharashtra 40007
Contact Person: Mayavi & Shishir Khandelwal Ph – +91 98206 24122 / +91 98195 16503
Products and Prices:
1. Cashew Chocolate Truffles, Rs 375 per 250 gms
2. Almond Chocolate Truffles, Rs. 375 per 250 gms
3. Chocolate Almond Ice cream, Rs. 1350 per Kg
Available Delivery: A charge of Rs. 200 per delivery in Mumbai. Pan India also available with extra delivery charge.
3. Vijay Sweets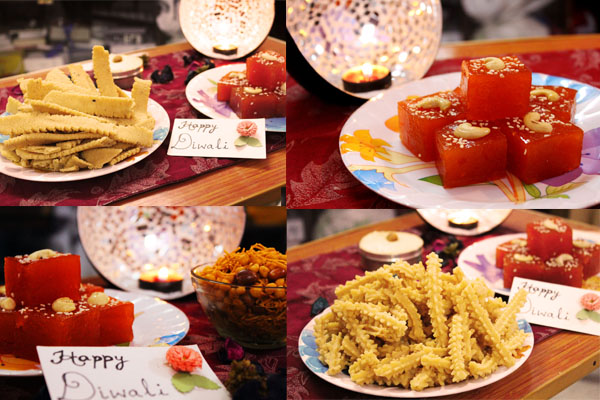 Image Courtesy Vijay Sweets
Description: Vijay sweets is handled by Aravindhan, who is a home chef that loves to dabble in namkeen and desi sweets. They are currently coming up with more vegan sweet options in the near future
Address: Coimbatore
Contact Person: Aravindhan - 9750755869
Products and Prices:
1. Cashew Halwa, Rs 70 per 300 gms box
2. Namkeens, Rs 200 per Kg
Available Delivery: Pan india, prices vary upon delivery city. Above prices don't include delivery charges.
4. Kadhali (Gluten Free)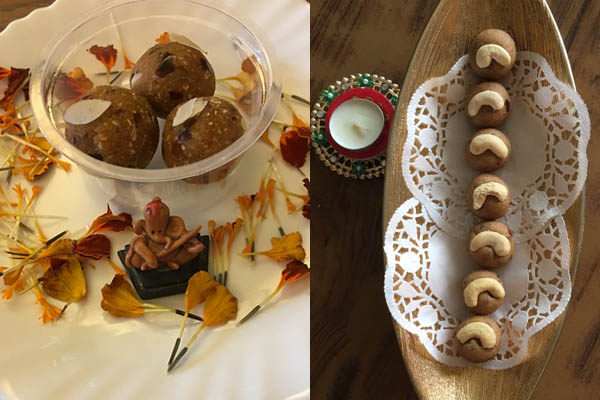 Image Courtesy Kadhali

Description: Namrata Shastri started Kadhali keeping in mind healthy living and eating. All their products are Gluten free and delicious.
Address: Mumbai
Contact Person: Namrata Shastri - +91 98212 46373
Products and Prices:
1. Besan Ladoos - Rs 600 for 12pcs
2. Gulab Jamun, Rs 70 per pc, 10 pcs in a box
3. Rabdi angoori, Rs 800 for 20 small pieces
4. Coconut Ladoos, Rs 550 per box (12 pcs)
Available Delivery: Pan india, prices vary upon delivery city. Above prices don't include delivery charges.
5. Back to the Basics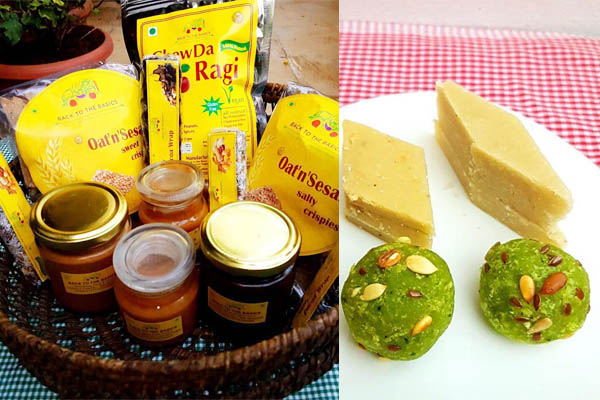 Image Courtesy Back to the basics

Description: Back to the Basics was founded by author Anuradha Sawhney. They offer up oil free, gluten free, sugar free and vegan alternatives and products. Find out more here
Address: Uday Baug, Pune
Contact Person: Back to the Basics - 020 6522356
Products and Prices:
1. Boondi Ladoo, Rs 790 for 12
2. Coconut Guard Barfi, Rs 700 for 12
3. Mixed Basket Hamper, Rs 1750
4. Gajar Badam, Rs 400 for 250 gms
Available Delivery: Pune and pan india, prices vary upon delivery city. Above prices don't include delivery charges.
6. Bakeart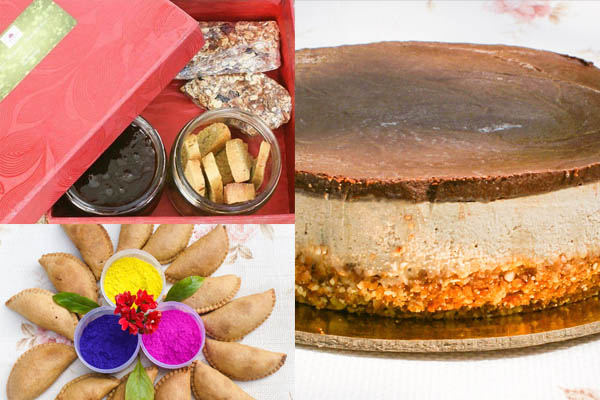 Image Courtesy Bakeart
Description: This bakery in Delhi has been serving up plant-based delights for a while now, offering up some of the best cakes in the city. We wrote about them a while back, check it out here.
Address: Vasant Kunj, New Delhi
Contact Person: Bakeart - 096426 00005
Products and Prices:
1. Diwali Box - Chocolate, Almond and Walnut Cake, Rs 850
2. Diwali Box - India Sweets Besan Ladoo, Kaju Katli, Rs. 1400
3. Diwali Box - Dry Fruit Cake, Rs 1000
4. Diwali Box - Cheesecakes, Rs 3000
5. Diwali Box - Cookie, Rs 1350
6. More options - Click here
Available Delivery: Delhi and Pan india, prices vary upon delivery city. Above prices don't include delivery charges.
7. JustBe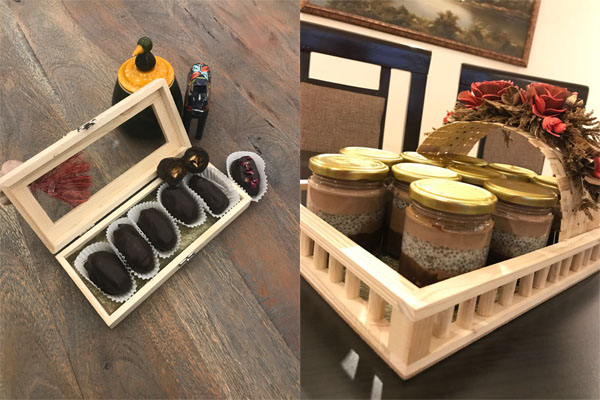 Image Courtesy Justbe
Description: Justbe is a restaurant in Bangalore, that hosts many events and has amazing vegan food. For more info check out our review here.
Address: Justbe Cafe, 383/31 13th Cross, Sadashivnagar, Bangalore: 560 080, Bangalore, India 560080
Contact Person: Justbe - 90081 19999 / +91 95138 04561
Products and Prices:
1. Choco-Chia Pudding, Rs 200 per piece
2. Amaranth Payasam, Rs 180 per piece
3. Choco-Crillon Pie, Rs 350 per Piece
4. Date with Chocolate, Rs 70 per piece
Available Delivery: Bangalore
8. Carrots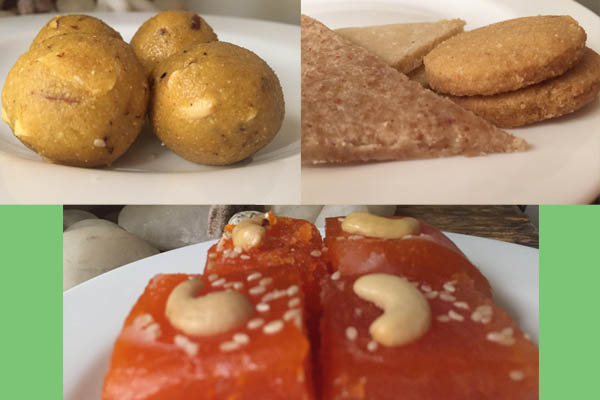 Image Courtesy Carrots Restaurant
Description: Bangalore's first vegan restaurant, a happy place that serves up incredible food and hosts fun meetups.
Address: No. 607, First Floor, 80 Feet Road, 6th Block, Koramangala 1st Floor, Bangalore, India 560095
Contact Person: Carrots - 80 4117 2812
Products and Prices:
1. Diwali Box Rs 130
Box includes: Almond Burfi, Cashew Halwa, Besan Ladoo, Cashew Barfi, vegan butter cookies
Available Delivery: Bangalore, anyone around 5 km from Carrots can call the restaurant directly. Rest can order through Dunzo or Supertext app.
9. Grainny's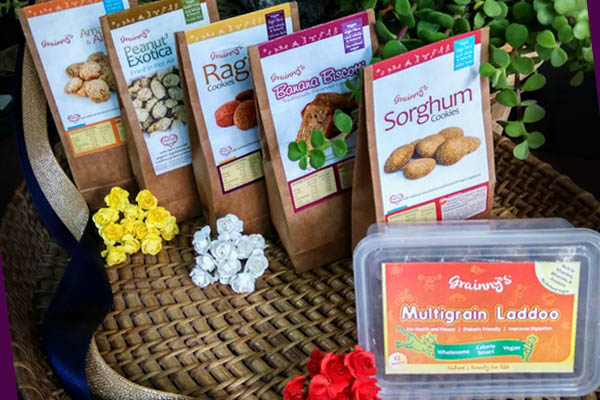 Image Courtesy Grainny's
Description: Vegan+Organic+Chemical free+whole grain+ nutrition balanced bakes and bites. Select from cookies, air-fried Namkeens, Dryfruit laddoos, and energy bars. Be assured, Grainny's is 100% free of processed ingredients like sugar, oil, and chemical enhancers.
Address: All India, Online
Contact Person: Call - Shikha (7042533155) / Manas (9810609616) for details, or write to sales@grainnys.com
Products and Prices:
1. Classic Granola Bars, Rs 120 per box
2. Multigrain ladoos, Rs 170 per box
3. Sorghum Cookies, Rs 120 per packet
4. Trail Mix , Rs 100 per packet
5. For more options click HERE
Available Delivery: Pan India, shipping charges are extra
10. Dessert Safari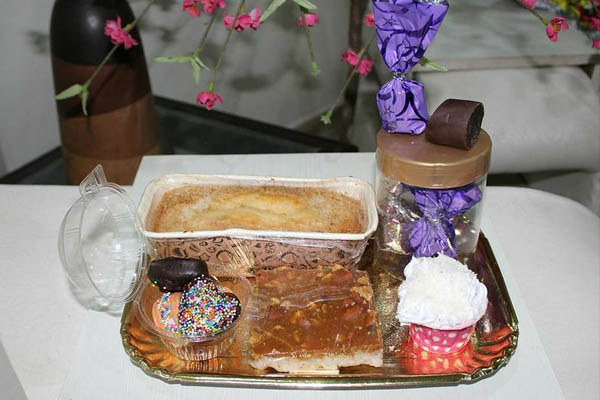 Image Courtesy Dessert Safri
Description: Dessert Safari is a bakery located in West Delhi, founded by Suruchi Arora and Specialises in vegan baking and desserts.
Address: Saraswati Gardens, New Delhi - 1100015
Contact Person: Call - 99589 48455
Products and Prices:
1. Macarons - price on request
2. Chocolates - price on request
Available Delivery: Delhi
10. Rare Earth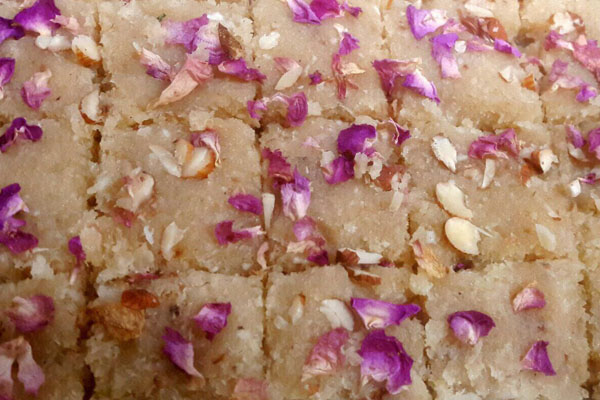 Image Courtesy Rare Earth

Description: Rare Earth has a physical store in Khar, Mumbai, offering vegan alternatives and substitutes from various brands. They will be launching their e-comerce site soon.
Address: Sethi Nivas,4th road, opp.axis bank,khar west,
Contact Person: Shammi - 9820030868 or visit the store
Mumbai, Maharashtra 400052
Products and Prices:
Rare Earth is offering a Diwali Feast!
All rates as per 250 grams
1. Kopra pak - Rs.280
2. Kopra barfi - rs.280
3. Kheer - Rs.250
4. Besan Halwa - Rs.250
5. Besan ladoo - Rs.320
6. Sevaiyan kheer - Rs.250
7. Kesar peda - Rs.400
8. Amaranth coconut barfi - Rs.300
9. Kesar barfi - Rs.325
10. Cashew rawa ladoo - Rs.280
11. Kaju katli - Rs.350
12. Chocolate kaju katli - Rs.350
13. Fruit & nut barfi - Rs.450
14. Gulab jamun cake - Rs.350
15. Coffee choco chip blondies - Rs.140 a piece
16. Baked karanji - Rs.280
17. Malai peda - Rs.350
Available Delivery: Mumbai
11. Haldiram's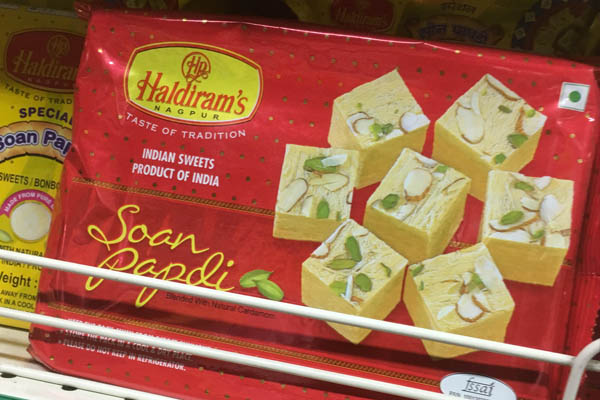 Image Courtesy Haldiram's
Description: One of india's largest distributors of sweets and namkeen snacks. While not all their products are vegan, some of them are accidentally vegan, but please check the ingredients before buying.
City: All India
Contact Person: N/A
Products and Prices:
1. Soan Papdi, Rs 230 for 1kg
Available Delivery: All Accross store in India
12. Navdurga Sweet Corner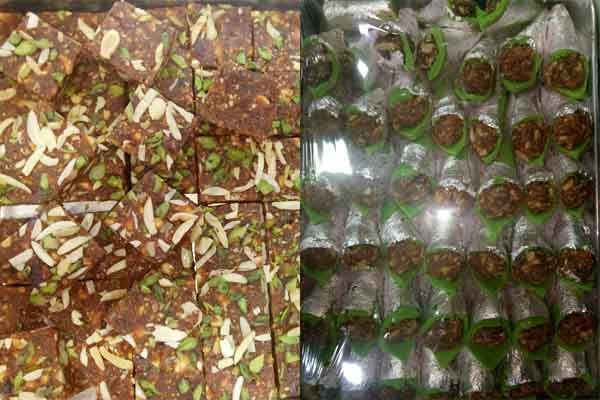 Big thank you to Mayank Agarwal for this amazing find!
Description: Local sweet shop in Jodhpur that offers up delicious and traditional sweets that are all vegan.
Address: 17/394 Chopasni Housing Board, Jodhpur (Rajasthan)
Contact Person: 9829025221
Products and Prices:
1. American Nut (made with Anjeer) - 780 / kg
2. Anguri Petha - 220 / kg
3. Dryfood Laddu - 780 / kg
4. Kaju cutlets (little blurry image) - 780 / kg
5. Kaju Katli - 730 / kg
6. Kaju Paan - 780 / kg
7. Kaju Pista Roll - 780 / kg
8. Kaju Samosa - 780 / kg
9. Paan mithaii – 320/kg
Available Delivery: Jodhpur
Your products not on this list? Drop a comment with the items you sell and we will include you in our list from now!
AUTHOR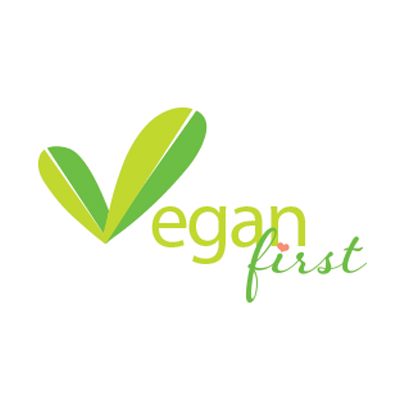 trending
Be a Vegan First Informer
Send us buzzworthy news and updates