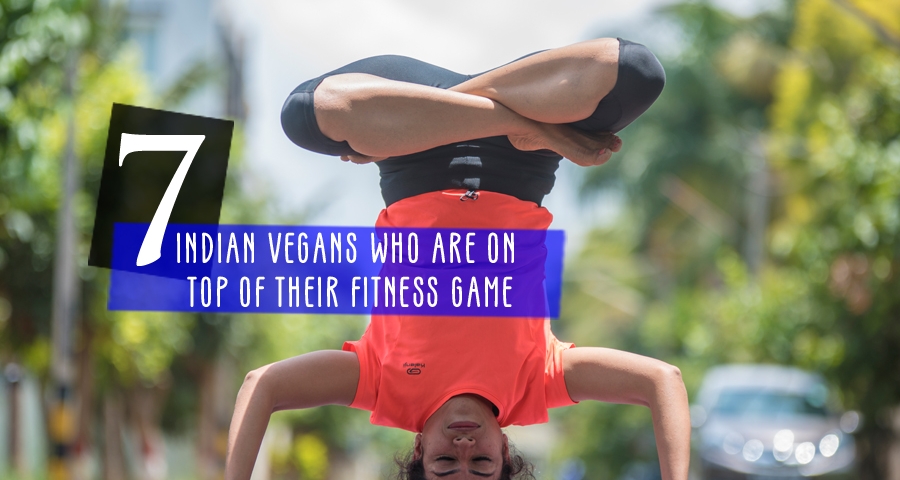 7 Indian Vegans who are on Top of Their Fitness Game
Ever tried telling the world you're a vegan who intends to do intense fitness training? The instant (and almost always skeptical) answer is "No way! You are too weak, you eat only vegetables." Well, hello again self-proclaimed nutritionists.
We have been conditioned to believe we need eggs/chicken/dairy to give you protein and thereby strength. On the contrary, a well-balanced plant-based diet, as a matter of fact, leaves you with more energy!
We've all heard of hugely successful athletes like Mike Tyson, Murray Rose, Robert Cheeke and others who are smashing it in their fields on a raw vegan diet. Tennis thunderbolts, Serena and Venus Williams too.
But coming back home, there has been a steady rise in the number of athletes and fitness trainers who swear by wholesome plant-based diets. They are indeed proving to the world that it IS a myth that nature cannot provide the nutrition we need to be an athlete.
It's time to debunk many myths, and who better to do that than these inspiring fitness enthusiasts? Read on!
Aman Duggal, Nutritionist
Aman has been active in fitness and sports since his college days and has always taken it seriously. His usual routine of exercising includes weight training, football, dumbbells and a bit of yoga. He turned vegan in 2014, after an epiphany that animals have feelings too. His diet is a balance of fruits, nuts, huge bowls of yellow dal, white rice and chapatis.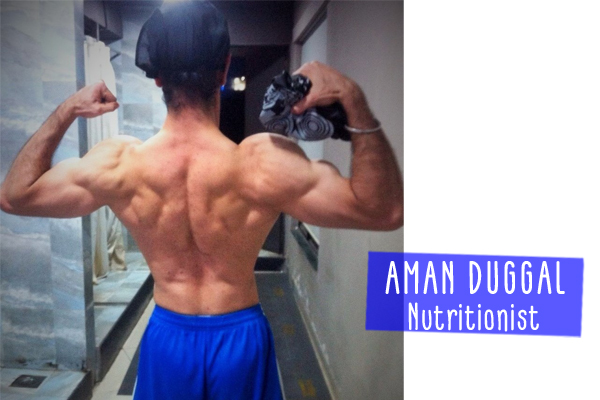 "The body concerns itself with nutrients, not the source of the nutrient"
As a qualified nutritionist, he charts out personalized vegan diets for his clients. When asked about the difference in his fitness-centric life after turning vegan, he is quick to infer that he is a lot more at peace and is more confident in his decisions!
Umang Singh, Executive at Honda
Meet this fitness enthusiast from Rajasthan, who went vegan overnight because of weight issues. From a worrisome 103 kgs, Umang is now down to just 68 kgs thanks to a great diet and the right kind of exercises. He spends anything between 45 to 80 minutes at the gym every day, focussing on compound exercises such as weights, pull ups and abs work out. Not only does he take great care of his body, he also draws up exercise plans for others.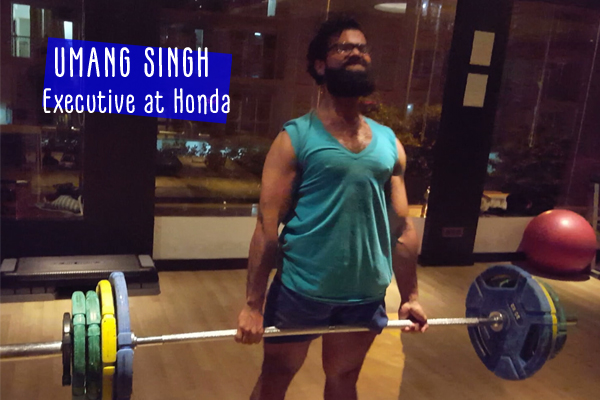 "Cannot destruct others (animals) to construct myself"
Umang adheres to a diet that is high carb and low fat. Oats, fruits, legumes, multi-grain breads and tofu form a major portion of his food intake. In fact, he's almost always on a 50% raw vegan diet.
Nikita Solanki, Yoga Trainer and Triathlete
Though it's been only 11 months since Nikita turned vegan, she can vouch for a huge difference in her energy levels after eliminating dairy. In 2015, she got into cycling and also completed a teacher's training course for yoga. "I cannot go a day without doing yoga", she passionately says with a smile plastered across her face. Apart from yoga, she also does combinations of cycling, swimming and jogging. Apart from yoga, she regularly does her triathlon practice, which is swimming, cycling and running. Thanks to Sharan for all the nutritional advice.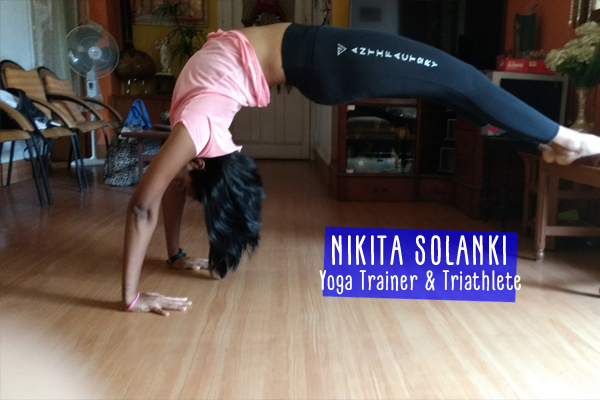 "Be instinctive, listen to your body. All we humans need is plant based food."
Twice a week, she follows a strict raw Vegan diet, which includes fruits and salads. Fruits being her favourite, she also ensures high carb diet, which includes brown rice, beans, pulses, etc. Chaat being her weakness, once in a while, she indulges in pani puri and bhel. Oil, sugar and refined foods are another no-no for her. She keeps challenging herself with various endurance sports. The magic of veganism according to Nikita is you get to eat a lot, and yet feel light.
.
Amit Mehta, Entrepreneur – Unived vegan sports nutrition products
Amit's day begins at 5 am with long runs and exercise, and weight training on select days. His diet includes Unived's pea protein in smoothies, peanut butter sandwiches, brown rice and a lot of vegetables and sometimes happily indulges in pizzas and chaat. He strongly advices against whites and sugars.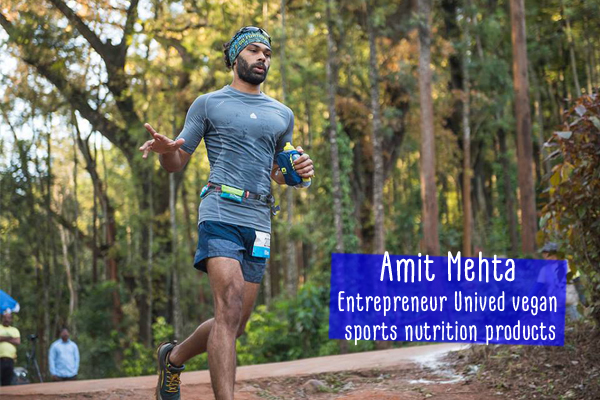 "Take a 2-week test, it doesn't take your body longer to adjust to a cleaner diet. Your body will talk to you and will start appreciating it."
Following his father's footsteps, Amit's interest in body building began a long time ago. He started going to the gym when he was 13 and did eat a lot of meat. After moving to Australia for higher studies, he got introduced to the world of veganism and quickly took to it. 10 years have passed and recently, he has taken it one step ahead by starting a vegan sports nutrition products company called Unived! Guess it's time to stop complaining about product unavailability, right? Check it out here.
Subhashini Ramaswamy, Trainer and Nutritionist
3 years ago, Subhashini saw a video highlighting animal cruelty, which turned her into a passionate vegan overnight. Ever since there has been no looking back. After the birth of her third child, Subhashini wanted to get fit and that's when her relationship with fitness began. Today, she is a certified nutritionist through Cornell University, certified by Reebok as a trainer, as well as an ACE certification in yoga.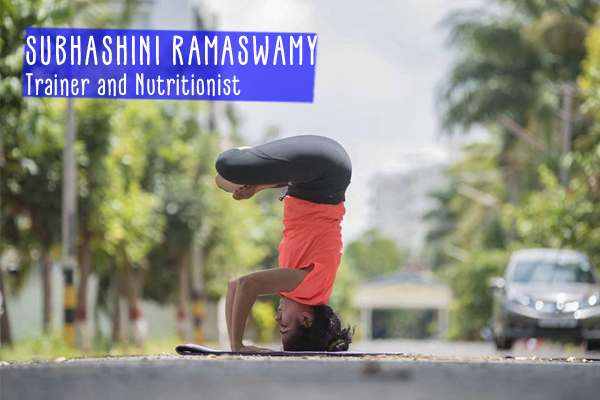 "We are physically incapable of digesting animal products. It is nothing but cholesterol – neither healthy nor nutritious."
Drawing inspiration from Michael Greger and his work on nutrition, Subhashini suggests a healthy and wholesome vegan diet to her clients as well. Her main focus area is yoga, and running comes next. South Indian food is her favourite cuisine, paired with an array of fruits. She maintains an arm's distance from oil, and strictly follows a high carb low-fat diet. Enthused by her passion, her kids are vegan too!
Roshni Sanghvi, Bikini Fitness Competitor, and Online Trainer
For Roshni, fitness did not come naturally. She had to take over a family business of running gyms and that was her entry into this world. Today, she is all about fitness and is fantastic at it. She actively participates in national level fitness competitions and beams with pride when she finds herself to be much more energetic than her fellow contestants thanks to her high-carb low-fat plant-based diet. She regularly does weight training clubbed with a cardio session, conducts a number of online training sessions and spends her evenings organizing boot camps.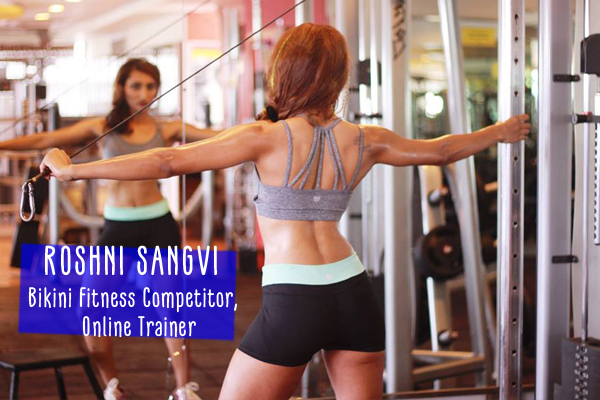 "Fit is not a destination. It is a way of life.."
While she avoids wheat and almost all things processed, her diet largely consists of hummus, rice, lots of vegetables, pasta, tofu, different types of smoothies and nice creams. She joyfully relishes a couple of 'cheat meals' a week too!
Sathish Waran, Fitness Trainer at LIC and International Table Tennis Player
A talented international table tennis player, fitness has been a part of Sathish's life for over a decade now. He works part time as a fitness trainer at LIC, and is also actively involved in rescuing animals along with a group of his friends. That's not all: Fit-o-crazy is Sathish's entrepreneurial venture, a gym that provides physical as well as mental fitness and strength to their clients.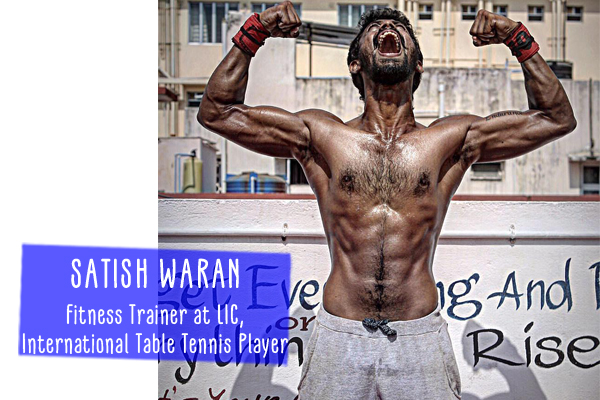 "Never say no without giving it a shot."
His diet is a mix of idlis, green smoothies, sandwiches, vegetables, channa and other pulses, and a good portion of white rice. With a never-say-no attitude, Sathish is inspirational in many ways than one!
You see? It is absolutely possible to indulge in any form of fitness you wish to, while enjoying a delicious and wholesome vegan diet.
AUTHOR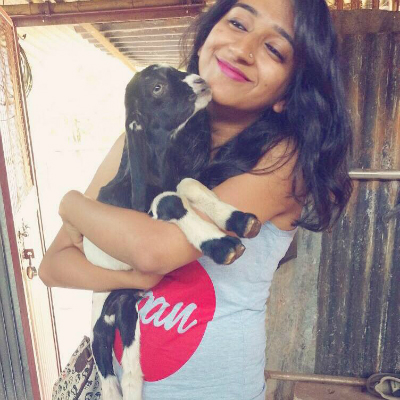 trending
Be a Vegan First Informer
Send us buzzworthy news and updates
related
Meet Kuntal Joisher: A Vegan Mountain Climber Who Conquered Mt. Everest!
3.3 K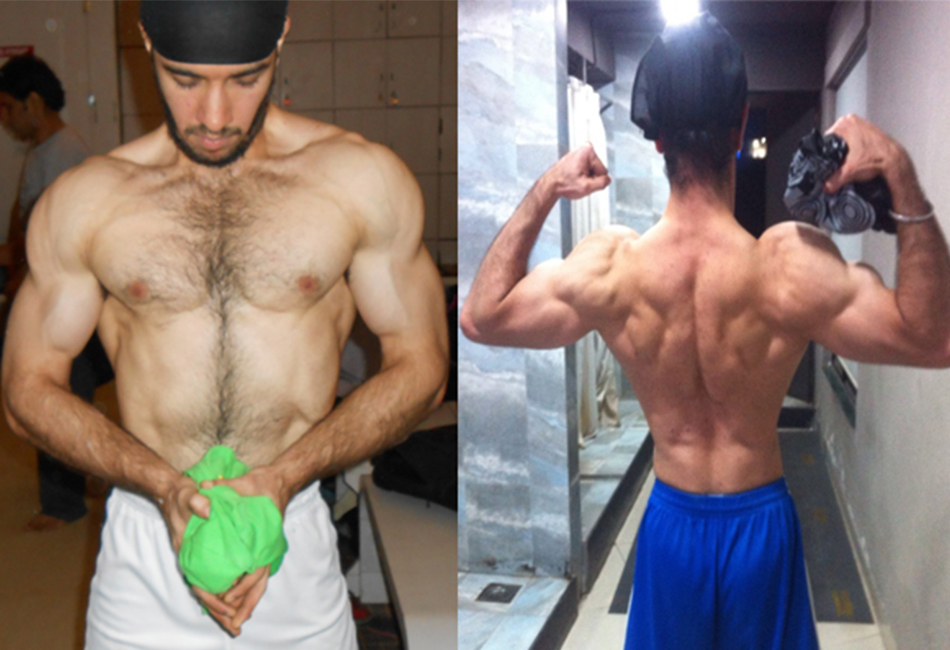 Fitness Coach Aman Duggal Shares A Scientific Approach Towards A Vegan Diet.
7.1 K