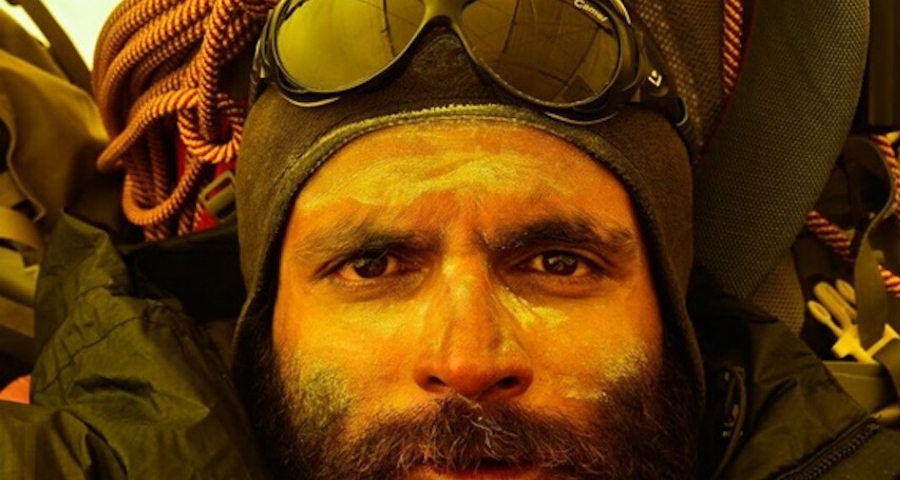 Meet Kuntal Joisher: A Vegan Mountain Climber Who Conquered Mt. Everest!
The first vegan to climb Mt. Everest - Kuntal Joisher
Kuntal Joisher had pretty much broken the Internet when news about his triumphant climb on Mount Everest spread like wildfire. The world has known of many mountain climbers summiting the world's highest mountain, but never have we witnessed a vegan successfully climbing it before.
We sit with Joisher, a humble man, at his Mumbai residence to discuss how his journey began, what kind of training he had to go through, and how his experience was all the way through the top.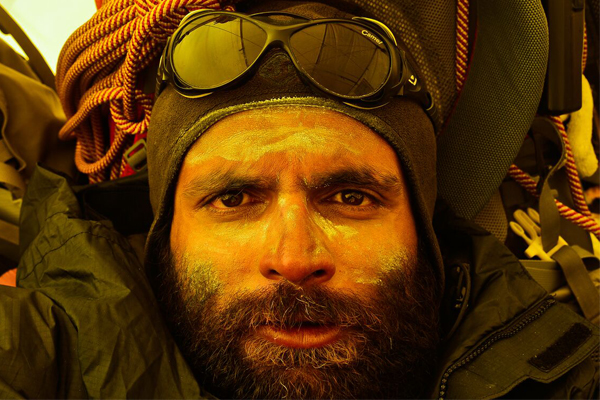 Photo Credit: Kuntal Joisher
"I wanted to climb Mount Everest on a vegan diet or not at all." - Kuntal Joisher
VeganFirst (VF):
This was your third try to climb Mt. Everest. How did your family react to this decision?
Kuntal Joisher (KJ): I guess the apprehension laid in the fact that anything can happen to me while I was on the mountain. I explained to them that I possessed all the necessary skills, have undergone meticulous and detailed preparations, and have trained myself to overcome any issues that can occur. Even though everyone was against it at first, my wife, Deepti, and my mother supported me till the end.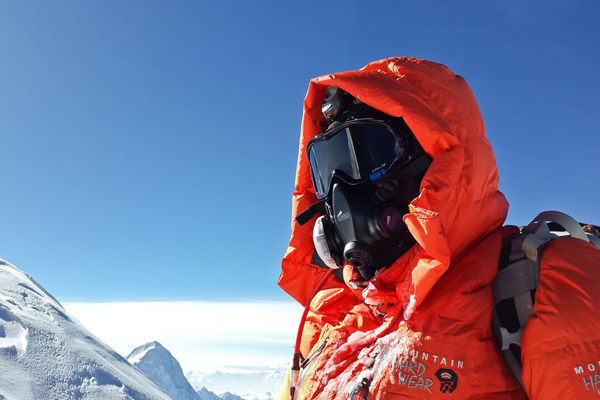 Photo Credit: Kuntal Joisher
VF: Why do you think it was crucial for you to do this?
KJ: Mountaineering is a part of me. I know there are risks involved but I love myself too much to do something irresponsible. I never take unnecessary risks on the mountain as it's no place to be a hero, which means, no dangerous selfies. Of course, there are certain things that I can't control, but the ones that I can are my priority; avalanches, storms, and things falling apart can't stop me.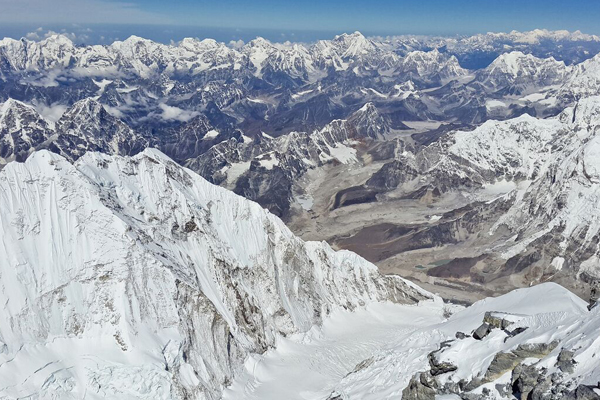 A View from the Top. Photo Credit: Kuntal Joisher
VF: You say your wife supports you with everything. Is she a vegan too?
KJ: She's a vegetarian. But she's never asked me to convert.
VF: So do you prepare your own meals?
KJ: Most of the times, as I don't want them going out of their way to prepare my meals. We have worked out a way that is easier on all of us, and 90% of food cooked at home is vegan. We've stopped using ghee and butter for sabjis, rotis, and parathas.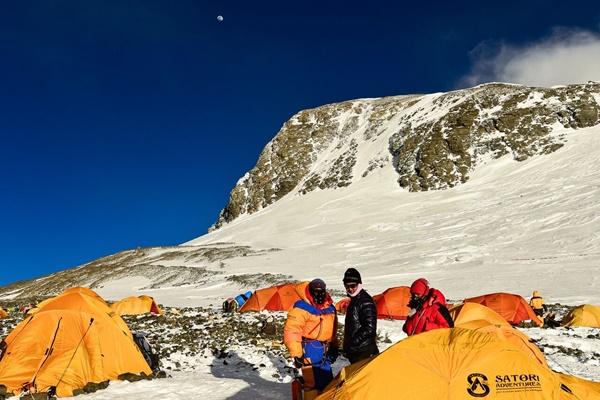 Camp Four. Photo Credit: Kuntal Joisher
VF: And what about when you started your training? What was your diet like while you were training?
KJ: I was a junk food vegan and I'd eat pav wada, pav bhaji, pizza, burgers, and deep-fried food. But during my training, it all had to be stopped as I couldn't sustain tough workouts on a daily basis. I knew I had to make a drastic change in my diet, and that's when I contacted Lindsay Nixon from Happy Herbivore. She advised me to go on a low-fat, high-carb diet. So I'd eat dried fruits, vegetables, fruits, beans, lentils, and whole grains. My breakfast would either be red poha, oats, or chickpea omelette. For lunch, I'd eat a salad with lots and lots of vegetables. Sometimes, I'd have steamed cauliflower with homemade vegan yogurt or daal and aamras; but no rotis or chapatis. During my training, I survived on a variety of vegetables and fruits. This type of diet worked for me as climbing a mountain for 6-8 hours a day is taxing. But, I had to do it again the next day. This diet helped me achieve that.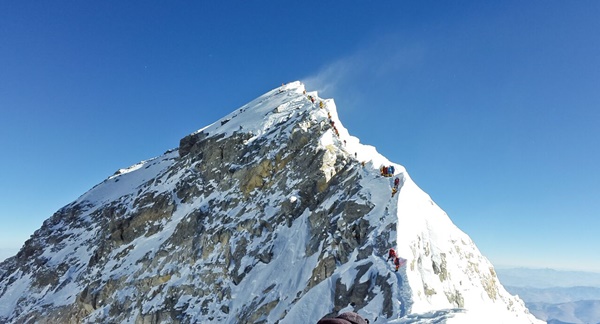 Photo Credit: Kuntal Joisher
VF: Now that you're back, did you have to alter your diet?
KJ: Right now I'm eating junk food for a few weeks. I'm the brand ambassador for Unived and I'm taking their protein powder supplement. Along with the pea protein powder, I take vitamins B12 and D3 as most vegans and vegetarians have the deficiency.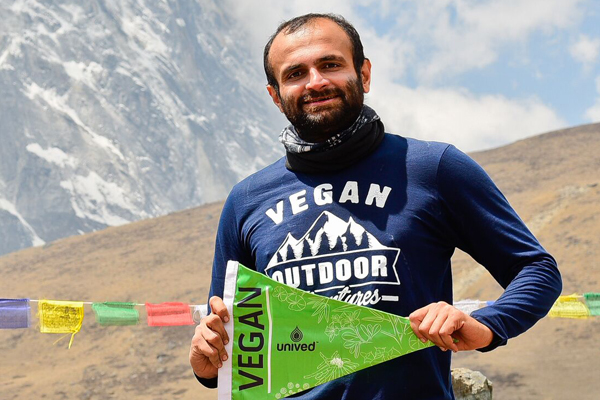 Photo Credit: Kuntal Joisher
VF: Would you say vegans face more issues in terms of energy while mountaineering?
KJ: No, never. Most people are under the impression that vegans can't compete with non-vegetarians when it comes to climbing mountains. There were 3 climbers with me who ate non-vegetarian food every day. I never had it, but summited Mt. Everest same as them.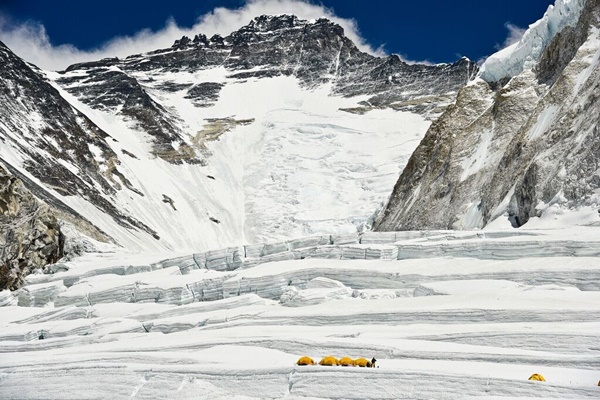 Photo Credit: Kuntal Joisher
VF: So basically, you proved everybody wrong. Now, let's talk about what you ate on the mountain.
KJ: At Base Camp we ate almost everything—pav bhaji, dosa sambar, and paratha sabjis as we had access to fresh vegetables. However, once we started going higher up the mountain, there was no gas or fresh vegetables. There was only a small butane gas burner with which we would cook frozen dried meals in boiling water. I knew that and this time I packed vegan dried meals specifically made by a U.S. company called Outdoor Herbivore. I brought 21 dehydrated and lightweight meal packets like chia pudding, pesto pasta, oatmeal, etc. This is what I did till Camp 3, as after that, the oxygen level decreases so much that you don't feel like eating solid food. Which is why most people prefer drinking soup to get the necessary calories. I personally don't like soups, so I skipped it and focused on gels instead. There are 150 calories in a single, compact gel which are filled with carbs and electrolytes. The other things I ate were Oreo biscuits and dried kiwi from packets.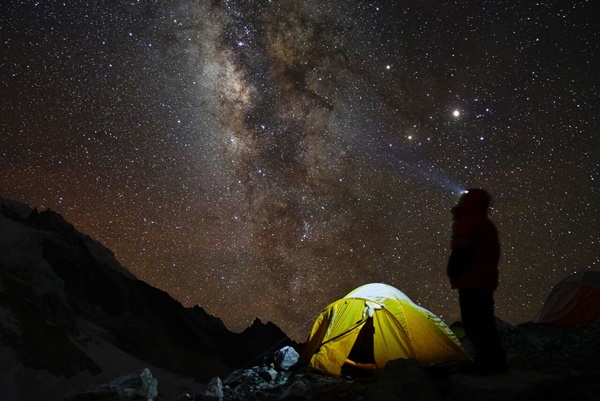 Photo Credit: Kuntal Joisher
On the summit, I drank half a litre of black tea with sugar. It's all about basic math; my body needed 15-18 thousand calories on a typical summit day. That is how much you need in a single 20-hour push on Everest. And of course, there is no way anyone can eat that much at such a high altitude because at that point you are just running off the reserves from your body. It's just about getting enough calories your body requires.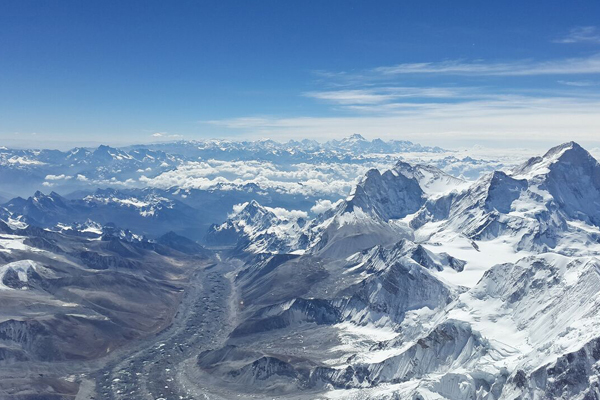 Another View from the Top. Photo Credit: Kuntal Joisher
VF: What was your main reason to go vegan?
KJ: In 2002, I was in the US for my Master's in Computer Science where my roommate exposed me to the horrors of dairy and egg industries. Till that time, I was okay with eating chocolate and cakes with eggs, but didn't eat omelette. My roommate noticed it and suggested that I read some articles. After that moment, for me, there was no difference between a piece of meat and a glass of milk. In a way, I feel that non-vegetarians are better than vegetarians as the animals they eat are killed and their sufferings end instantly. Whereas the dairy animals are kept alive for a longer time and exploited for as many products they can get as possible. As soon as I came to this conclusion, it was difficult for me to reconcile with my current actions as I didn't find eating cheese and drinking milk wrong. However, I knew I had to change my ways and becoming a vegan was the only thing that would bring me inner peace. And the first thing I did was donate every non-vegan item at my place to homeless people.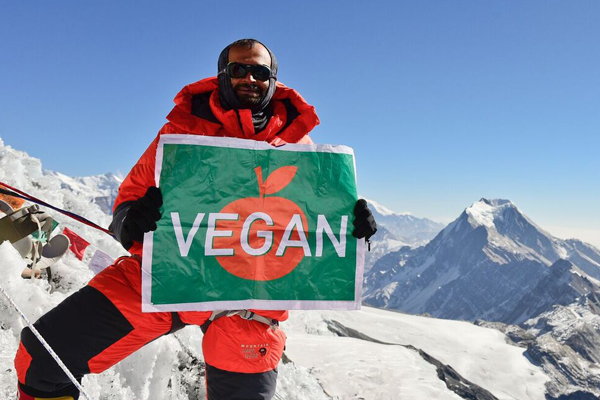 Photo Credit: Kuntal Joisher
VF: How long did it take to make the transition?
KJ: It was fairly quick; I just got rid of all the non-vegan food and made the transition instantly. The initial months were tricky as I was the only vegan at my place. My roommates supported my decision in theory, but they couldn't help me find alternatives to certain foods. I went through a lot of online forums to educate myself. I figured that even though I'm struggling to find as much information as I possibly can, in the end, was all worth it as the animals weren't exploited or tortured because of me. After about 6-8 months, I was well-versed on vegan food and restaurants. Growing up in Mumbai, I always hated milk, ghee, and butter. So giving up these 3 things were easy for me. On the other hand, it was tough to give up sweets, ice cream, and cheese. But I knew I had to stay committed to the cause and gave it all up. After a while, being vegan becomes second nature; it becomes your life.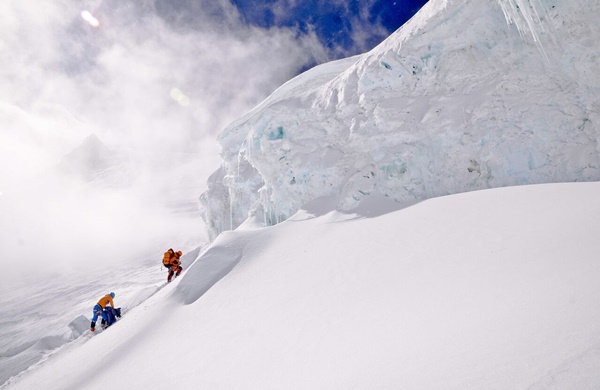 Photo Credit: Kuntal Joisher
VF: Can you tell us about your previous 2 attempts at climbing Everest? What were those experiences like?
KJ: The first time I tried to climb Everest was in the year 2014. I remember that on April 18, there was an avalanche in the ice wall which killed about 16 Sherpas. After this horrific incident, all the expeditions were called off and I never got to go beyond the Base Camp. On my second attempt in 2015, I climbed as high as camp 2. However, the day I returned to Base Camp, a 7.8 earthquake in Nepal which caused an avalanche there. Around 20 people lost their lives and 80 people were injured. I was right there in the middle of it all and thought I was going to die as well; fortunately, I survived. I decided to leave and return next year as the aftershocks continued.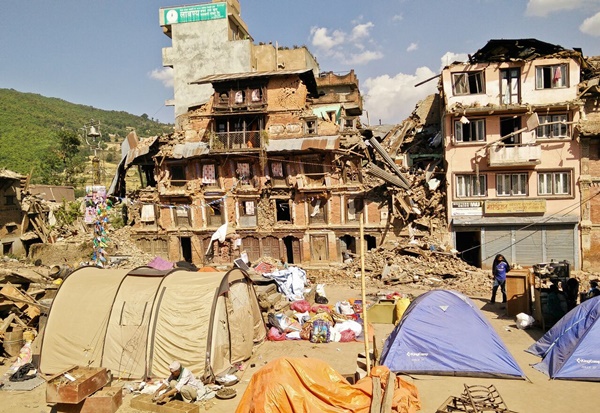 Photo Credit: Kuntal Joisher
VF: What is the message you want to give about veganism?
KJ: If I can climb Everest on a simple diet, then anything and everything is possible on a vegan diet.The other message is that you should never give up on your dreams. Back in 2014-15, many people dissuaded me saying that I should give up the idea of climbing Everest as wouldn't be able to do it. But I feel like we should treat our dreams like our babies, and nurture and protect them. At the same time,we also need to train hard, prepare, and plan well for those dreams. There are a lot of people who will find your dreams to be an impossible feat, but if you are serious, then do not give up. To climb a literal and metaphorical mountain in life, you need traits like dedication, determination, persistence, and tenacity.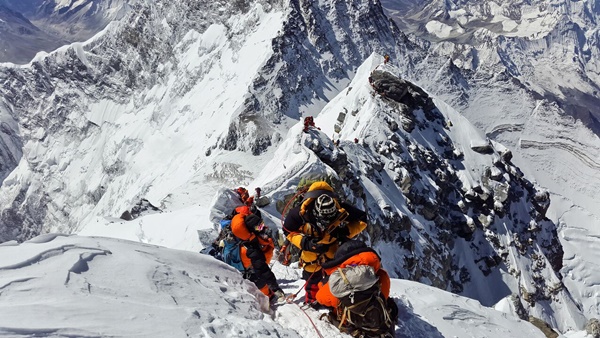 Above Hillary Step. Photo Credit: Kuntal Joisher
VF: Is there anyone you owe your success to?
KJ: There are countless number of people who have gone out of their way to see me succeed in my journey. My Father,my mother, my wife. Without whom I wouldnt've made it. My tainers and my company who sponsored me. Mingma Tenji, my sherpa who has truly been there for me- I would not have been able to do this wihtout him. While training for Everest, I got emotionally detached from my family and friends, and when I came back, so many people welcomed me with warmth. Their support has blown me away.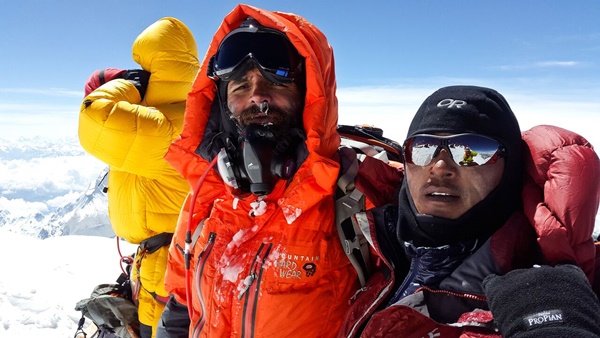 With Mingma Tenji. Photo Credit: Kuntal Joisher
"I wanted to climb Mount Everest on a vegan diet or not at all." - Kuntal Joisher
AUTHOR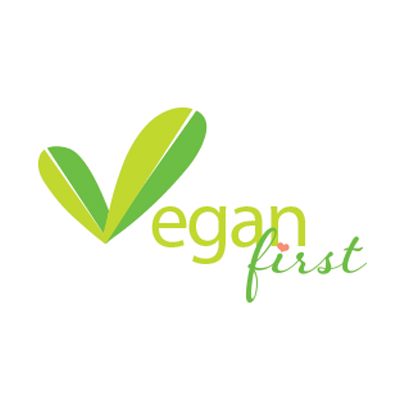 trending
Be a Vegan First Informer
Send us buzzworthy news and updates
related
Meet Kuntal Joisher: A Vegan Mountain Climber Who Conquered Mt. Everest!
3.3 K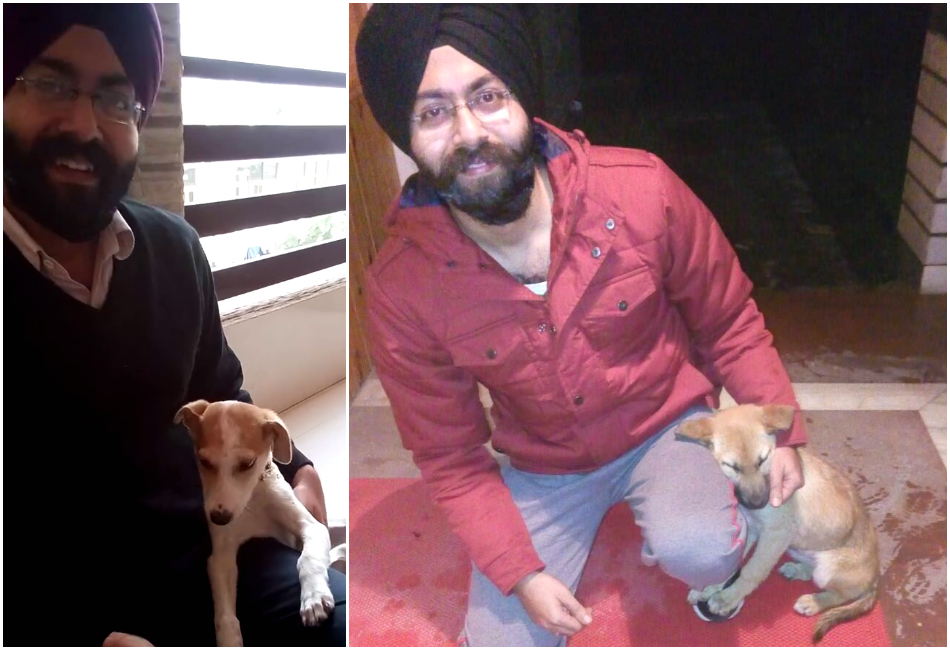 #VeganStories: Kamal, A Charted Accountant By The Day, Animal Lover For Life!
2.1 K