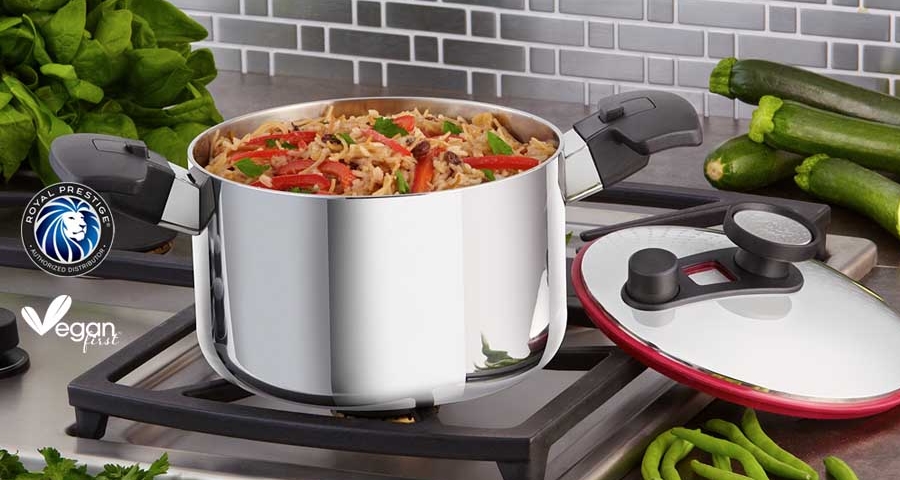 Meet the brand that believes in Safe and Feel good Cookware
The heart is where the family is and most families revolve around food and eating, which is why the true soul of a family is in its kitchen. Delicious and healthy food aside, safe cookware is just as important. A while ago we wrote about how certain types of cookware could be harmful, and while many of you agreed, we didn't delve deeper into the brand that actually produces quality products that will last you for generations.
Seeba Group was started in 1986 in India by Badri Baldawa, who wanted to bring high-quality kitchenware to every household. This brand quickly grew into a 'family of businesses' that all believe in the same core values and has since grown to over 100 associates that work towards those principals. Today, under Seeba Lifestyles, the company has brought to India, many international brands that believe in safe, durable and high-quality cookware - one such brand is Royal Prestige.
Seeba Lifestyles' goal is to encourage families to 'cook, eat and live a healthy lifestyle' by encouraging everyone to switch to a safe and healthy cookware such as Royal Prestige. Just like we stated before, the kitchen is the heart and soul of the family and the house, at the very centre of that, is the right cookware. This is why it's so important to have the right tools, equipment and utensils to have a healthy life. As the company rightly says - 'Change Your Cookware, Change Your Life'.
In fact, if we step into most kitchens, I'm sure you'll find at least two or three pots or pans that are way beyond their pass date. We're talking about the ones that have lost most of its shape, coatings and probably the handle too. Yet, we still cling to them because of some reason or another. Isn't it about time we get rid of the old and bring in the new improved and most importantly – healthier option?
What's Cookware got to do with being healthy?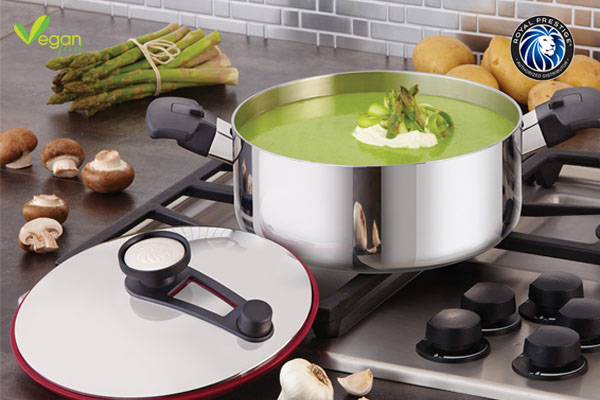 Image courtesy Royal Prestige
The biggest contributor to most unhealthy diets is excess oil. In fact, about a year ago we did an article about how oil-free cooking was indeed better for you. However, most cookware requires a lot of oil in order for it to cook food properly and that just shouldn't be the case. Royal Prestige's cookware doesn't require any fats or oils to cook food. That's all thanks to their 5 layered sturdy construction that allows for waterless cooking.
While many kitchen savvy vegans know that you can cook amazing veggies using water instead of oil, not many believe that you can actually cook without either of those two ingredients. The high quality construct with surgical stainless steel used in Royal Prestige's 5 ply and Innove product lines allow for even distribution of heat. This means it doesn't actually require water or oil to cook the produce. That's right; you get beautiful veggies without using oil or water. Due to this 5 layered construction, you don't need to overdo it with the vegetables; this has two major benefits any health-conscious person will love.
Firstly, you retain more nutrients in everything you cook because the technology used in the cookware allows veggies to cook in their own moisture. Everybody knows that the more you cook, cut and prepare fresh produce the more you lose out on those essential nutrients. A study conducted by Covance Laboratories in the USA showed that when compared to other cookware, the same vegetables prepared in Royal Prestige cookware retained significantly more nutrients. That's what any of us really want, isn't it? Being able to eat clean and get the most of what nature is providing for us. Other than going completely raw, which isn't for everyone, this cookware helps with providing a method to cook produce without losing out on the essentials.
Secondly, and the busy moms will love this one, this cookware cuts down cooking time considerably. That's right, less time in the kitchen means more time for doing everything else you enjoy. This comes down to the quality of the vessels. The heat distribution is so even that vegetables at the bottom of the pan and the top cook evenly, making cooking time quicker. The 'Redi-Temp' valve on the some of the variants indicate when the optimum cooking temperature is attained, which means you can lower the heat and cook your food faster and save on natural resources like gas or energy.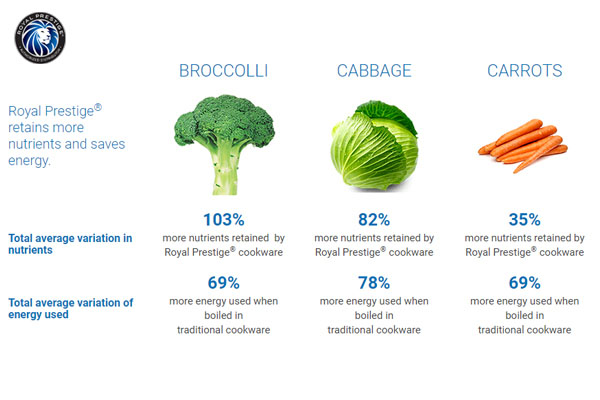 Image courtesy Royal Prestige
By now, it should be pretty easy to see that Royal Prestige's cookware really is top of the line. However, we've got one last ace up our sleeve that helped formulate our opinion of the cookware. Most metals react with heat and food which as we know can be harmful to our system in the long run. The innermost layer of all Royal Prestige cookware is made up of AISI 304 grade surgical stainless steel. This steel is completely inert, it doesn't react with food makes it very safe to cook in. In fact, after conducting the baking soda test on these vessels, the mixture tasted the same, meaning the metal did not react.
We strongly urge you to do the baking soda test for your pots and pans. All you have to do is:
1. Take a cup of water and stir in a tablespoon of baking soda into it. Taste a little bit.
2. Pour the mixture into your usual cooking pot, and bring it to a boil for 5 minutes.
3. Turn the heat off. Let the water cool and then taste the mixture again.
If your mixture tastes the same as before you boiled it, your cookware is fine. However, if you get any sort of bitter or metallic taste that means your cookware is leaching into your food. I know, sounds horrible, doesn't it! It's a good thing that there is a genuine brand out there, that not only cares about wellbeing but also about manufacturing the highest quality of kitchenware.
Still not convinced? Why don't you book yourself a demo, Royal Prestige will send someone with the cookware to give you a short demonstration. So, sit back let them do the cooking, you try the food out and see just how much better the food tastes and reacts!
Go ahead, book yourself a demo here or call +91 7045 22 33 55
Store Address: ThinKitchen, 1st Palmon House, Janta Industries Compound, Senapati Bapat Marg, Opp. Palladium Mall, Next to Stanley, Lower Parel (W), Mumbai - 400013.
Happy cooking! If you have a set of Royal Prestige cookware at your home, we'd love to hear your testimonials. Do write to us in the comments below.
Like this?
Read: Q&A: Is Unpolished Dal and Chawal good for you?
Read more: Magical Millets - Why Millets are good for you!?
*Feature Image courtesy Royal Prestige
AUTHOR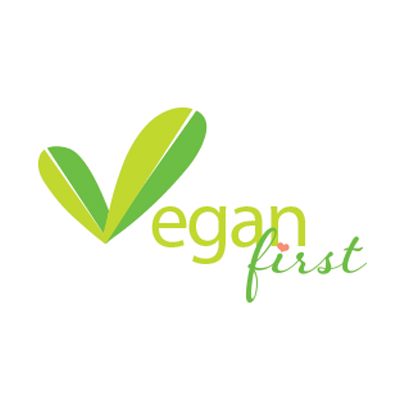 trending
Be a Vegan First Informer
Send us buzzworthy news and updates
related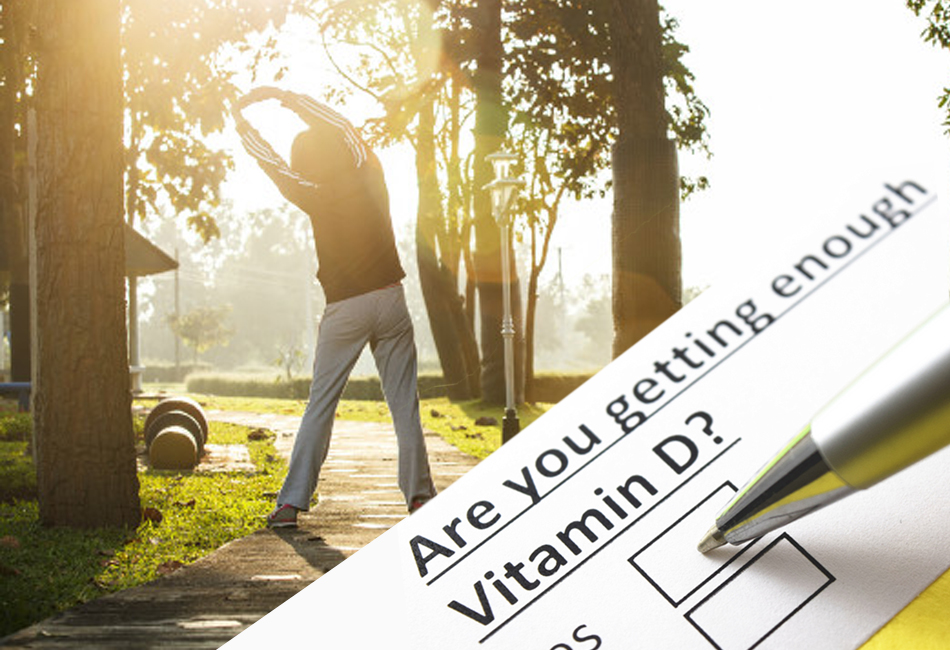 Why is Vitamin D3 Supplement Truly Essential For You (And How To Get It)
1.9 K