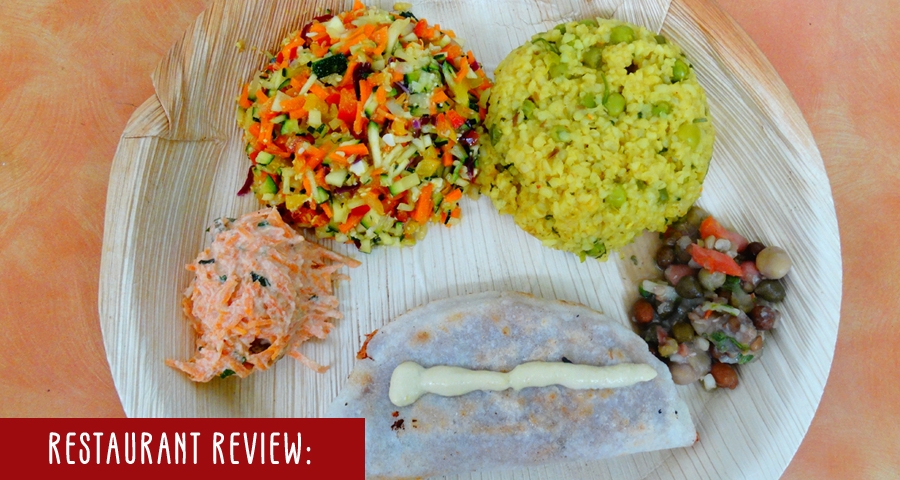 Mumbai's First Raw Vegan café at a Healing Centre
Without further ado, lets dive into the review of Mumbai's vegan-only restaurant - Prisim.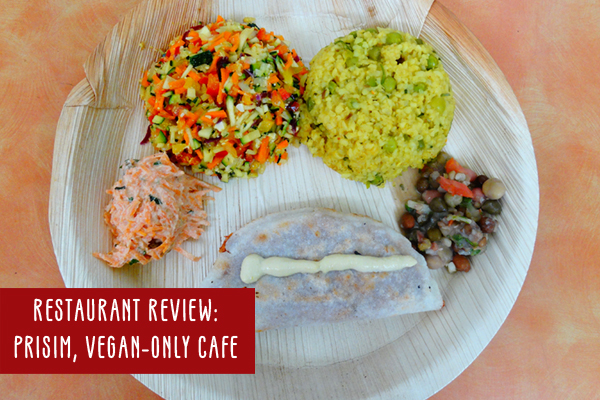 Service: * * * *
Orders have to be placed a day in advance as they make everything on order with fresh organic produce. We had called in and had placed our order a day in advance. Parmita personally came and explained the menu and the ingredients. The staff at the café were ladies who were actually preparing the meal and they were well versed with what they were serving. Considering the fact that they made everything from scratch, right before serving and also that the place could actually qualify as a 'Slow food' restaurant for the right reasons, the service and time taken for the order was reasonable.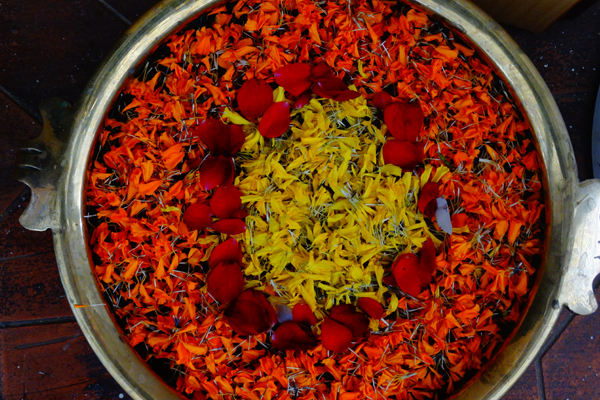 Price: * * *
The organic and fresh ingredients do make the costs go high. For the feel it has at the moment and going purely by the taste, look and feel of the food served we found it a bit on the higher side. The set meal platter was for Rs. 800 and the desserts ranged from 150-200.
Ambiance: * *
The place is full of soul and has an energy about it which reflects the good work that they are doing.
The kitchen is spacious and bright. It is clean to a point which could embarrass even a house proud cleanliness freak. They use ozonized water to clean the vegetables and fruits and all the staff in the kitchen wear head covers.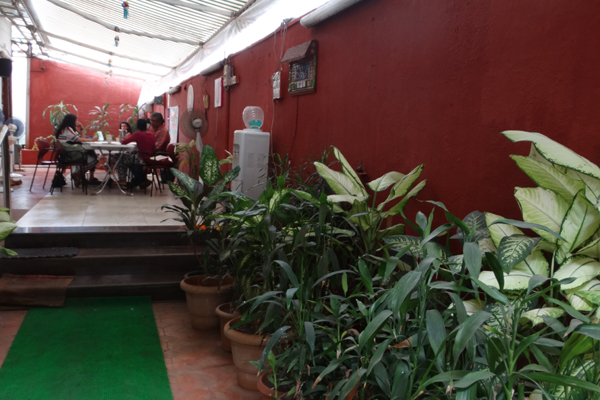 It has a lovely outdoor space. There are hand painted mandalas on the walls and rustic touches like brass bells, wall hangings and 'urlis' decorated with fresh flower petals. There are much needed pedestal fans to beat the heat. There were chants playing while we were waiting for the food and eating it. Later some upbeat and melodious music was played. The season being muggy and humid, dhoop was lit to keep the flies away and it filled the space with a lovely earthy fragrance.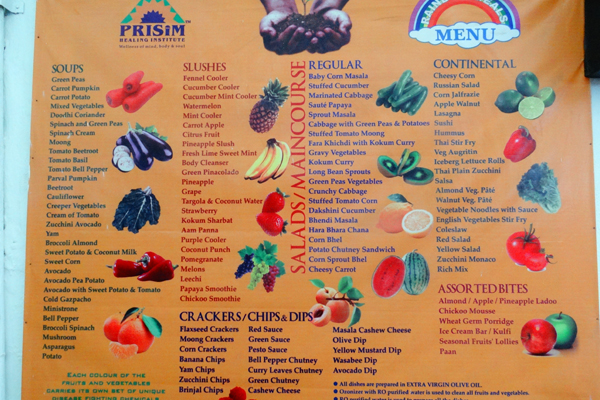 A large poster of their extensive menu as well as one with the list of therapies offered were put up.
The platter was served in a biodegradable plate made from sugarcane waste and so were the drinks; fennel cooler, peanut curd chaas and kokum curry. Would like to see the desserts; raw cacao smoothie and banana-caramel cream cup, served in more interesting tableware.
Overall the place can be made to have a much more airy, cheerful and upmarket feel. Parmita did mention that it is on the cards and they are working on improving the ambience. As a café it is still a newbie and it needs time to be reworked. The spirit with which it is run will take it a long way.
Food: * * * 1/2
The food at the café is refined sugar and processed salt free in addition to being dairy free and vegetarian. They do take the quality of ingredients very seriously and brands like Earth Loaf and Mason & Co could be seen peeping from their well organised and well laid out kitchen. They source organic and fresh produce from reliable sources which forms the foundation of a wellness and health-centric place such as this.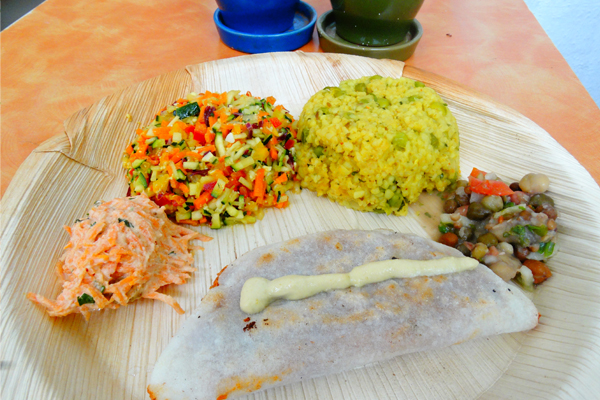 Menu of the day was: Quesadillas with jalapeño cream cheese, Fada Khichdi with kokum curry, almond veg pate salad, mixed bean salad, cheesy carrot, fennel-mint cooler, peanut dahi chaach, raw cacao smoothie and banana-caramel cream cup.
The gluten free quesadillas with kidney beans and tomato sauce were filling but were a bit dry. The tortilla was made with jowar and did a good job of replacing corn or wheat. The almond veg pate salad was colourful and crunchy with a delicate hint of turmeric used in the dressing. The cheesy carrot with raisins was a lovely medley of sweet and savory.
The khichdi was average while all the 3 drinks; kokum curry, fennel-mint cooler, peanut dahi were satisfying and flavourful.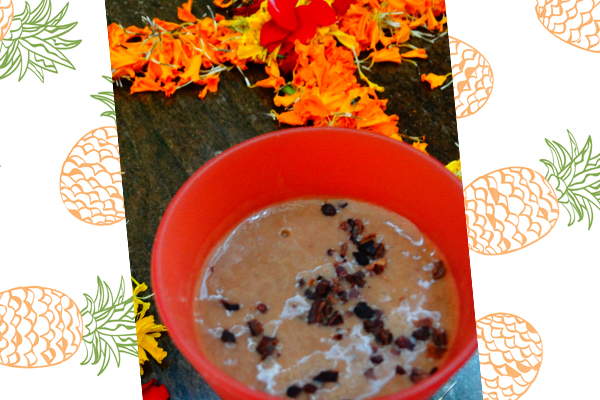 One could taste the raw cacao nibs by Earth Loaf and the supremely rich tones of the Mason & co raw Cacao in the Raw cacao smoothie but the flavour of the banana was a bit overpowering. Dates or raisins could help to tone it down while still keeping the sweet quotient up.
All the items except the Fada Khichdi were oil free, which was made with organic cold pressed coconut oil. The jalapeno cream cheese made from home grown jalapenos which lent a smoky and hot flavour to it.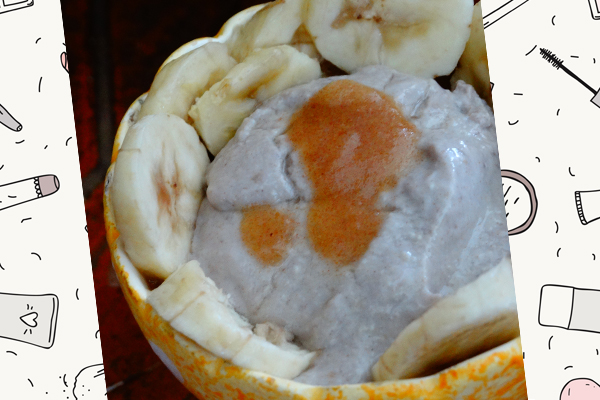 The banana caramel cream cup with its cookie crumble like base was as healthy a dessert as you can get.
The final verdict: Prism is a no-frills cafe, that sticks to their USP of healthy, fresh and wholesome food that is free from preservatives and chemicals. If you're in Mumbai and quite fed up of the usual vegan fare, then head to this place for their nutrient rich dishes.
Address and contact information.
Hormuzd Building, Ground Floor, Sleater Road, Grant Road (W)
400 007 Mumbai, India
Contact Number: 098335 91739
All Image Courtesy - Vinita Contractor
AUTHOR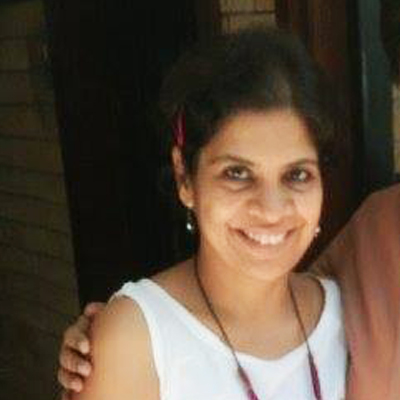 trending
Be a Vegan First Informer
Send us buzzworthy news and updates
related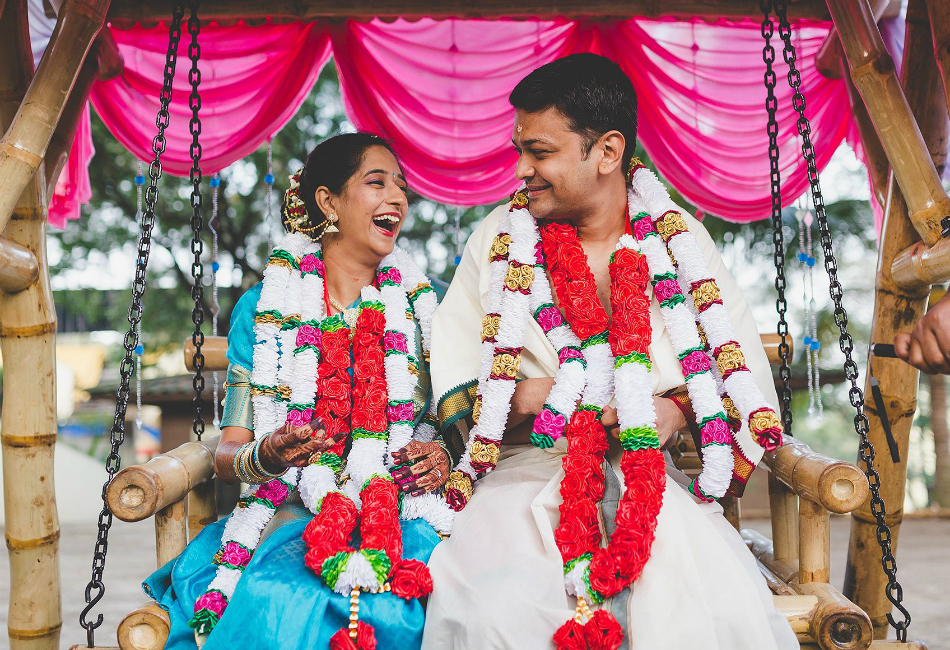 Shasvathi & Karthik's Vegan and Eco-friendly Wedding Will Definitely Inspire You!
3.8 K