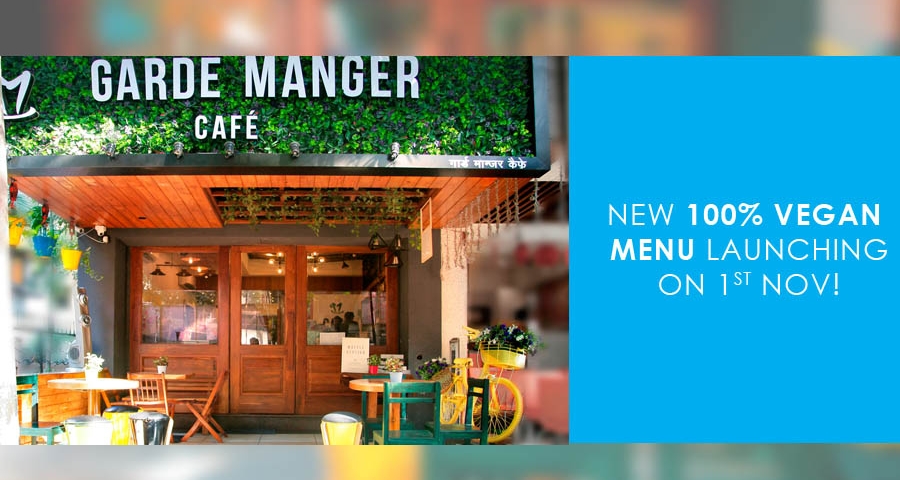 Mumbai's Garde Manger Cafe to Launch a new vegan menu on World Vegan Day
Vegans in Mumbai you have to get a few butterflies in your tummy when you hear that Garde Manger Cafe is veganising their menu to suit our sublime palette. Garde Manger is a vegetarian eatery and they are now venturing into and supporting vegan cuisine.
The restaurant focuses on healthy eating and hence it was an easy fit to include vegan food on the menu.
"At the core of our values is our promise to serve quality, healthy food in a fast, responsible, yet affordable way. The ingredients used are all purchased from local family farms to serve the best quality product to the customers." Says Parvinder Singh, the partner at Garde Manger.
Helping with this new fantastic menu is Down 2 Hearth founder Vinita Contractor, who is known for her cooking classes and health consultation. Vinita also offers restaurant and food consulting services, where she advises and helps create vegan options, so if you're interested, check out Down 2 Hearth. On being asked to veganise the menu Vinita says
"Was very happy when i was approached to curate a menu on the occasion of World Vegan Day which is on the 1st of November. What a lovely way to pay tribute to the movement and to offer vegans a new menu in a vegetarian health focussed cafe"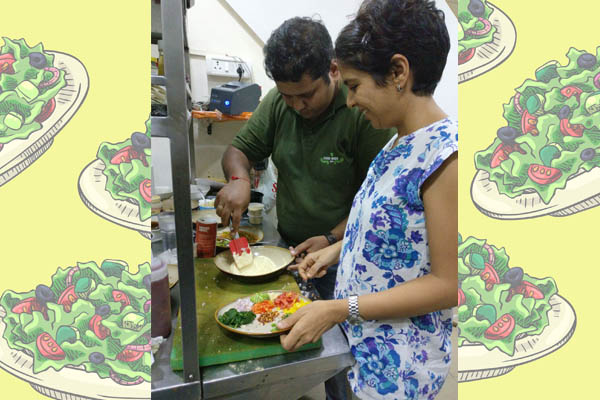 Image Courtesy Vinita Contractor
For Garde Manger, Vinita created:
1. Garlicky pepper tofu bites with chilli mayo dip,
2. Pea mint crostini with rosemary lemon cashew cream
3. Thai rice paper wraps with peanut dipping sauce.
4. Whole-grain pizza with arabiata sauce and vegan cheese,
5. Stir-fried proso millet with cucumber noodles (coodles) and asparagus
6. Tofu fajitas with salsa and guacamole.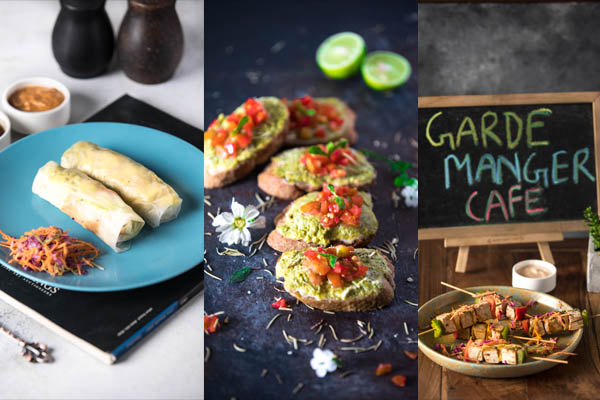 Image courtesy Garde Manger Cafe
Dessert lovers will enjoy
1. Hazelnut mocha chocolate parfait
2. Espresso walnut raw brownies.
Anybody else getting super hungry all of a sudden!?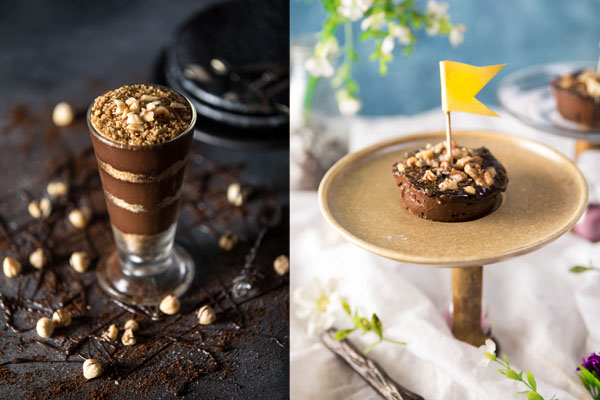 Image courtesy Garde Manger Cafe
The menu she has created will be available from the 1st of November on World Vegan Day and will continue for the whole month. If you want this awesome menu to stay, you better head on over to try out the food and show some support!
The original menu also has vegan options, it was designed by registered dietician Ms Charmaine Dsouza, who created the food keeping in mind taste, fibre, protein and calories.
On the current menu, you can start with the vegan carrot and broccoli soup or their Asian Noodle salad and zesty quinoa salad. Then we move on to mains which boasts of soya kheema pav, tofu burji pav, cous cous upma, black rice salad (which is filled with antioxidants) and Thai grilled tofu steak. If sandwiches are your weakness, then try the Hickory BBQ veggie sandwich or Lebanese grilled veg sandwich without the tahini curd sauce. Finally, end your meal with the fresh fruit popsicles or the Chia seed Pudding.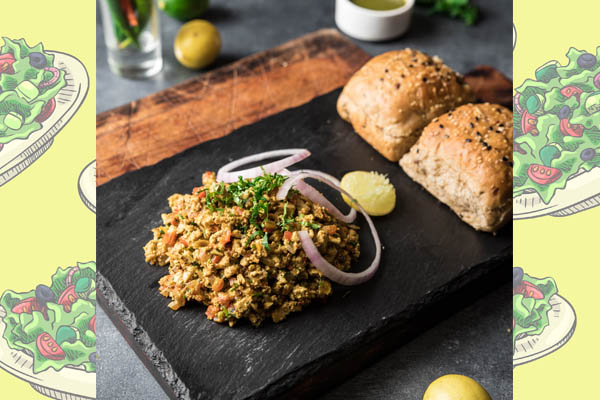 Image Courtesy Garde Manger Cafe
So what are you waiting for? Get out your date books and mark the 1st of November down, as that is when you should be making a reservation to try out the new menu. Don't forget to take pictures and tag Vegan First. We love hearing your reviews!
Address:
Parmar CHS Paranjape B scheme, 1st road,
Near Mahila Sangh School, Vile Parle East
Mumbai, Maharashtra 400057
Number: 070450 04488
Like this?
Read: 14 Amazing Vegan Restaurants to try in Goa
Hungry for Vegan food? Check out our Big Indian Vegan Restaurant guide to find a place near you!
AUTHOR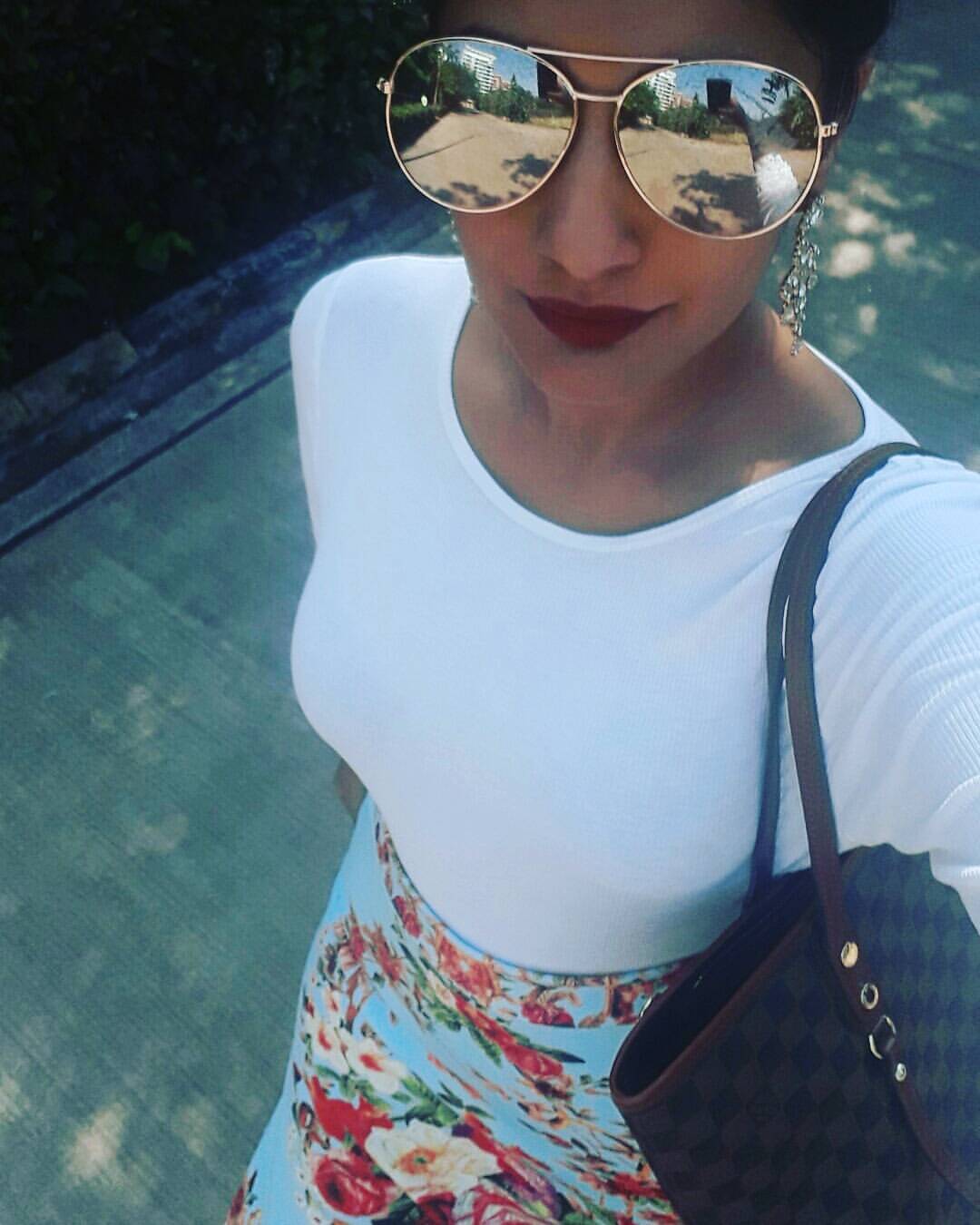 trending
Be a Vegan First Informer
Send us buzzworthy news and updates