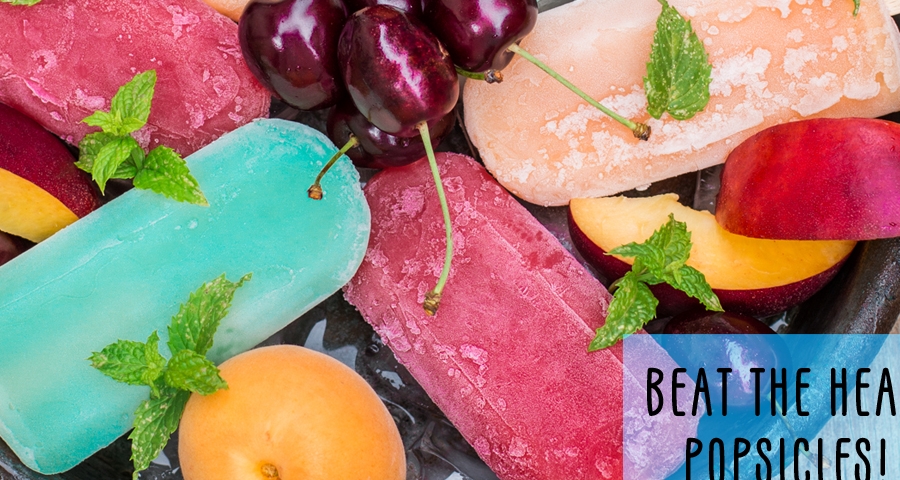 Popsicles that Beat the Indian Summer Heat!
Summer is here and who doesn't like a Popsicle to turn the heat down! Popsicles can be fun, tasty, cooling and also healthy if we use fruits and fresh ingredients. They are loved by kids and elders alike and are super easy to prepare.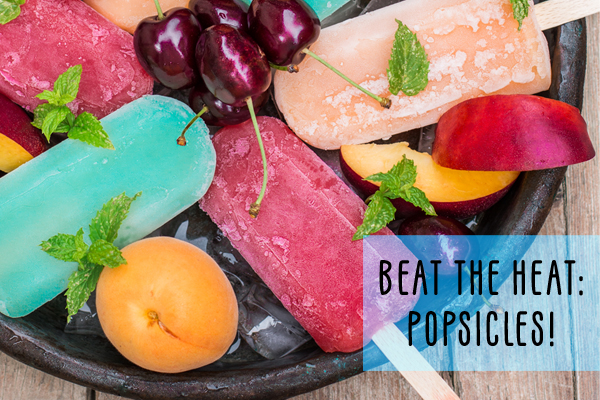 We have listed some homemade popsicles recipes for you to try this summer. All you need is:
1) Popsicle molds, if you don't have them don't fret, you can use paper cups, plastic glasses or ice trays etc
2) Popsicle sticks/holders which you can get at a store nearby, if not, get creative with a pair of chopsticks or wooden skewers (make sure you have the pointed side out so you don't hurt yourself while eating) or toothpicks
3) A freezer
4) And of course, the ingredients of the recipe you prefer
Watermelon + mint + lime and salt popsicle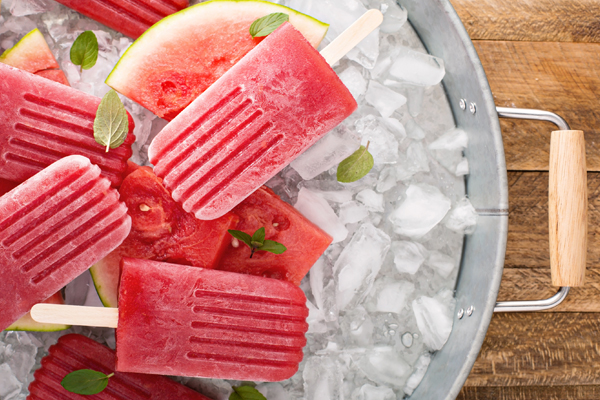 This refreshing watermelon, mint and lime popsicle is the best summer cooler one can have. The high water content in the melon hydrates the body, it also has vitamin A, potassium, magnesium, and antioxidants; mint refreshes; lime is a good source of vitamin C and the salt adds a good balance to the taste plus it's particularly good in the summers as it helps makeup for the salts lost due to the heat and sweating
Ingredients and method:
Place the watermelon, lemon juice, a pinch or two of salt and some sugar into a blender and blend till it is nice and smooth. Then, at the end, just stir in the crushed/chopped mint leaves. Pour the mixture into ice pop molds, a glass, an ice tray or whatever is available and insert sticks or handles in them. Freeze until firm, 4-5 hours or overnight. Enjoy!
Mango pulp + chia seeds + grated coconut popsicle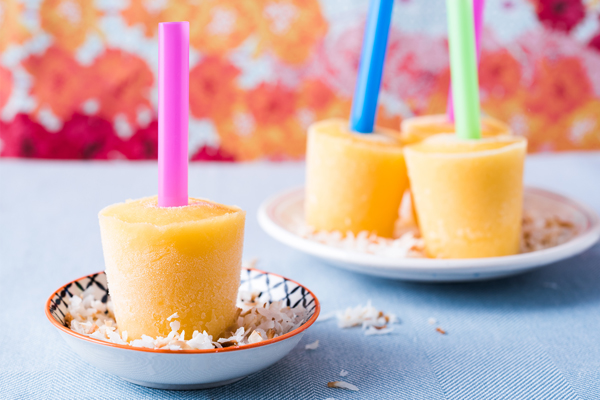 Mango is India's favorite summer fruit. Not only are they very tasty, they are good for the skin, digestion, eye health and have many other benefits too. Chia seeds are considered a superfood because they are a good source of calcium, manganese, magnesium, phosphorus, proteins, antioxidants and fiber. They also contain a decent amount of Zinc, Vitamin B3 (Niacin), Potassium, Vitamin B1 (Thiamine) and Vitamin B2. Grated coconut is added for texture and also because coconut and mango is a great combination.
Ingredients and method:
2-3 ripe mangos chopped; 2 teaspoons of chia seeds; 2 teaspoons of grated coconut; a little mango juice or coconut water /coconut milk or soy milk/almond milk or even a little regular water to slightly thin it down. Place the mango and coconut water or coconut/almond/soy milk into a blender and combine until smooth. Stir in chia seeds and grated coconut. Pour the mixture into molds of your choice and place wooden sticks for holders. Freeze and Enjoy!
Coffee, Coconut milk and cocoa nibs popsicle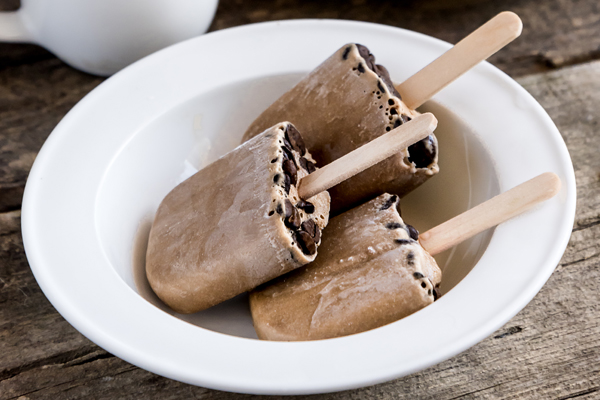 This creamy coffee popsicle with bits of cocoa nibs makes the perfect dessert. Coconut milk is great for the summers and has good nutritional value too. Coffee and cocoa are superfoods in their own right.
The three Cs - coffee, cocoa and coconut form a heavenly love triangle of flavors. It's definitely one of our favorites.
Ingredients and method:
Creamy coconut milk, coffee, cocoa nibs, sugar or agave nectar and water. Take the coconut milk and blend it with all the ingredients, except the cocoa nibs, using water to thin the mixture down as per your preference. Blend until the sugar is dissolved and coffee is mixed in properly. Then, stir in the cocoa nibs at the end. Pour the mixture into molds of your choice and place wooden sticks as holders. Freeze and Enjoy!
If you are feeling lazy to make the above, here are a few easy-peasy ones you can still make instantly by just simply freezing:
Coffee
Juices
Ice teas
Slices of fresh fruits directly by inserting a stick in the fruit for a holder
So go on and make yourself some popsicles this season!!
AUTHOR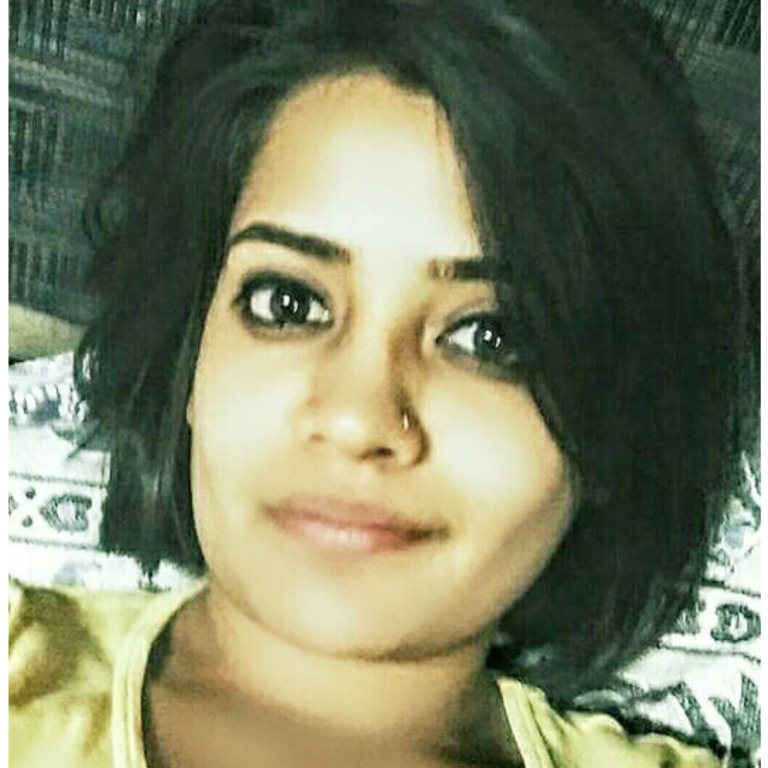 trending
Be a Vegan First Informer
Send us buzzworthy news and updates