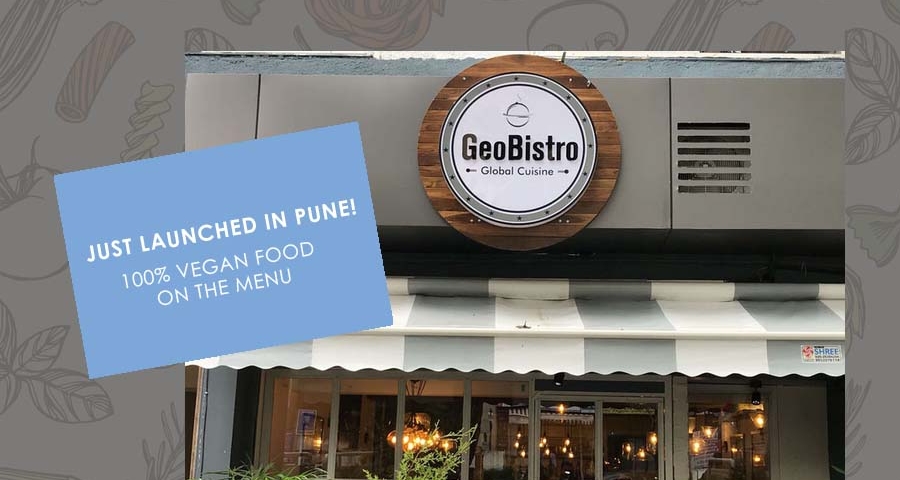 Pune's New Restaurant GeoBistro has a Separate Vegan Menu
GeoBistro is the new kid on the restaurant block, located in Viman Nagar, Pune. As the name suggests, this modern bistro has a wide variety of world cuisine, perfect for even the fussiest eater. What you may or may not know though, is that our Vegan First office is right above this charming establishment, and we couldn't wait to see what the menu would look like.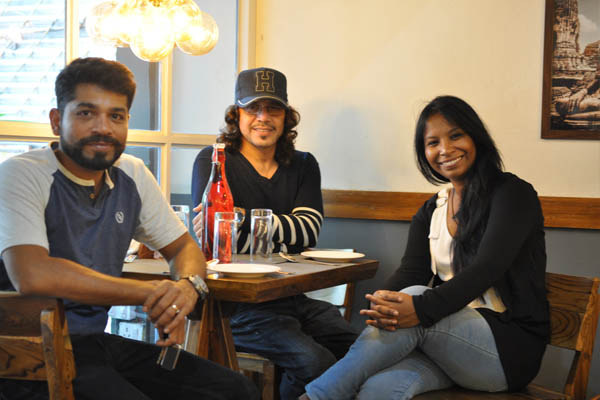 Dnyanesh Mahajan, Chef KM Saif and Sapana Mahajan
We introduced ourselves to our culinary neighbours by telling the Director Sapana Mahajan and her partner Dnyanesh, about the wonders of delicious vegan food. Our enthusiasm for plant-based dishes sparked her curiosity and to our surprise, on the day of the launch, we were invited for an all-vegan menu tasting! Yes, our insistence finally paid off, GeoBistro has a separate vegan menu section, with 5 curated vegan dishes. We're so grateful and excited that the good folks at GeoBistro made a special menu for all us hungry vegans!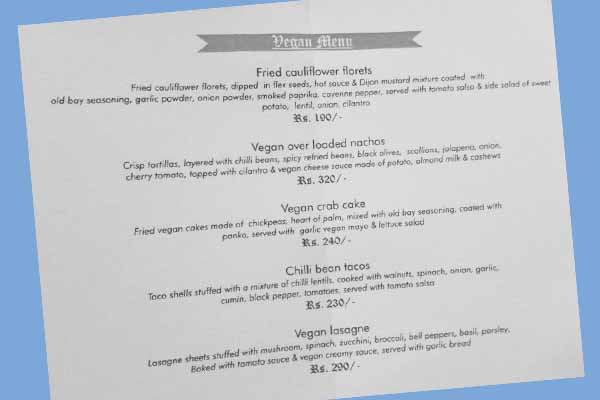 Service:
VF rating *****
The staff were well versed with veganism and knew exactly where in the book was the vegan section. The chef personally came out and told us about each dish and his method for making them. The drinks and the food were brought out quickly and we were really excited to try everything on the vegan menu.
Price:
VF rating *****
Considering the quality of the produce and the creativity of the menu, the price doesn't do it justice. A couple can easily splurge on mocktails plus food and not spend more than 1000rs. Good food at an even better price, what couldn't ask for more!
Ambiance:
VF rating - * * * *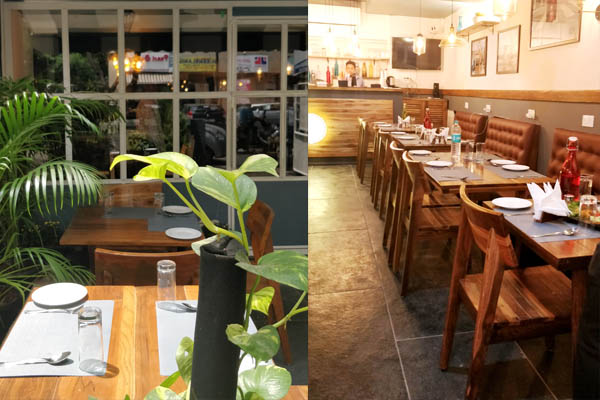 GeoBistro has a very contemporary feel, their colour palette of warm grey, white and oak is inviting and modern. The music is also superb, with the old western retro classics playing in the background, it's the perfect place to hang out after work to unwind. There is a beautiful outdoor area as well, that is partitioned by French style windows which brings in beautiful daylight and gives the entire indoor area a lively feel.
Food AND DRINKS:
VF rating * * * *
Being excited and really hungry we ordered all the 5 vegan dishes available on the menu, as we wanted to sample everything. First off we started with the Over Loaded Nachos with vegan cheese. it was completely delicious and we got the secret to Chef's cheese sauce - the addition of sweet potato. Let us tell you, it was YUMMY, the perfect way to start the meal.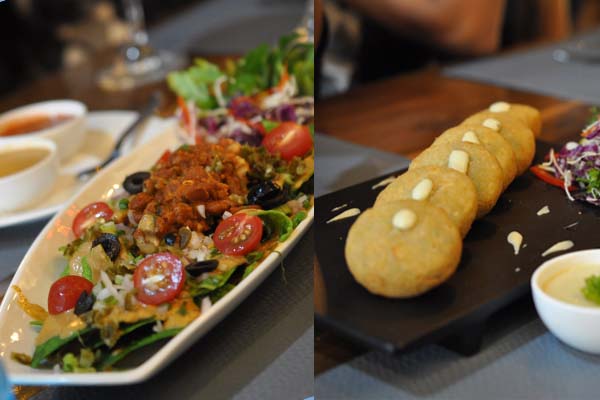 Then came the faux-crab cakes and they were incredible! Chef made little cutlets that were filled with a variety of ingredients, but what stood out was his use of 'heart of palm.' This vegetable gives you that crab texture and taste that had us all fighting over the last piece.
Still hungry for more, we were happy to see the Chilli bean Tacos hit the table. It's a guilt-free appetizer that is perfect for those on a health kick. We really appreciated that the chef made his own tacos shells from scratch, which really enhanced the flavour of the dish.
The fried cauliflower florets are definitely not for those on a diet but super delicious, so go there on a cheat day. The florets were dipped in a spiced batter that gives an extra flavour note to the dish. This is served with Chef's secret vegan mayo, which is the best mayo we've ever had!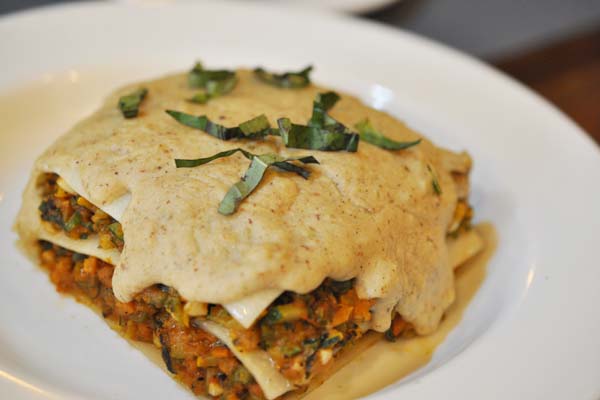 Finally, we tried the masterpiece the vegan lasagne and yes, the chef made his own pasta sheet from scratch. Every mouthful was well balanced between the cheese sauce, vegetables and herbs, that made for a really satisfying and filling meal. We loved the addition of celery to the finely diced vegetables, which made the "meat sauce." Definitely worth trying, when you visit.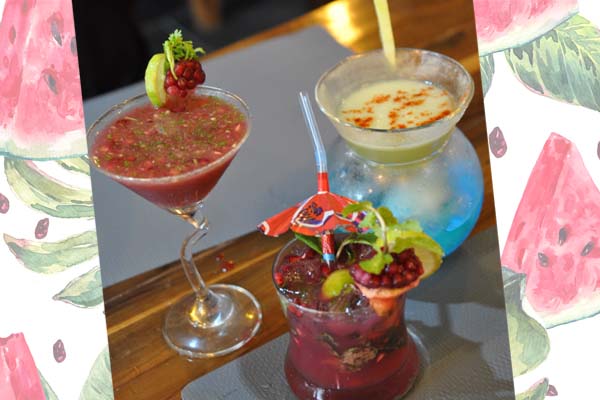 Accompanying our meal, were 3 of their signature mocktails, the Pomegranate Caipiroska, Cucumber Jalapeno Martini and Pomegranate Cilantro Jalapeno Kick. There were really refreshing and went well with the vegan menu, we loved the theatrics of the martini that came served over a bubling bowl of dry ice.
Hats off to Chef KM Saif, who normally doesn't venture into vegan cuisine, but has excelled in it none the less.
Thanks again to the founders of GeoBistro for having us over and for creating a vegan menu. We are filled with gratitude and we hope more chefs and restaurants take the leap and add vegan options to their menu!
Like this?
Read: Restaurant Review: Le Pain Quotidien, Mumbai - An Oasis for Vegans
Read More: Sante Restaurant Review - We ate Steak and it was Good!
AUTHOR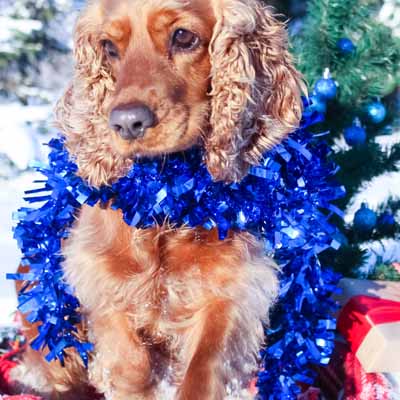 trending
Be a Vegan First Informer
Send us buzzworthy news and updates