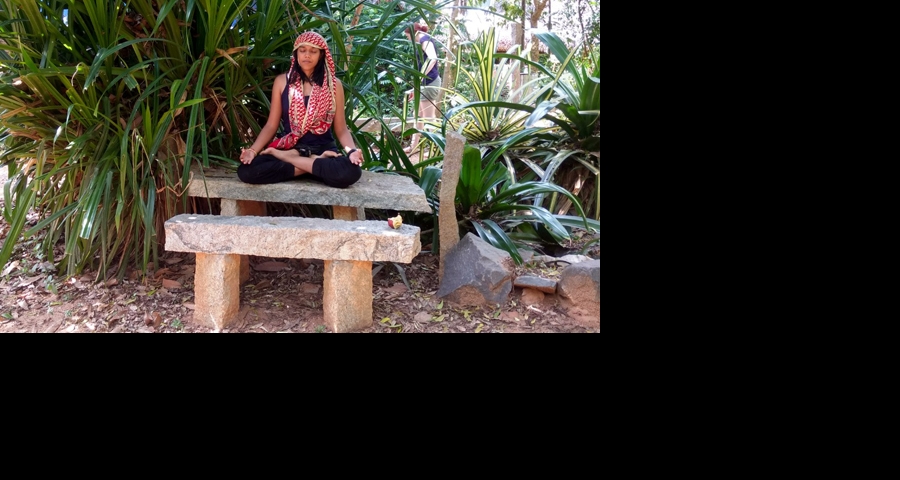 Sadhana Forest: A secret Vegan Heaven in Auroville
Remember the movie "The Beach" with Leonardo Dicaprio? Well thanks to Nikita Solanki, we've found the cruelty-free vegan version right here in India! Read on to find out what makes this secret forest retreat one of a kind.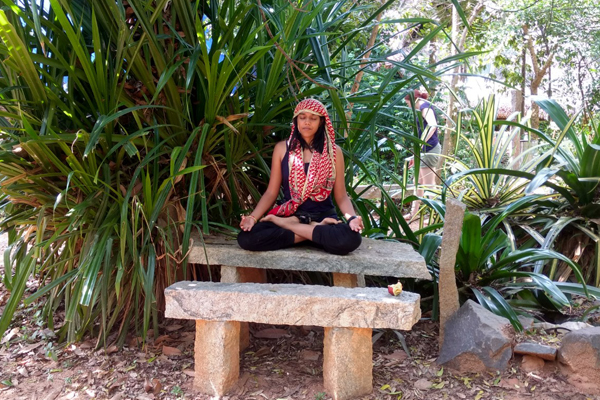 If you happen to Google the word 'Sadhana', you will probably find that this Sanskrit word is the root of spiritual evolution in any part of the world. It also can be translated to 'a means of accomplishing something'. Having heard volumes of praises about the Sadhana Forest, I decided to taste the real nectar of accomplishment by staying in a forest with the locals and living their lives for four days.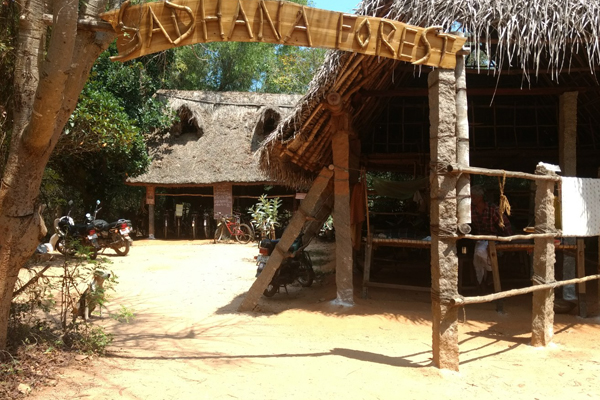 But this was not just any forest. Located in the unique town of Auroville which is 150 km away from Chennai, the two things that struck me as soon as I entered was a strong sense of community and a highly pragmatic approach towards living.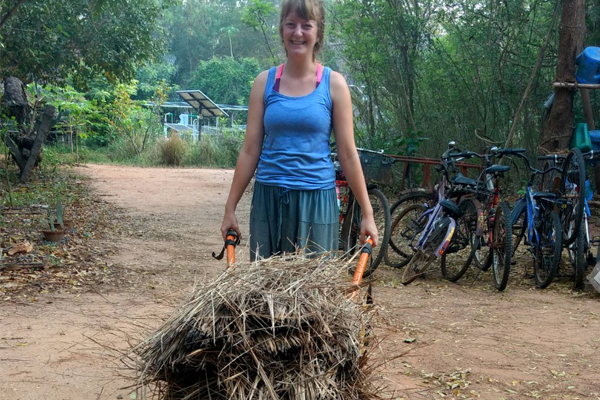 People from all nationalities were welcome. Each person's service and contribution, whether a resident or volunteer, to make Sadhana forest the place it is, was necessary and equally important. It is run totally by the people. For Rs. 400 per day, Indians could stay for at least 3 days while foreigners had to for a month. With 3 meals and accommodation, this is quite possibly the best budget hotel out there!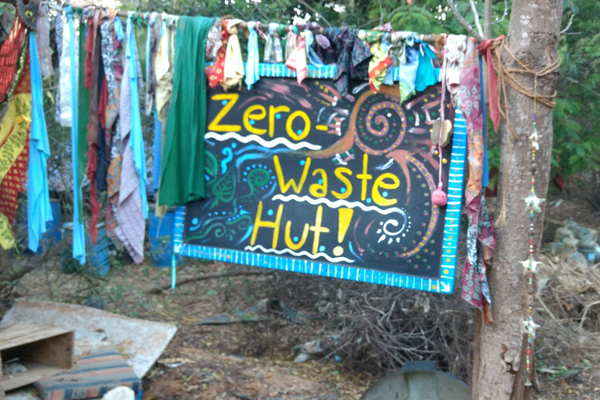 What I mean by pragmatic in this case is that a minimalistic culture is followed there, something that we need to implement in the cities as well. The environment is a top priority. For instance, approximately 500ml of water is used to wash hands as compared to 3 litres on an average in a city wash basin. Food has to be taken in small digestible quantities and the leftovers are decomposed. Not just food, even your pee and poop are decomposed amazingly well!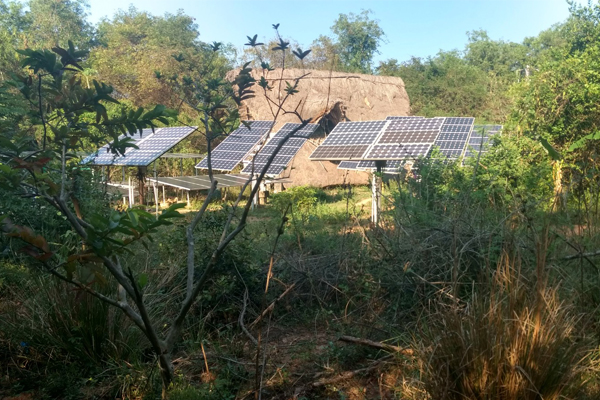 Electricity is a precious commodity. In the forest, except for main areas such as the kitchen, the washing area and the main hut, it isn't available anywhere. There are no fans or lights in the forest. Lighting a candle is a big no-no as everything is made of wood there and recycled, even the entertainment area or the rooms you are staying in. Fortunately, they do have a technology area in the main hut where you can charge your electronic devices from 1 pm to 4 pm. On solar panels, Wifi is available without any cost 24/7.
The forest's system is designed to make you feel closer to Nature and as a result, you get closer to yourself or even the people you are with. I was asked to do 'seva' or 'service' twice each morning, after a sumptuous breakfast. And seeing people doing the same, it brought out a new, mellower side of me.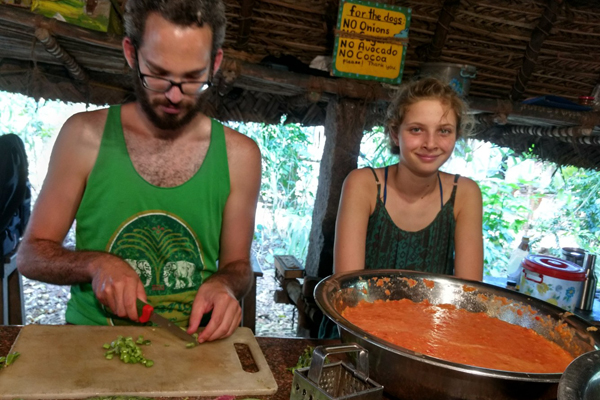 Should you get to cook food there, I won't be surprised if you wouldn't feel like going to Europe. Because it felt so much like being in the countryside as if you are making food on barbecues out in the open and lush greenery. I used wooden logs for the fire and big pans to make food for as many as 150 people.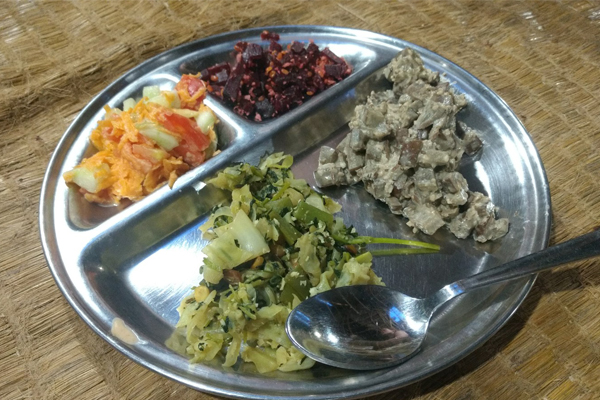 Definitely, the best part about this place is that the food is ALL VEGAN! Animals are permitted to roam freely there and are not used for any purpose. It was one of the most moving and warm experiences of my life when for the first time in my life, I saw cows existing fearlessly and enjoying themselves, which we humans are more privileged to do. Should you want any family member, friend or a loved one to become a vegan, please take them there!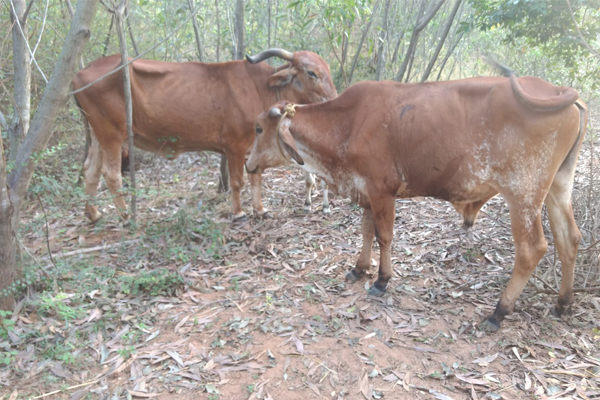 Amidst all the discipline, if you think there is no source of entertainment whatsoever, let me correct you. Every Wednesday, in the entertainment area, there is something known as 'Open Stage'. It is here where each person gets to showcase their skills and entertain everyone - with dancing, singing, martial arts or even yoga for that matter. Add to that, on Friday, the forest is open to the general public from 4 pm onwards. So a fun-filled evening is always on the cards.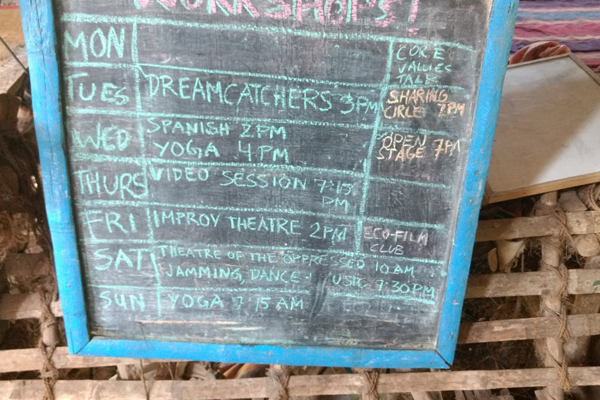 Another revelation was an amusement park made solely out of tyres! It is a hit with each child out there. Kids are made to learn that they can still enjoy themselves and base their habits, thinking and lives on not harming Mother Nature but taking care of her instead.
Should they get bored, there is a mud pool which is extremely refreshing. I took a dip in it after my morning sevas and just before lunch. It was as if I was in Nature's lap, without bothering about the March heat. Chlorine pools now feel passé!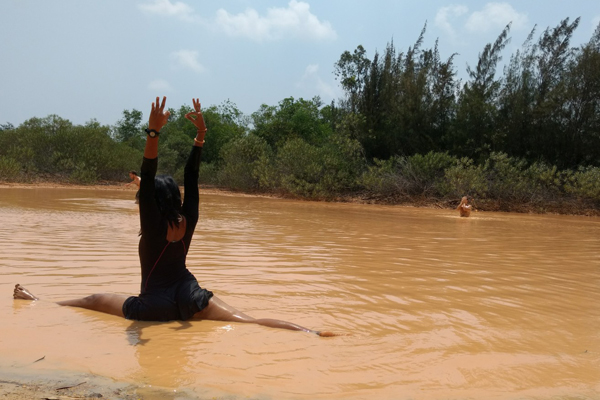 At the end of my short trip, I realised that I had gained more than I had given. In my opinion, no school, college, university, home or inspiring people can impart such valuable, life-changing lessons. And if they do, they make a lesser difference as compared with you having the urge within to experience a minimalistic, simple and eco-friendly lifestyle.
If you take some time out and plan a budget-friendly holiday, Sadhana Forest is surely not going to disappoint you, In fact, it will be a part of some beautiful memories when you sit back and ponder in the future of how life has treated you.

Like this article?
Read: The Filmy Owl shares her Vegan Story
Read More: Anand Siva, Tells Us About The One Question That Always Shocks Him!

AUTHOR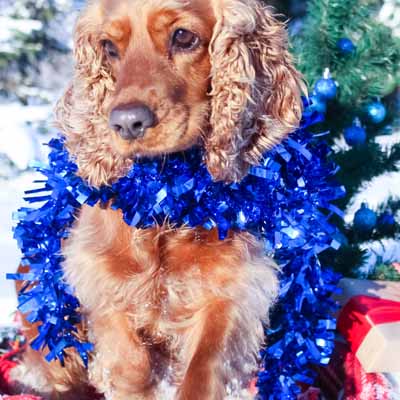 trending
Be a Vegan First Informer
Send us buzzworthy news and updates
related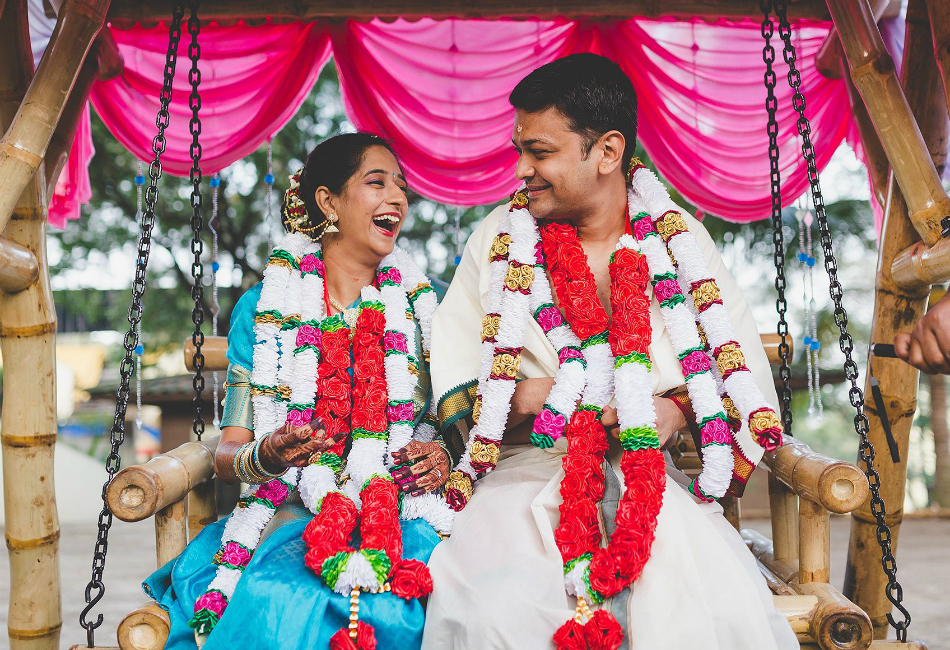 Shasvathi & Karthik's Vegan and Eco-friendly Wedding Will Definitely Inspire You!
3.8 K