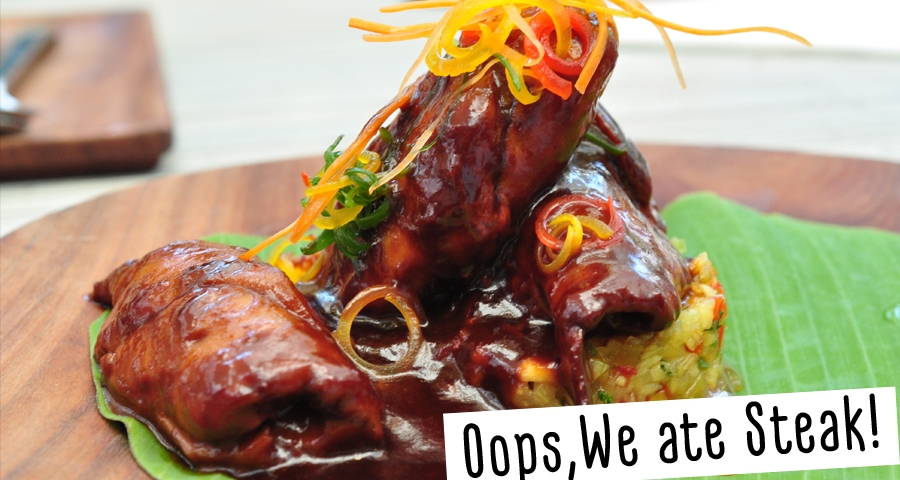 Sante Restaurant Review - We ate Steak and it was Good!
Watch this space for restaurant reviews. We at Vegan First bring you a personal and first-hand account of restaurants that excite us. Our in-house team has devised a scale from one to five - one for horrific, five for vegan-tastic. The categories are service, price, ambiance and food. These reviews are done anonymously and are not a paid promotion unless otherwise stipulated - don't we sound super professional?!
Introducing- Santé, Spa Cuisine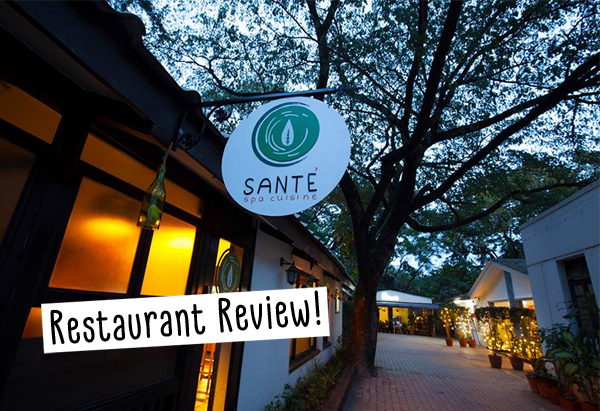 Santé is a gem hidden in one of the most spiritual by lanes of Pune - The Osho ashram lane in Koregaon Park. Once discovered though, you can't help but go back time and again.
Service:
VF rating ****
Apart from being courteous and welcoming, most of the staff knew what vegan was and were very helpful when suggesting items from the menu. They even went the extra mile by physically showing us some of the ingredients used in a dish, when we weren't sure if they vegan or not. The main waiter knew all the dishes that were vegan and suggested which could be made vegan-friendly.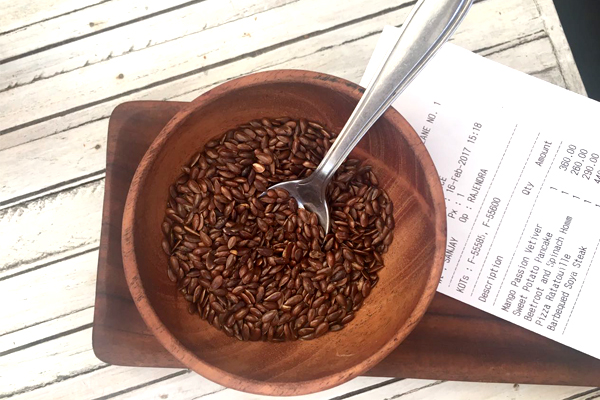 Price:
VF rating *****
Considering the quality of the produce and the creativity of the menu, the price is completely worth it. We have to mention that Santé gives you that fine dining feeling and for that, we're happy with the pricing. They get extra points for the roasted flax seeds that they brought out with the bill, instead of the usual sauf - a superb treat at the end of the meal.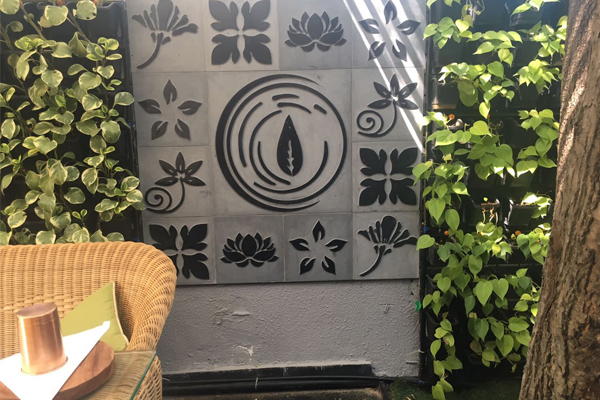 Ambiance:
VF rating - * * * *
At first blush, Santé looks like any other green cafe with its cane furniture and juice bar. However, there is a subtle eco-consciousness to the decor that is revealed once you sit down for your meal. The plates and most of the cutlery are all wooden, the lamps are made from recycled cardboard boxes and the glasses are all copper. A giant Buddha painting on the wall screams tradition meets modern with a hint of spiritual - which is exactly the feeling we got when we looked at the menu. If there is anything we'd criticise, it's is that some of the tables and chairs look a worn from use, nothing a little TLC couldn't fix.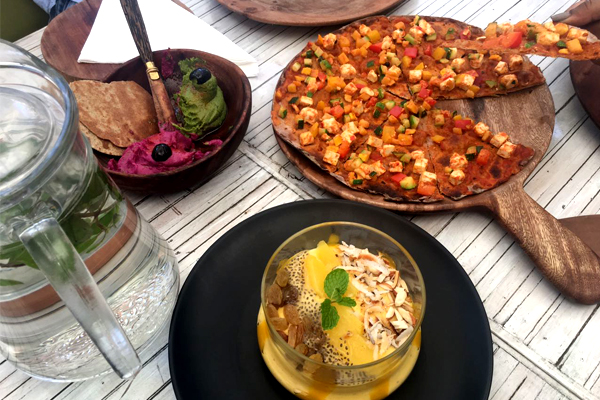 Food:
VF rating * * * *
A quick glance at the menu and we started to get excited, the dishes didn't have a vegan sign on the side, however, unknowingly, Santé has created a menu where the majority of dishes are vegan. There were so many things to try that we took 15 minutes just deciding on what to order. Finally after a thorough study and many gasps of delight later we ordered.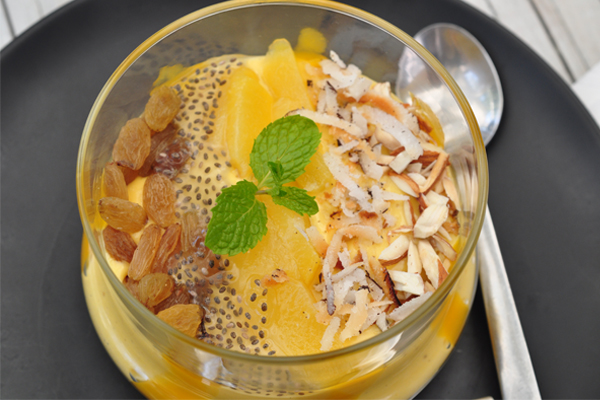 First up, we got the mango smoothie bowl and sweet potato pancakes from the breakfast menu, which are the perfect start to the day. If you're ever in the mood for a healthy breakfast, these are highly recommended. The mango smoothie bowl, not only looks as pretty as a picture but is rich and creamy with a crunchy texture from the almonds and toasted coconut. The puffed sabja was a slurpy surprise and the raisins were a nice touch of sweetness. We gave them extra points for the whimsical bowl and lid it came with - made our Instagram boomerangs even more buzz-worthy!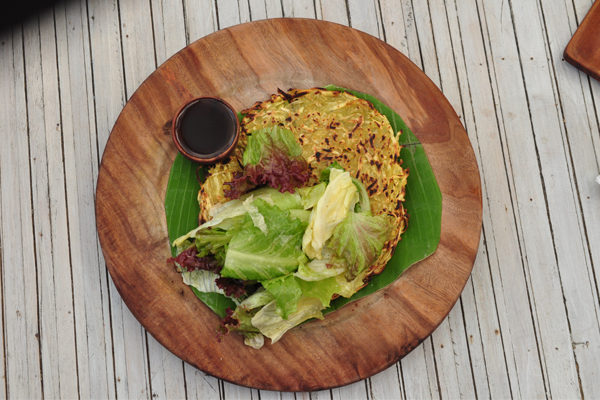 The sweet potato pancakes were more of a thin hash brown than a pancake, but we won't complain. Served with fresh salad and delicious sweet jaggery syrup, this savory breakfast meal is satisfying and fulfilling.
Next the farm fresh pizza.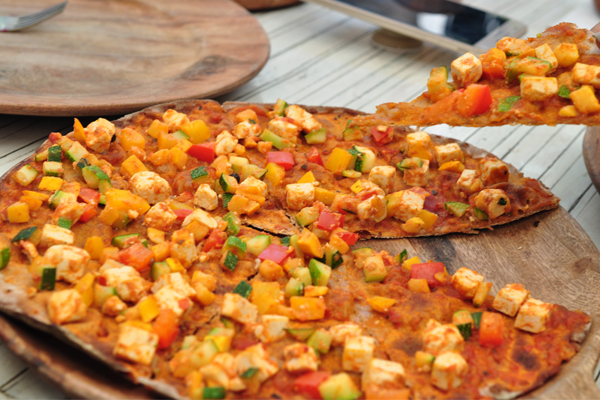 The restaurant didn't have vegan cheese; however, they do make the pizzas for those who are lactose sensitive, which works just as well. We enjoyed the crisp and thin base made from ragi, however, felt that something was missing. We're going to share our recipe for vegan cheese with them; who knows maybe they'll add it to the menu - here's hoping!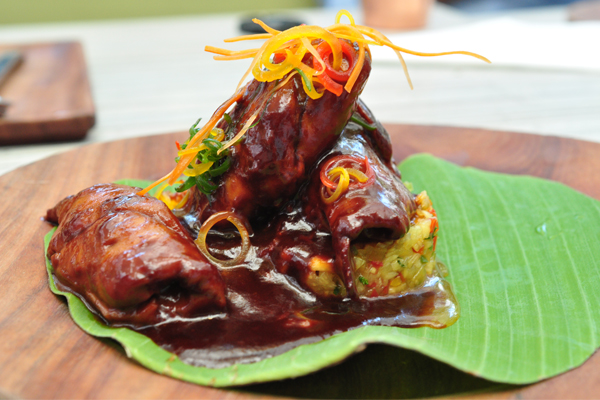 Lastly, we couldn't resist when we saw the word steak. We had to try the BBQ tofu steak with spicy pineapple salsa. As soon as it walked out the kitchen, almost all the heads in the restaurant turned to look. Two juicy tofu steaks, covered in BBQ sauce atop the salsa, made everyone's jaws drop. Taste wise, we felt the BBQ sauce was a bit too sweet, but the steak and salsa made up for it.
There is always space for dessert, however, we were so stuffed that when the waiter told us our strawberry and coconut popsicles weren't available, we were more relieved than disappointed. We'll leave that to next time, when we come back to try out the other vegan desserts, such as the coconut truffles, beetroot sorbet and the elusive popsicles.

All in all, it was a great dining experience and we haven't even scratched the surface of this menu, we have to go back for more. Thank you Santé for such an enjoyable culinary journey!
AUTHOR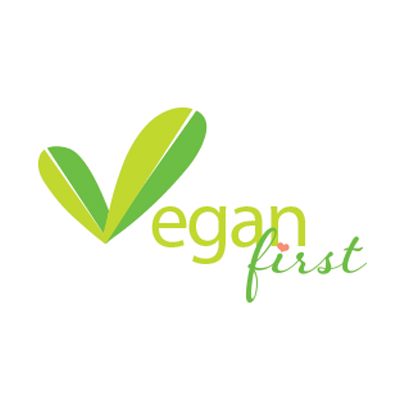 trending
Be a Vegan First Informer
Send us buzzworthy news and updates