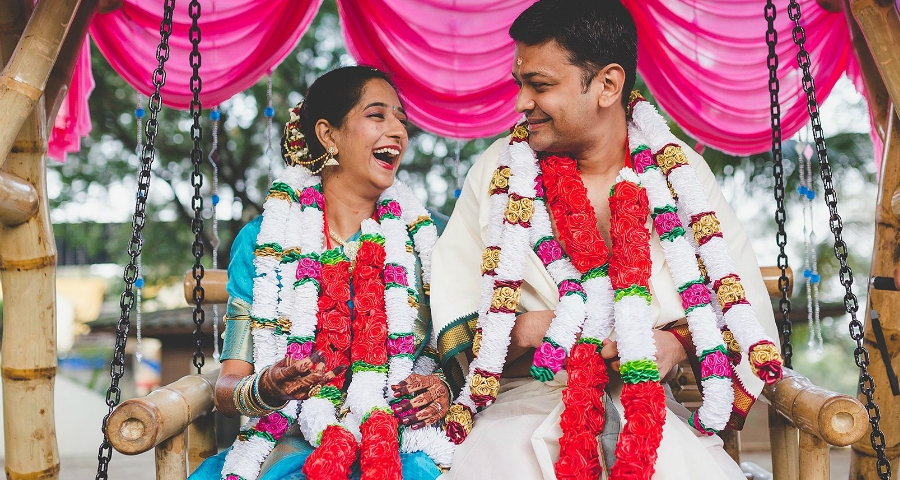 Shasvathi & Karthik's Vegan and Eco-friendly Wedding Will Definitely Inspire You!
Marriages are made in heaven they say! But to find a partner who thinks and feels the same way about you and the environment around, you've got to be lucky. Shasvathi Siva and Karthik Krishnan found their happily ever after but what was the most beautiful thing? Their vegan and eco-friendly wedding gave each of us something to think about deeply!
A vegan beginning of a happily ever after.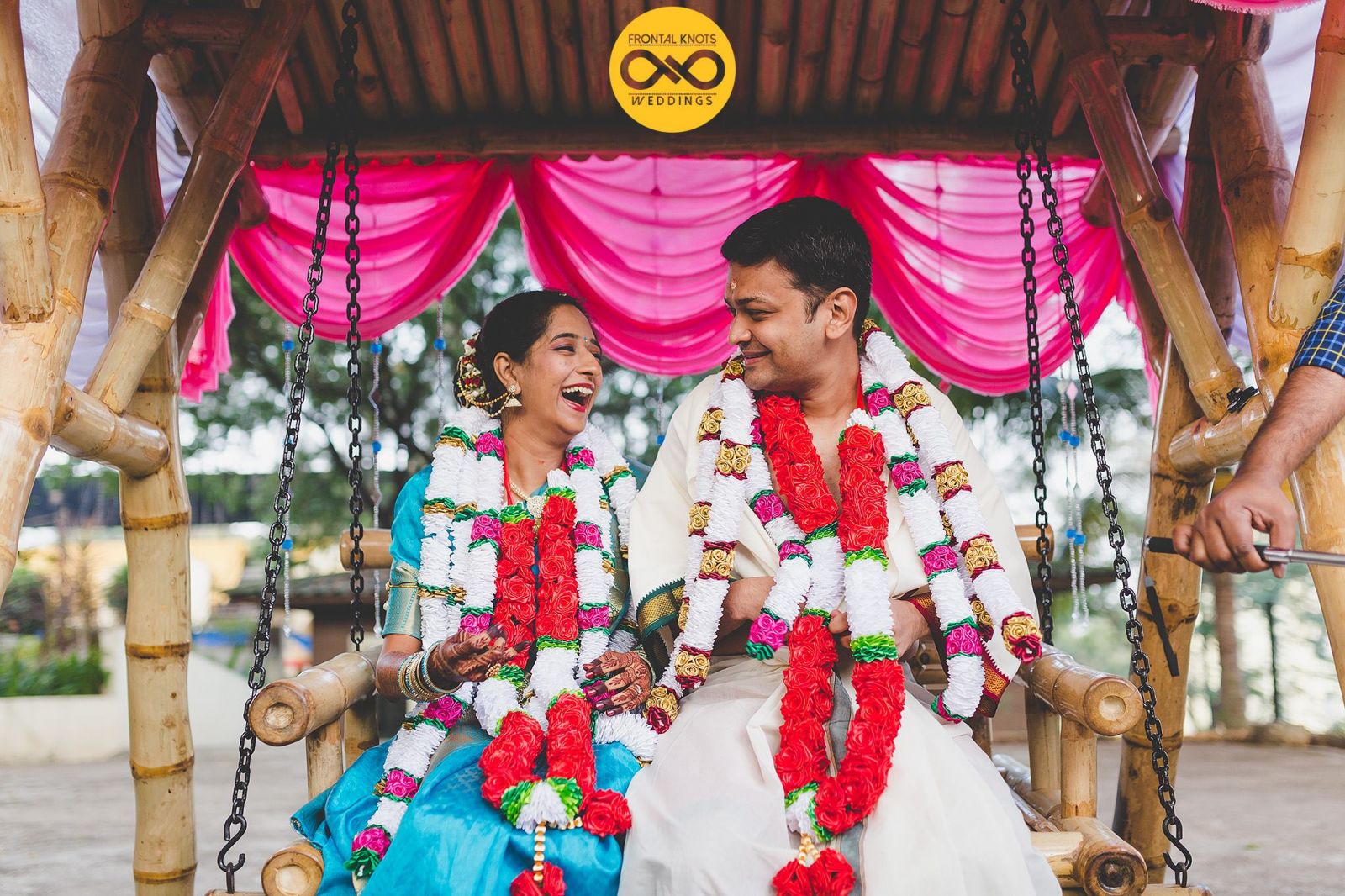 Shasvathi Siva and Karthik Krishnan. Picture credit: Frontal Knots
Marriages might be made in heaven but weddings, especially the big fat Indian ones, can be the product of nightmares due to sheer waste of resources.
But in this world, there are people like Shasvathi Siva, a Mumbai-based copywriter, who go out of their way to defy this tendency and set an example for how sustainability, tradition and enjoyment can be taught to co-exist.
Raised by staunch vegans and animal rights activists, Anand Siva and Vidya Anand, Shasvathi had incredible support from her parents for her desire to have a sustainable vegan wedding whenever she decided to get married. But, like all parents, they had a nagging worry if the future groom and his family would agree to such a thing. But that was before Shasvathi met Karthik Krishnan, the man she fell in love with and the one who would go far and beyond to help conduct their wedding in complete vegan fashion.
Considering both come from Tamil brahmin families, their first step was to understand how they could find vegan alternatives for everything from flowers to food for their December 2015 wedding.
What Was On The Food Menu?
Tamil brahmin weddings generally have an outpour of dishes made with dairy products like ghee and curd. The first hurdle was to find a caterer who would agree to make all food with vegan supplements.
"For 2 and a half to 3 months, my parents and I were busy figuring out the food for the wedding. The common caterers used by most of our family was unwilling to adhere to our needs and we were very stubborn about not using even an ounce of dairy in our food," says Shasvathi. "Eventually, a friend's uncle took up the mantle and catered for our wedding. The head chef was not only patient with our needs, but also very enthusiastic in learning different methods of cooking with alternative non-dairy ingredients."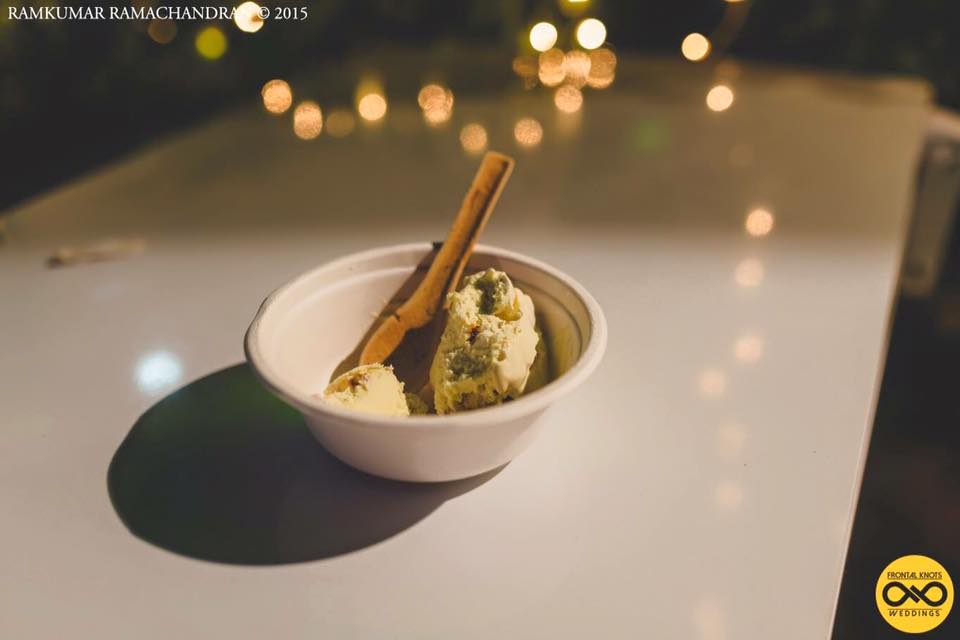 Vegan ice cream from WhiteCub at the wedding. Picture credit: Frontal Knots
The nectar of South Indian drink, the traditional filter coffee, was made with cashew and soy milk. Interestingly, the guests welcomed it with open, err, mouths and even enjoyed the different alternative dishes prepared. The dishes ranged from dal makhani, curd rice, malai to cheese dips, all vegan.
How Did You Manage The Clothes & Makeup?
We all know that Tamil weddings are synonymous with silk sarees of ascending varieties. But thankfully, Shasvathi never had to worry about clothing as her mother, Vidya Anand, had been buying non-silk sarees for years and knew the stores where they could purchase her clothes for the wedding without having to lose hair.
As for the makeup, an extensive amount of research went into finding products that are completely vegan. Shasvathi herself spent hours on the internet, ignoring cat videos and instead appealing to vegan communities for checking and cross-checking if her chosen products were dairy and cruelty-free.
"It paid off in the end," quips Shasvathi. "I wouldn't have had it any other way. Thankfully, the Indian market has a variety of vegan companies selling makeup products for my wedding. My cousins and friends from the US bought me vegan products from there as well. So, that helped a lot too. My makeup artist from Mumbai, who was already well-versed with Tamil weddings, was very careful to use my chosen vegan products. It was rather educative for her too."
One of the most notable things about the wedding was that it was pet-friendly. Shasvathi has pets that both she and Karthik dote on and could not imagine a wedding where all their loved ones wouldn't be there. "Calvin, Hobbes, Simba and Sienna (her adorable dogs) are family. How could I possibly imagine getting married without my family?," says Shasvathi.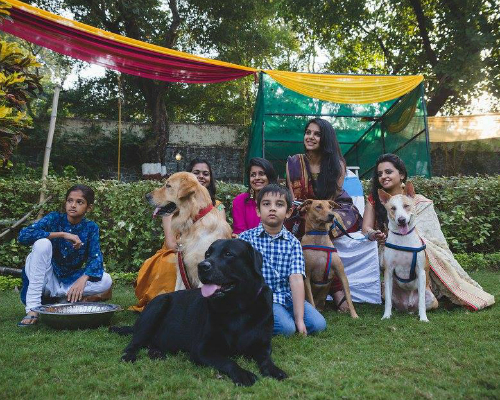 All pets assemble! Picture credit: Frontal Knots
What About The Decorations And Stuff!
It is truly remarkable how Shasvathi and Karthik's families came together to pay attention to the minutest details of the wedding, to be reassured that not even a single aspect is ignored. For the wedding mala or varamaalai as it traditionally known, real flowers were replaced with artificial flowers made of satin cloth. A lady called Sunita from Chennai got down to this meticulous task. Soon, the family realized they could do this for the entire wedding. So, all of the decorations that involved flowers were made with artificial flowers. Talk about going the extra mile.
If you thought, this was commendable, you should hear what the bride did for the decoration at the entrance. To give you a little context, in traditional Tamil brahmin weddings, two half grown banana trees are chopped and placed the entrance of the venue for good luck. Shasvathi felt there was something inherently wrong about growing two trees only to chop it for something as trivial as decoration. She says, "I find that to be anything but good luck. So, when we went to check out the venue a few months before the wedding, I'd taken 2 potted plants. The resort (which was the venue) staff decided that they'd take good care of these plants. So when we came back they'd grown tall enough for us to use them as replacements for the banana stalks."
The Oojal (the swing) used for a particular ceremony was constructed using bamboo (view first picture). Old dupattas were used to string together as decoration. Water was served in glass bottles instead of plastic bottles. Coconut water replaced packaged juices. For return gifts, her family made a mixed bag comprising dry fruits from tambulya.com. Waste was managed with biodegradable plates, cups and biodegradable plastics.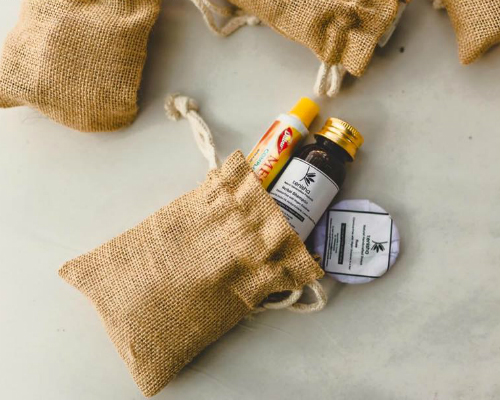 A packet of vegan products used as return gifts. Picture credit: Frontal Knots
How Did The Guests Respond To This Wedding Style?
"A lot of people came to the wedding with apprehensions considering we'd very strictly issued a no-silk, no-milk, no-plastic policy in our invitations. But almost all the skeptics went back amazed at how smoothly the arrangements were made. We compromised on absolutely nothing. People are generally under the belief that a completely vegan wedding is impossible. But I hope this serves as proof that they couldn't be more wrong," beams Shasvathi.
We hope so too. A lot of people are under the impression that having a vegan wedding means having to miss out on everything you get to enjoy in a regular wedding. Au contraire, it's about enjoying the entire process of a wedding, only, with alternatives that are cruelty-free and that leave a positive impact on not just people entering a union, but also the world they'd spend the rest of their lives in.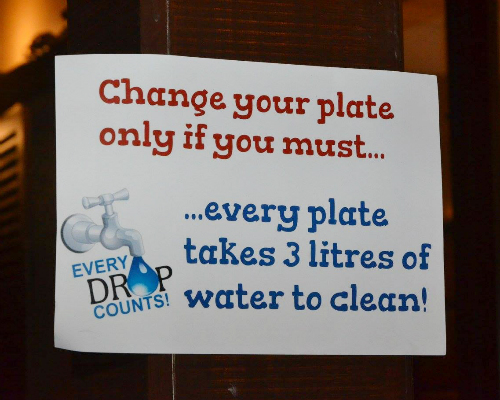 A message to conserve water at the wedding reception.
All Images By Frontal Knots
AUTHOR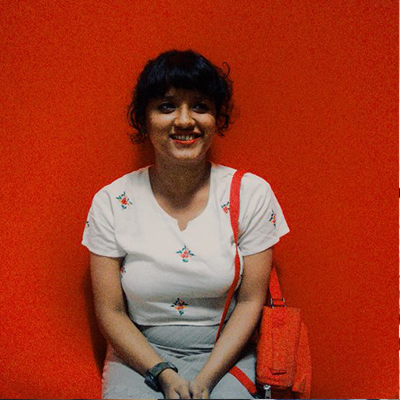 trending
Be a Vegan First Informer
Send us buzzworthy news and updates
related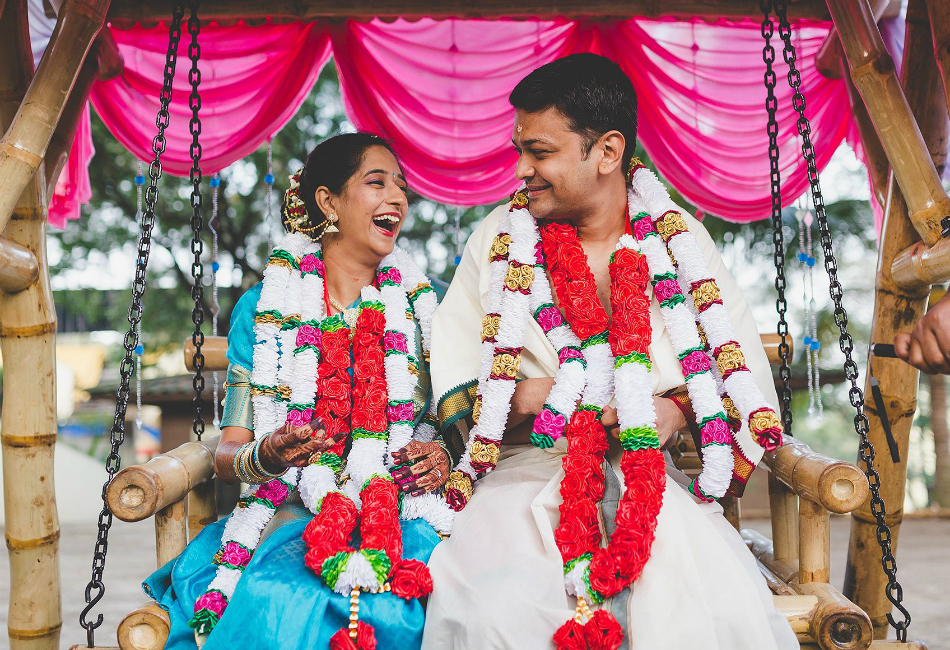 Shasvathi & Karthik's Vegan and Eco-friendly Wedding Will Definitely Inspire You!
3.8 K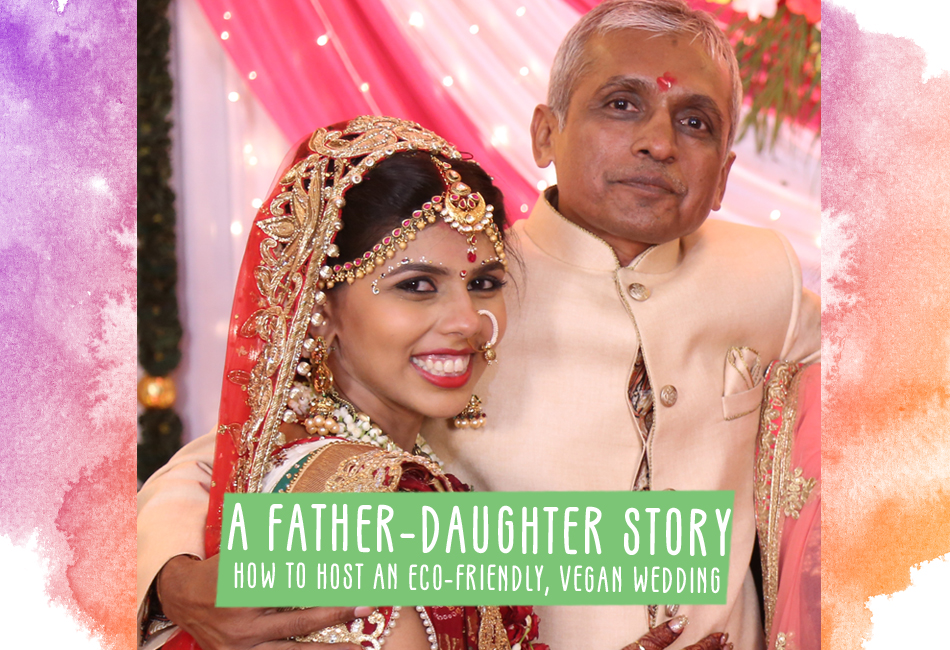 A Father-Daughter Story: How to host an Eco-Friendly, Vegan Wedding
9.9 K