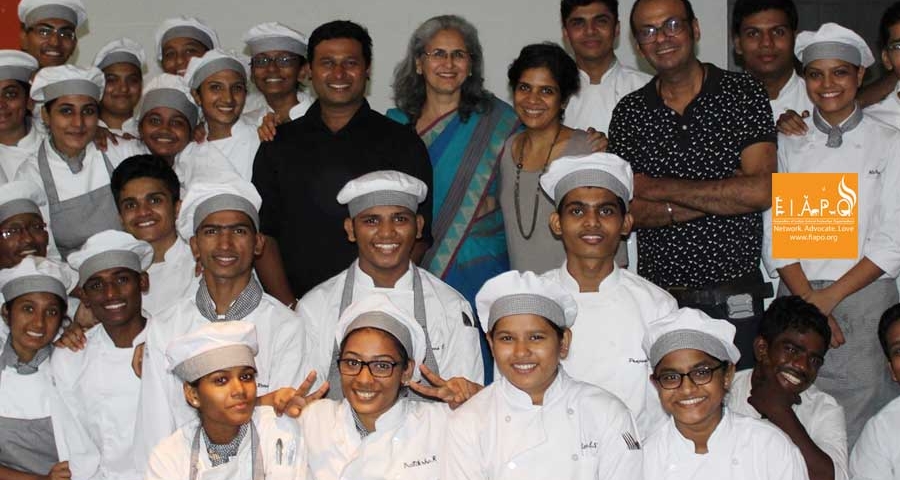 The Vegan Master Chef Challenge is taking our Catering Colleges by storm!
The Living Free Vegan Master Chef Challenge idea was conceptualized in 2014 and organized by Darshana Muzumdar, one of Pune's very well-known vegans who fiercely advocates for animal rights and is an active volunteer with FIAPO's Living Free campaign. Being from a catering background herself, she wanted to take her knowledge of vegan nutrition and cuisine to the hospitality industry itself, so she came up with the idea of holding a cooking competition to introduce the students to vegan food in a fun way. She knew it would also get them thinking about their food choices and with the fast-growing market for vegan food, she hoped it would equip them to meet the challenge and help them to open vegan restaurants.
Darshana has now successfully completed 3 years of the Fiapo Living Free Vegan Master Chef Challenge with the participation of many colleges. This year two colleges decided to open up their schedules for this challenge in the first semester - Ramanath Payyade College of Hospitality Management Studies in Kurla, Mumbai and Maharashtra State Institute of Hotel Management and Catering Technology (MSIHMCT) in Pune, which was also the first college in 2014 to host the event. More colleges are now scheduled to hold it too.
How The Challenge Works
First, the students (from first to the third year) are given a presentation on the benefits of a plant-based diet and cooking in a seminar by certified whole-food plant-based nutritionists. After which, students in teams of two are given the challenge to cook three dishes: a starter, a main course and a dessert, one of which is a technical challenge. There are three judges on the judging panel, usually prominent vegan influencers like Dr.Ritu Tripathi (Freedom From Diabetes), Namrata Shastri (Kadhali Raw Banana Flour) Vinita Contractor (Down 2 Hearth), or sometimes vegan chefs like Chef Omkar Howale (Birdsong Café), well established ex-students of the institute like Chef Nimai Kashikar, and vegan business owners like Rare Earth's Shammi Sethi. Chefs from well known five-star hotels like Chef John Biswas (J W Marriott) Chef Prasad Mathrani (Westin), and Chef Sanjay Mitra (Four Points by Sheraton), helped judge the competitions in its initial year.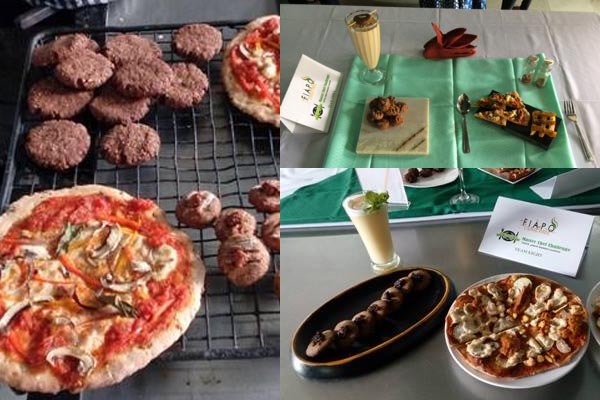 Image Courtesy Darshana Mazumdar and Ashish Bogam
This year, students were given the challenge of making a milkshake using only plant-based milk and a fruit, tea/coffee with a plant-based milk, vegan chocolate cupcakes with their own creative toppings and vegan cookies.
Students are also given one surprise recipe to dish up on the day of the challenge. This year they were given two versions of Mayavi Khandelwal's whole-grain vegan pizza and vegan cheese recipes to recreate.
The challenges and recipes are always different at each college, and the students get a huge amount of support from the Living Free team and their colleges to make this a fun, creative and innovative event.
What the Participants had to say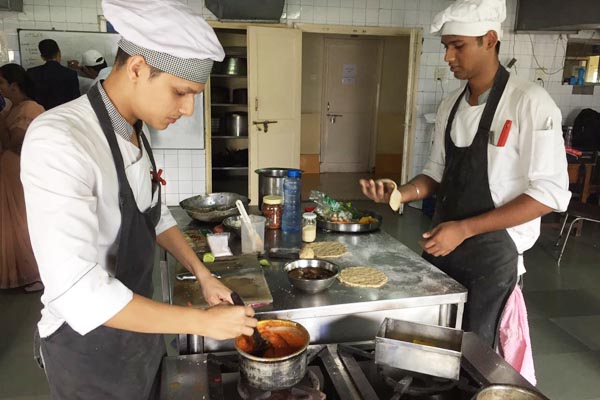 Image courtesy Ashish Bogam
"Participating in the Vegan Master Chef challenge was an experience in itself. Using ingredients like banana flour, almond milk, cashew cheese was a great learning curve. I had never thought of preparing a vegan milkshake and pizza before. My partner and I simply followed the process and things turned out well. Winning the competition was just an incentive," says Atharva Marathe. Sharing that opinion Ashish Bogam, his partner says "I had a great time learning about vegan food. I got to know that even a pizza can be vegan and it tastes awesome too! It was a great learning experience for us." - This year's winners from MSIHMCT.
Winner Divya Velayutham from RPCHMS was not just inspired by the competition but also loved learning about veganism and plant-based foods. She had this to say "By participating in this competition I got an opportunity to know that - veganism is not a sacrifice, it's how to become nonviolent towards all life. It was a very great experience to cook vegan food and win the competition. I would like to thank my college for giving me this opportunity to 'Go Vegan' and stop cruelty."
Even the Principals Were Impressed
It's not just the students that raved about the event. The principal of MSIHMCT, Ms. Anita Moodliar agrees that this was an informative and enjoyable event saying, "I must thank Darshana for enlightening us all - the faculty and students - about vegan food. Three years ago when Darshana approached us for the vegan master chef challenge, I thought it would be interesting and unique as we had never done this before. Initially, it was challenging for the students to plan a vegan menu but they eventually enjoyed the event very much."
Even the Principal from Ramanath Payyade College of Hospitality Management Studies, Ms Sanyogita Morarji speaks highly of her experience of the event at her college saying, "A wonderful effort by Darshana's organization for the promotion of veganism. Our students enjoyed the informative seminar on whole-food plant-based nutrition and participated wholeheartedly in the competition."
Sounds super, doesn't it? Well, Living Free and Darshana would love to spread this event further. If you know a college who would like to participate, or if you're a vegan food brand that would like to sponsor the next event, write to us at hello@veganfirst.com and we will connect you!
Like this?
Read: Bangalore's 'Carrots Restaurant' Prepares Vegan Meals for the Homeless
Read More: The Vegan Egg: Yet another reason to love Goa!
*special thanks to Darshana Mazumdar for being the guest editor for this article.
AUTHOR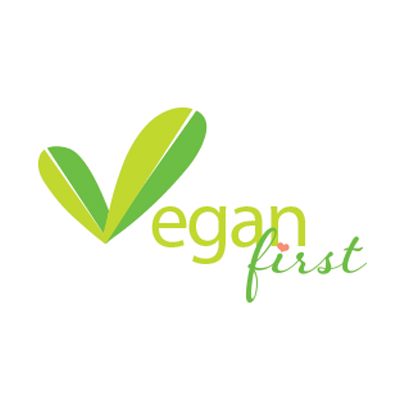 trending
Be a Vegan First Informer
Send us buzzworthy news and updates
related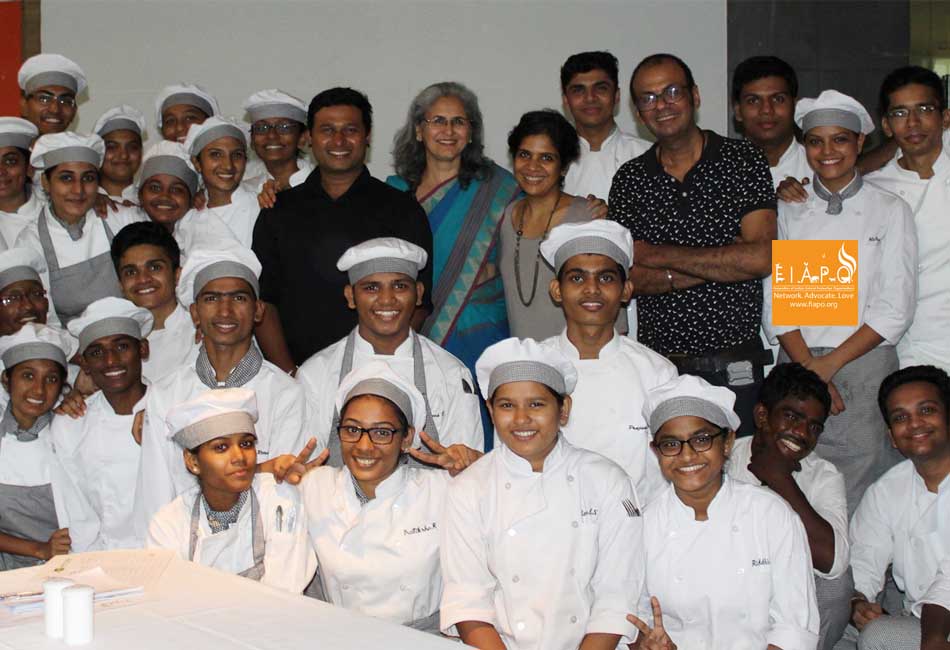 The Vegan Master Chef Challenge is taking our Catering Colleges by storm!
1.3 K