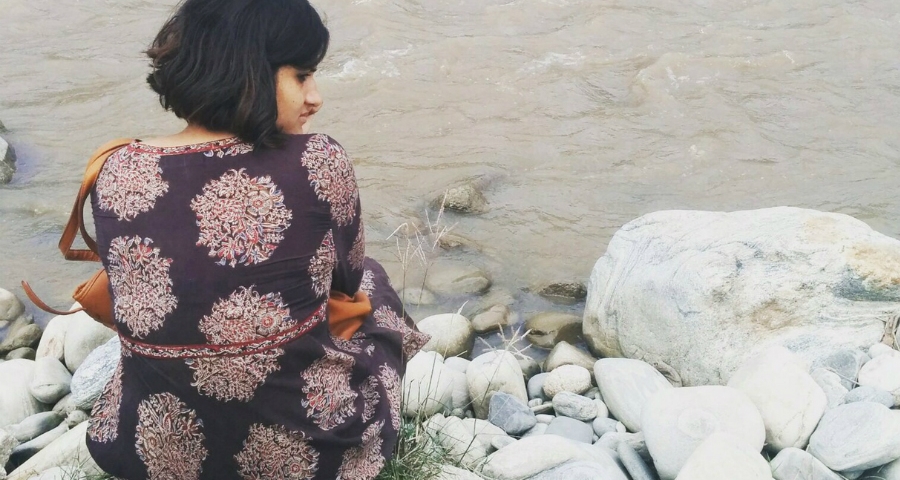 THIS is How The Earthquake In Nepal Changed My Life!
I had just successfully finished with the exhibition of my newly launched brand of clothes the previous day here in Delhi. While I was sitting and strategizing about my next step, I saw my laptop shaking, I thought I must have been feeling this because of fatigue. Just then I heard all the utensils in the kitchen shake.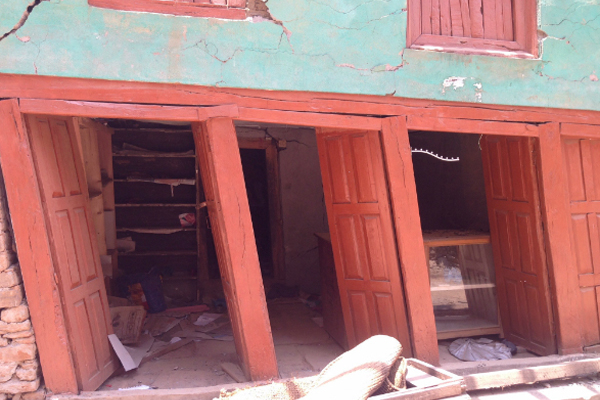 The state of the villages in Sindhupalchowk.
I ran downstairs and was constantly on the phone calling everyone to ask if they were okay. That's when a friend called me saying "I hope everything is fine back home." I said "ya, I haven't heard anything alarming yet!". Just then, she clarified saying that the epicenter was in Nepal.
I was sitting in Delhi and didn't even have a TV to watch, I started calling my parents who live in Kathmandu frantically, but the phone was not reachable. I got a lot many calls in the meanwhile and I prayed to God that someone picks up the phone back home, when I dialed. My parents phone was not reachable again.
I called my neighbors, there was no dial tone even. The uncertainty of it all was killing me from inside, the heart rate was increasing! I went over to a friend's to see the news on Tv. Those stills and recordings on the television were driving me crazy. But the media people have a habit of over exaggerating I thought, so I didn't think too much about it.
Then finally my mother called me up saying they were taking a flight from Kolkata to Kathmandu and this happened while they were boarding the flight. So they are still at the Kolkata airport. Phew!
I called my neighbor to check on the house and she said things inside the house had fallen here and there. The cupboards, the bike, the flower pots. And worse of all my dog, my 3 year old golden labrador was seen on the terrace, scared and anxiously running around completely confused. I cannot even imagine what he must have gone through those few hours.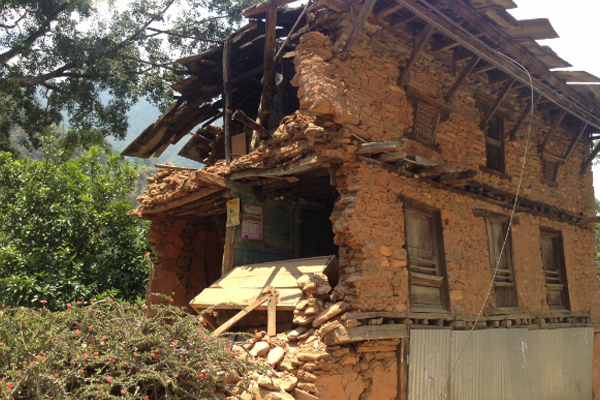 This is how the houses mades with rocks and loose mud broke down.
I requested my neighbor to throw some water and food at him. The house staff hadn't reached home yet and thus there was no one to take care of him.The night passed somehow and my parents left for Kathmandu the next morning because they didn't want to stay away from home.
Whatever it was, they wanted to return to their country and make sure whoever needs any help was given that. And they obviously wanted to get home and take care for my dog, who is more like my brother.
I was so nervous about them heading back but when they did reach with much difficulty considering every person was trying to leave the country at that point. The scene at home was so intense. My dog just wouldn't leave my parents alone for even a second. He was so scared.
I suggested that I'll come home to Kathmandu to volunteer and make myself useful. Fully charged, I collected some funds from all my friends and anyone who wanted to contribute towards helping the grieving people. With some of the funds I bought medicines and took it back with me on the flight. Another friend of mine came down from Bombay to go to Nepal with me and both of us set out from home fully ready to make a difference.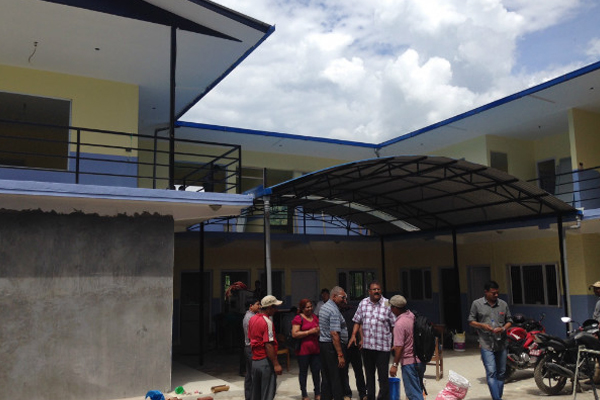 The hospital that was badly destroyed, and after we got it restored.
My dad came to pick us from the airport and while we were driving back home, it felt like I had come to another country. We could spot tiny blue tents all over the city, wherever there was some empty space, away from the buildings. People were all on the road, there were only a couple of cars moving. All the shops were shut and the only sounds you could hear was that of ambulances taking injured patients to the hospitals. At the Pashupati ghat, where the cremation takes place, there was a constant smoke looming above with the number of bodies coming in.
We reached home and my dad briefed me about all the current happenings. It had been three days since the massive earth shaking terror attacked this country.
This country that was rich in culture, happiness and heritage, was bared down to the knees. Heritage properties were destroyed forever. Resources were limited and depleting at a constant speed. People were losing heart and their families. There was sadness brewing over our heads and everyday people were living in a fear that there was going to be a worse earthquake hitting the country and we'll all just perish. There were minor tremors every single day. We'd go running out of our houses in the middle of the night. We preferred staying out in the courtyard so that there is a chance we might survive.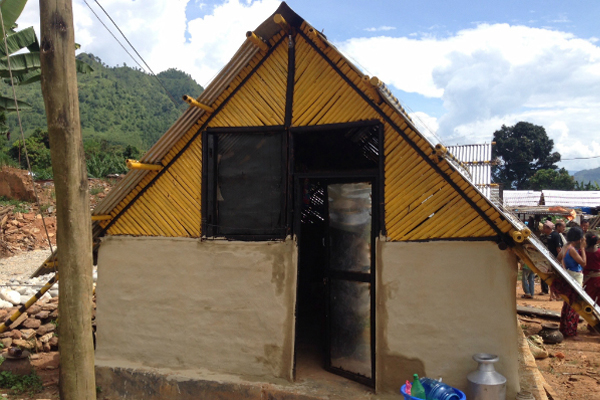 The houses we got made in one of villages that were struck badly.
Nights were very difficult. Days even harder. The day I reached, along with dad's friend who is a doctor in the village areas, we drove down about 2 hours to reach one of the areas that were badly affected - Sindhupalchowk
And I will never forget what I saw that day. The houses were only a pile of stones. There were broken walls, cracked pillars, a lot of roadblocks and no humans.
All the people had taken whatever was left of those meager belongings to a nearby open area and set up tents to call them their new houses. This area had about 1000 inhabitants. A lot many had died in the Earthquake. More than family members dying, it was the cattle that had suffered. For some that was the only source of livelihood. Along with losing close family, the destruction done to property and the death of cattle, these people had lost hope of moving on. They had to start from zero. It was painful and I felt very helpless.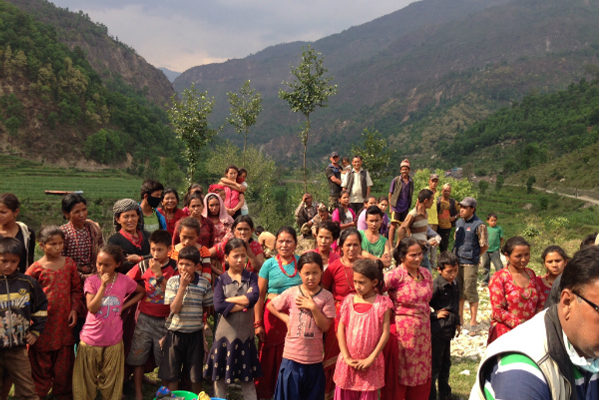 The people anxiously waiting for some more basic amenities.
So, the next day, we went and spent a lot of time talking to people, giving away all the kilos of rice and dal we had got for them. But the one thing that they needed more than the food was shelter. In calamities like these, you realise that people from villages are so self sustainable when it comes to food that it's the last thing they want.
A very sweet family hosted us at their concrete house and gave us mattresses to sleep on. There were a lot of tremors that night, and as this place (Sindhupalchowk) was closer to the epicenter the intensity was higher there and we couldn't sleep much. When we walked out of the house the next morning, we saw that the house where we were resting had a ground floor that was completely destroyed. Another huge shake and it would have come crumbling down. Our lives were literally hanging by a thread or let's say a shake.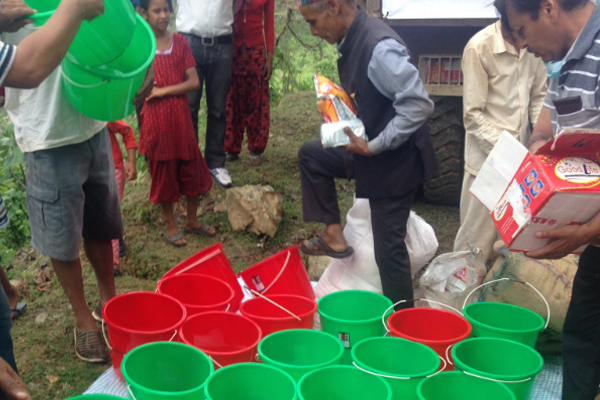 Giving the villagers buckets, blankets, food and tents.
There is so much I witnessed and felt that it's difficult to put it down. But overall, I felt like a small speck when it comes to nature's wrath. We wouldn't be able to do anything if there was another huge quake, God forbid. We realised the importance of basic necessities more than money, we had money to spend but no food, water or shelter to buy because of limited supply and increased demand. We understood how vital it is to be united and work together. That there are no barriers, we all become equal at such times. In fact, all of us who lead comfortable lives, had to go down to the fundamentals and learn every tiny thing. That made me rethink the way I live life. Do I need more? Do I need just this much?
AUTHOR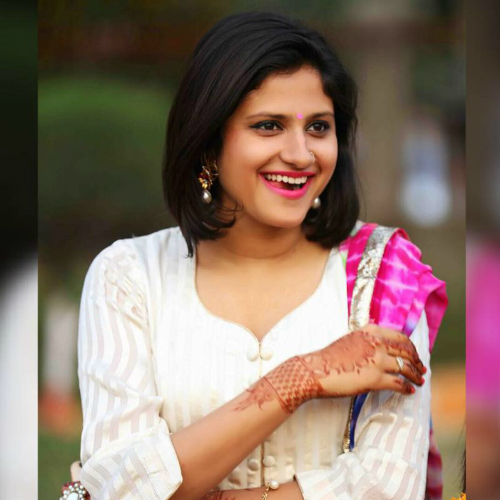 trending
Be a Vegan First Informer
Send us buzzworthy news and updates
related
Meet Kuntal Joisher: A Vegan Mountain Climber Who Conquered Mt. Everest!
3.3 K