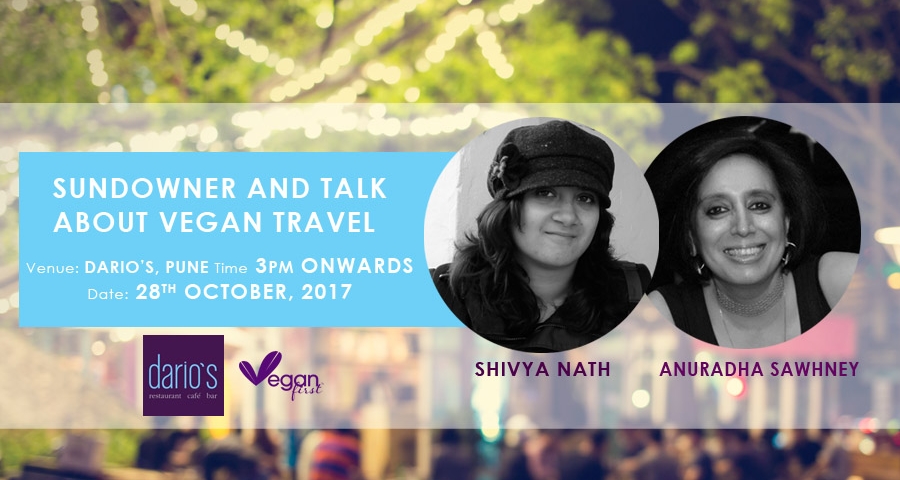 Vegan Travel Diaries with Shivya Nath and Anuradha Sawhney at Dario's Restaurant
We've got some exciting news for people living in and around Pune City. Dario's is holding a World Vegan Week from the 28th of October to the 1st of November to celebrate everything plant-based. As part of that celebration, Dario's along with Vegan First will be hosting a special live talk and buffet sundowner with Shivya Nath and Anuradha Sawhney.
If you've been looking at destinations to travel to as a vegan you've probably stumbled onto Shivya Nath's blog called The Shooting Star. Shivya decided about 3 years ago, to give up her apartment, sell all her possessions and see the world as a solo traveller. This courage and tenacity to explore has taken her to various corners of the world. Her adventures have won her accolades from National Geographic, BBC, Vogue and a host of others.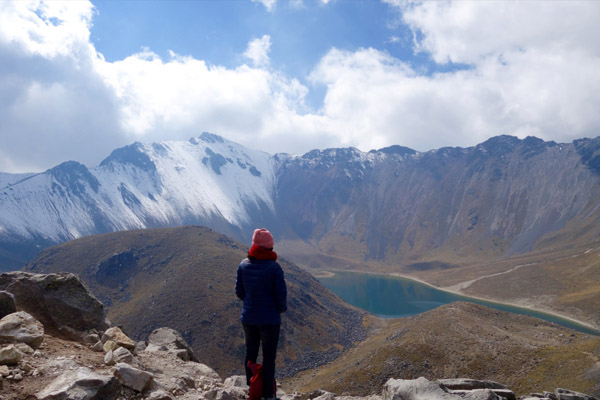 Shivya in Mexico, Image Courtesy Shivya Nath
In the same space, author of 'The Vegan Kitchen: Bollywood Style!', Anuradha Sawhney will also speak about her experiences with travel and vegan food. Sawhney currently runs a successful Vegan Bakery and catering service called Back to the Basics. Ms Sawhney was also the ex-Chief Functionary at PETA India. Both ladies will be speaking about their experiences travelling as a vegan.
Along with this amazing opportunity to interact with our speakers, you will also get to sample some of Dario's spectacular vegan food. Creamy pasta, mock meats and incredibly fresh salads are just some of the delicious vegan dishes that Dario's has been plating up for years. They will be offering up 2 packages (details below) for the sundowner, so make sure you RSVP with us soon (details at the end of the article)!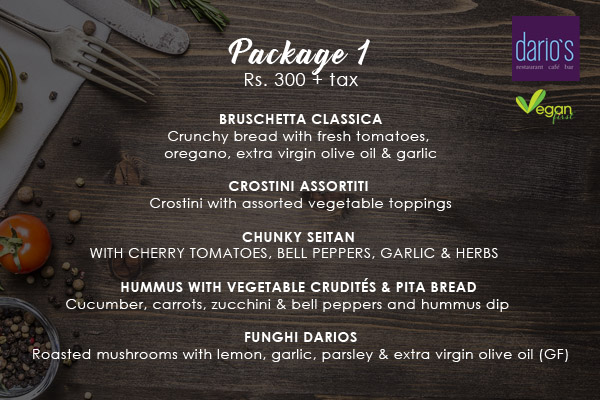 Package 1 which includes the pass around starters and a choice of 2 mocktails - one is a strawberry lemonade, and the other is a rosemary infused lemon juice. Package 2 includes the starters, mocktails, unlimited 'buffet on the table' and desserts.
Dario's shall serve the first package whilst our speakers are presenting and then shift whoever is staying back for dinner onto designated tables where they shall continue serving the full package.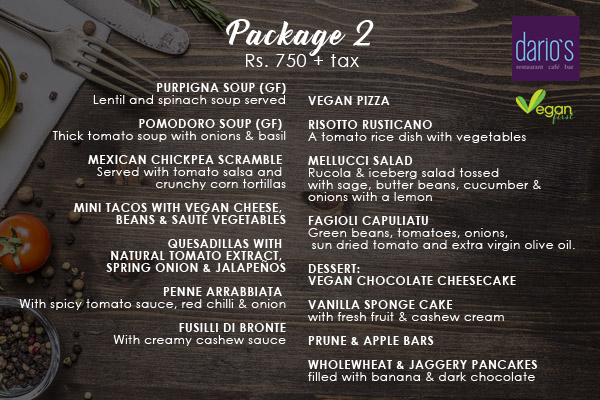 Big thank you to Chef Dario and Rebecca J Bailhache for this delicious spread!
Additionally, as part of World Vegan day held annually on the 1st of November, Dario's' wanted to something a little bit special to celebrate, which is why they've dedicated a week to serving up vegan cusine. The special dishes on the set menus (above) will be available throughout the week.
If you'd like to be part of the celebrations at Dario's and get the chance to interact with Shivya Nath and Anuradha Sawhney do RSVP with us, by dropping us a mail on hello@veganfirst.com. Package payments will be done individually at Dario's on the Day.
Got questions on veganism? We have the answers to your most commonly asked queries, click HERE
For more vegan food and restaurant in your city check out our Big Indian Restaurant Guide
AUTHOR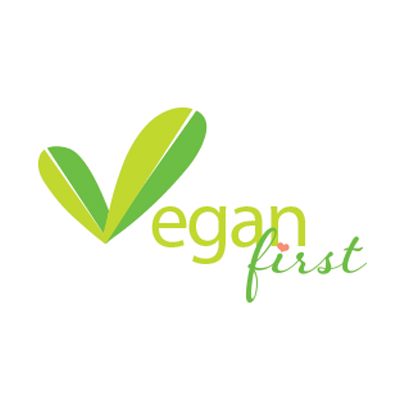 trending
Be a Vegan First Informer
Send us buzzworthy news and updates