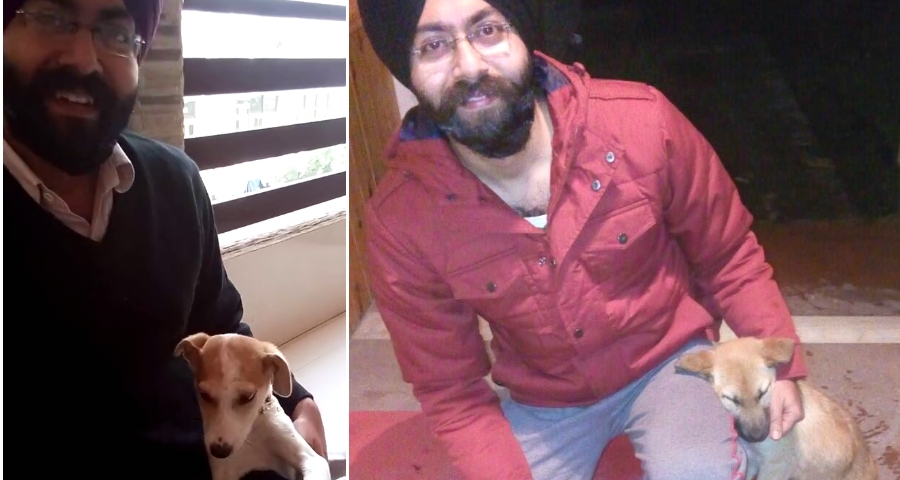 #VeganStories: Kamal, A Charted Accountant By The Day, Animal Lover For Life!
I was not always a great animal lover. However, I loved watching discovery channel and often felt uneasy, when I saw series on animals going extinct. Still unaware, how much my choices and eating habits shattered so many lives and brought pain to other living beings.
I remember how helpless I felt, when I saw two community dogs die in front of me on different occasions and I couldn't do anything for them. I had sleepless nights after these incidents. So I feel, something towards animals was still there inside me or I shall say for dogs.
I wanted to have a dog, though my family was against it. I kept pursuing them to 'buy' one and finally I brought a female pup (named her Caddie) from my aunt's place, when her female dog gave birth to some beautiful pups. So, that was the start of the process of my conversion to an animal lover.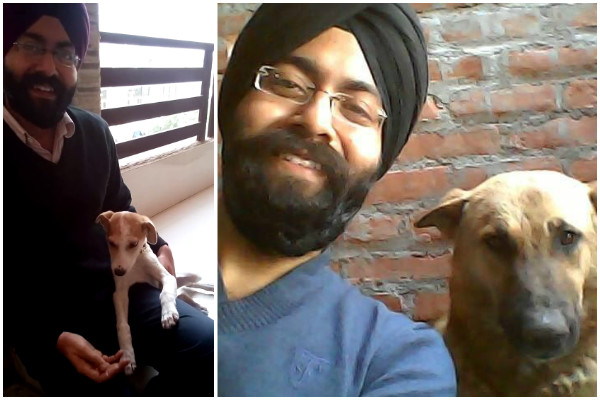 With Shinchan & Buddy
However, I favoured buying dogs, even selling them. Later, while surfing channels on the television one day, I somehow stopped at a movie called 'Hachiko', about a loyal dog and by the end of the movie, I was in tears. It made me realize the importance of Caddie in my life and the thousands living on streets.
Next night, As I was walking out on the road, I could see a mother, a community dog desperately trying to keep her pups safe from the heavy winter rain. I fed her and covered her with a blanket and her pups. This was the first time I ever helped an animal. Though, there was a sort of hesitation about what people would say, as most of them consider community animals to be filthy, but the satisfaction I got was priceless.
Then, I rescued a paralysed female dog once from a drain. I posted about her on the Indian Animal forum on Facebook and came into contact with a wonderful animal organization called 'People for Animals, Kanpur' who has adopted the SPCA hospital in Kanpur. They helped me and the dog. I joined as a volunteer, but left as a dog lover. I had not much interest in other animals, though as a weekly duty, I had to take care of feeding and medication of sick cows, birds, dogs, rats etc.
I was an occasional meat eater. Interacting with various animals like goats, cows, dogs, birds and watching the pain of these animals, I quit meat. After six months, I quit eggs (eggs were a massive part of my diet) after learning how eggs were a big contribution in cruelty towards hens.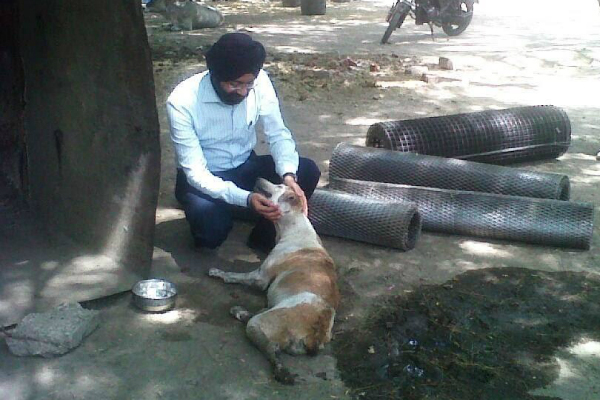 With Late Jyoti, in the background the hospital when it was under construction.
With too many Facebook friends sharing about veganism, the topic kicked me every time in my heart somewhere. I was hesitant. My family was against my animal welfare work and pure vegetarianism. My spouse was supportive, but got annoyed that I wanted to go Vegan. They all thought, I was going too deep in all this and will ruin myself, While I was finding my real self. I was still thinking and unable to decide. For me going vegan was not a great deal but to take a stand against my family was.
One day an incident happened. An injured cow came at the hospital. She was serious. We knew by experience that she will not make it for too long. But, to our surprise, she kept living for a week or so. Somebody informed about her small calf roaming on the streets. He was also brought into the hospital. She looked at him and cried. He too cried for her. Within a few minutes she passed away. This incident shook me to the core. I felt some intense emotions, It just struck me about how cruel is the dairy industry with calves who are denied their right to have their mother's milk. I saw animal emotions myself. I could imagine what millions of cows, goats, chickens, pigs and other animals go through every day. I was vegan the next morning.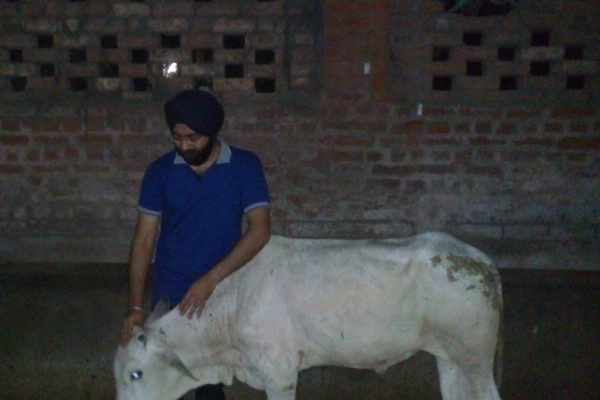 With a calf at SPCA
My spouse accepted my feelings and my other family members, though do not agree with me, have accepted my being Vegan. What I think is that, once you make the connection, you stop thinking about substitutes of meat and dairy, people against your thinking and you only think about the cruelty around you. That is when you take the step. For me milk is like calf's blood. I am a happy man. I can look straight into the eyes of the animals I treat, without guilt. I feel healthier. Earlier, I used to have lower immunity issues and kept falling ill frequently. I have had asthma for the last 13 years. Since going vegan, I haven't fallen ill once, I do not remember the last time I used my inhaler.
Vegan lifestyle is a healthy and cruelty free way to live. I am now pursuing my dream to be a bodybuilder and the process is vegan. I know I will succeed.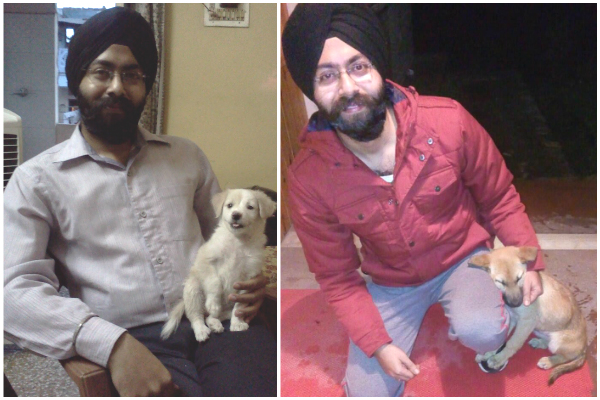 With Caddie when she was a pup and Ginger, who was adopted by a hotel in Manali.
Aspiring Vegans, This all happened in a span of 1.5 years. I now feel, I should have transformed earlier. Don't worry about becoming unhealthy as there are enough alternatives and substitutes available. Veganism is growing faster. There are enough substitutes for icecreams, shakes, cakes and pizzas etc. We have relished everything I mentioned at our home itself. So, jump into the compassionate way to live life ASAP. Animals cannot wait, everything else can ?
P.S: Keep loving all types of animals. Promote adoptions of Indie dogs and cats. I adopted one injured indie pup last year from SPCA and I am unable to differentiate between the love I got from him or any Pedigree dog. The female paralysed dog I rescued as mentioned above, started walking in a couple of months, is happy and living a healthy life at our hospital.
Images : Kamaldeep
AUTHOR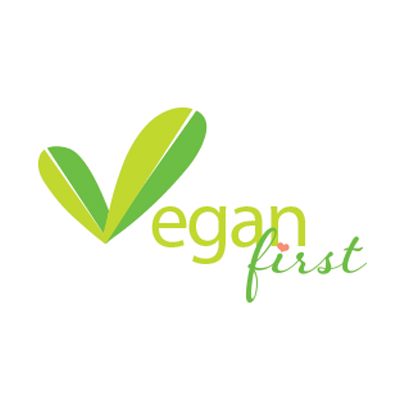 trending
Be a Vegan First Informer
Send us buzzworthy news and updates
related
Meet Kuntal Joisher: A Vegan Mountain Climber Who Conquered Mt. Everest!
3.3 K