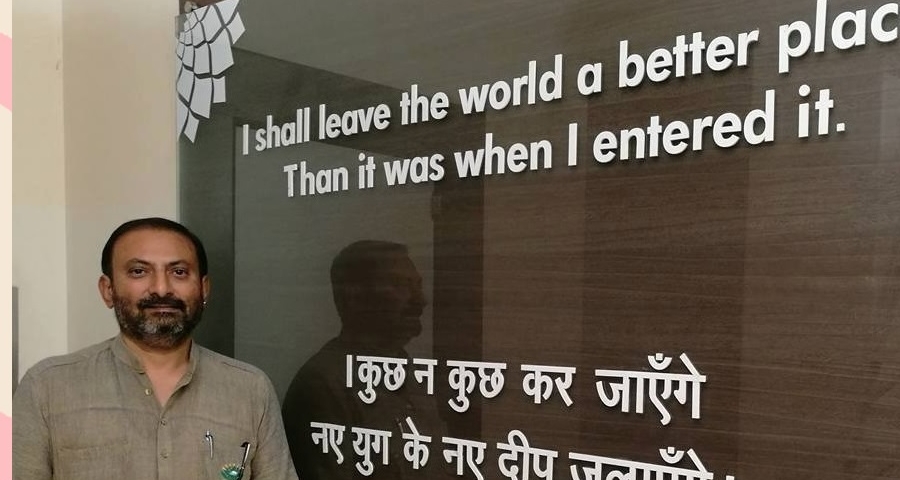 Yogesh Mathuria walked from Pune to Sri Lanka on Foot to Spread World Peace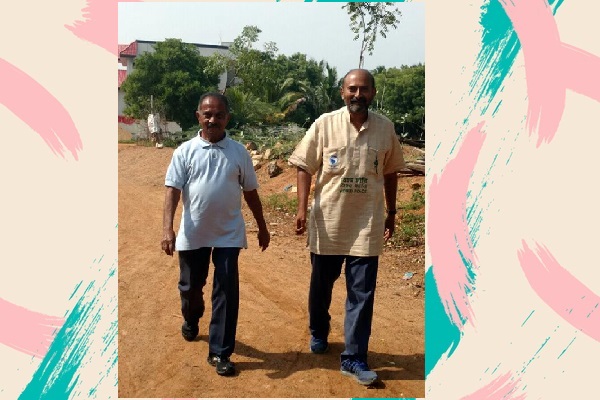 Image courtesy Yogesh Mathuria, On his way to Sri Lanka
When we think about family, the people who come to our mind is our parents and a few close ones. Rarely do we think about the entire world as one family and all the people in it as our relatives. In a world which has been divided into religions and countries, some people are creating awareness of world peace through the concept of Vasudhaiva Kutumbakam (One World Family). One such individual is Yogesh Mathuria who has decided to walk to countries spreading the message of world peace and harmony. He has travelled from Bombay to Pakistan, Pune to Sri Lanka and is currently on his way to Bengal on this mission. We caught up with him before he took off to Bengal, to get an idea of his life on foot. Here's what he had to say.
VF: What is your outlook and philosophy of life?
Yogesh Mathuria: I have dedicated my life to serve humanity with wellness and peace over the last 10 years. My entire focus is on serving humanity and spreading the message of peace world over by walking. I feel that religion has divided our society, so I carry the message of Vasudhaiva Kutumbakam (one world family). Apart from this, I also specialize in reversing diseases especially cancer.
VF: What made you turn into a vegan?
YM: I lost my wife due to cancer after which a lot of learning came into my life. Veganism came after that; I was like a blind IT guy, focused on my work and just enjoyed life. With this challenge, I got exposed to various ways of treating people and veganism was one of them. Over the period of time, I realized this lifestyle is beneficial, though I did not know much about it initially. I also met Dr. Nandita Shah and Dr. Rupa Shah along with many others who helped me turn into a vegan. I've been vegan for almost 8-9 years now. My parents are semi-vegans in spite of their age, and they still made this transition which is tremendous.
VF: Who inspired you to start the peace walks?
YM: All this is a part of the divine blessing. The seed for the peace walk was sown back in 1966 when two people who had travelled from India to the USA without a single penny, came to my home. They were promoting their book called 'Bina Paise Duniya ke Padal Safar'. The germination of that seed happened after 2013 when I walked from Bombay to Pakistan in 2015. From 2016 to 2017 I again walked from Pune to Sri Lanka and back to Pune. The main objective is to talk about humanity and our similarities, which are more than that which divides us. While walking from village to village, I meet many different people and it's always an amazing feeling when we're so welcomed and treated with kindness and respect.
VF: Tell us more about your walk?
YM: It's a Zero budget walk. I stay wherever I get a place and eat whatever is offered to me throughout my journey. During the evenings we spend time with locals in public and spread the message of one world family. I walk around 8 hours per day for about 35 kilometres usually navigating through Mr. Google. It is really an experience when you start to do something like this and see the response from people. Most of the time we don't share a common language, yet I try to convey through emotion and actions the idea of ahimsa and each of us being the same. I would like to speak about veganism too, however, language tends to be a barrier from state to state, so I stick to the main focus of peace for all - Peace not just for us humans but also our animal friends. In fact, wherever I go, I only eat vegan food and explain as best as possible that I don't consume any dairy or animal products. In fact, many of the homes I get invited to have accidentally vegan food since most vegetarian Indian food is vegan taking out the dairy.
VF: Can you tell us of an inspiring story from your journeys?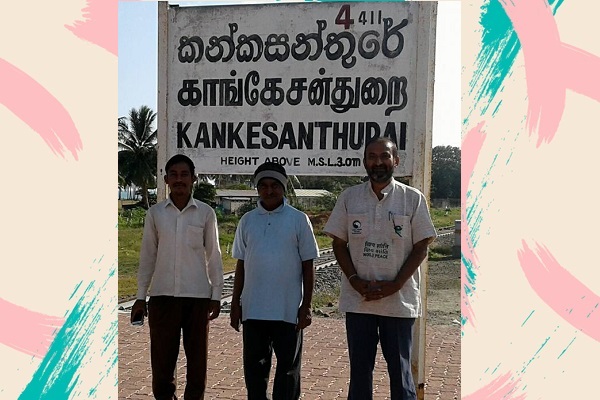 Image courtesy Yogesh Mathuria on his way to Sri Lanka
When I went to Sri Lanka, I didn't know anybody in the country so we stayed with people from diverse religions. Moreover, the youth there really helped us out. In one of the places, a youngster took us to the mosque where around 700 people had gathered to offers prayers. At the end of the namaaz, I was asked to take a session with them. I was a bit sceptical and nervous in the beginning but the participation and interest of the people there was incredible. They were really enjoying the discourse and the message I was bringing with an open mind, that it went on for more than 30 minutes and it went on until 1 am at night. In our society, we have built up a particular image of the Muslim community. This experience helped widen my perspective and made my beliefs more concrete, that we are in fact united even though our backgrounds are different.
Another experience was in Tamil Nadu when Jayalalitha passed away and everything was shut. I was told to stay indoors, as there was unrest in the cities and it was best not to travel. After about a 40 to 50km walk, we finally reached a city where a common friend was kind enough to contact his uncle to get us a hotel room to stay the night. Having walked for so long and not eating, we were tired and famished. We couldn't find food or even water for ourselves. When we contacted the person who booked the room for us, he was kind enough to make some arrangements and after a few hours, his uncle along with a young boy came with vegan food for lunch. There was a language barrier, so we could not convey our thanks, but we were very grateful for his help.
Again at around 7 pm, his uncle was back with another gentleman, bringing us food for dinner and while leaving, through his actions he said he'll bring breakfast and lunch the next day. With a grateful heart and full tummy, we managed to get some sleep. Just as he mentioned the following day both breakfast and lunch was given, each time with a new boy by the uncle's side. Curious to know who these people with him were, at lunchtime, the travel companion explained - the uncle was coming from a village 30 mins away and didn't have transport of his own. So, he would hitchhike with a person passing, all the way to the hotel to get us our food. This information shocked us and we could not believe the kind of generosity and kindness this man who doesn't even know us, showed us.
It is stories like these, that prove there is genuine good in people and in the world. This makes our walk all the more enriched and helps us to persevere no matter the odds.
Yogesh Maturia is an inspiration and so is his initiative. The world we live in today has been fragmented and it is through efforts of people like him, that we see the ray of hope again. His journey inspires us to be a one world family. There are many who are just as inspiring, who have given up their voice for veganism and even cycled 19000kms through India to spread veganism. These stories are uplifting and hopefully will get more of us to dedicate part of our time to doing something just as selfless.
Like this?
Read? Mohanji Explains: 10 Simple Truths about our Dynamic with Animals
Read More? Saint Kabir says Do not Kill any Life, Same Life force Pervades all
AUTHOR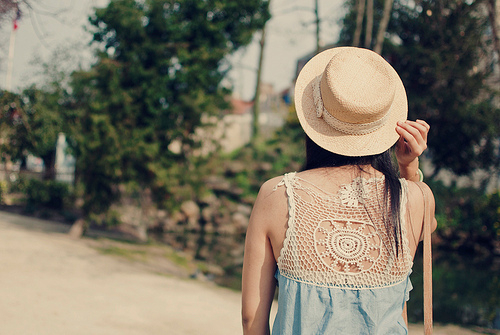 trending
Be a Vegan First Informer
Send us buzzworthy news and updates