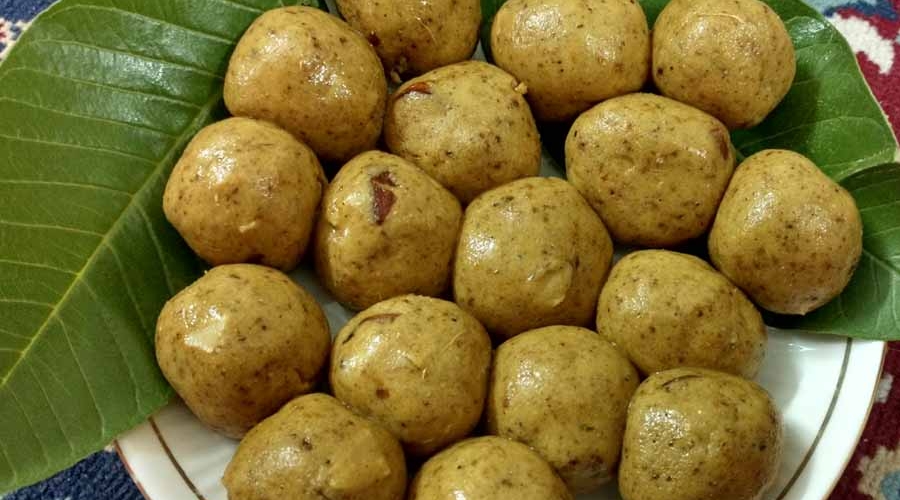 Besan Ladoo with Vegan Desi Ghee
A family secret that has been veganised and tastes as good as the original. Here is the recipe for Besan Ladoo.
Preparation
Prep Time
Cook Time
Total Time
Ingredients
1 cup besan
0.5 cup powdered organic sugar
0.25 cup vegan ghee
Chop few almonds and keep aside
1 1/5 tsp Cardamom Powder
My mom's Besan Ladoo recipe is so foolproof that I wanted to veganize it for my kids. It used to be a super hit at home in the past. After turning vegan, I was very hesitant to try this with coconut oil. I remember trying this last year with jaggery and not being too happy with the outcome. My expectation was that I must come close to mom's besan ladoo taste.
So this Diwali, my mother-in-law had made all the vegan fried items and coconut burfi and I wanted to contribute amongst my busy schedule too. So finally after office on 19/Oct, I tried the vegan ghee recipe on Vegan First. When I added the guava leaves as per the recipe in the hot cold pressed coconut oil I used, my father-in-law asked me "Are you making ghee?". They are not vegans and I was quite excited about that reaction. People at home definitely noticed the difference when the vegan ghee was being made itself. I did not leak the surprise to anyone yet.
I started making the ladoo and finished it. My mother-in-law asked me what I was doing and I told her the truth as she knew how particular I am when I pick my ingredients for cooking. It has to be dairy-free. They always eat anything vegan I make although they do consume dairy. They also have accommodated only vegan milk/cold pressed coconut oil based festive sweets too. That way I am very grateful to them for understanding us and accommodating this change from their side. It's quite big in my opinion because we avoid multiple types of cooking under the same roof and this also helps us continue to live happily together despite the choices we made in terms of eating habits.
Next, I had to present this to my father-in-law. I announced saying that these are few diary ghee based ladoos I made for just you and amma. He did not suspect and ate happily. Appreciated it a lot too. Finally, I had to surprise him with the truth. He was shocked and could not believe that it was not made with the cow ghee.
My m.i.l also wants to try her signature Mysore Pak recipe with this ghee eventually. Ultimately they want us to eat their traditional sweets and some of our choices also has made them disappointed in the past. But them being open-minded to try so that we can eat it is a big change too. I have promised to make the ghee for her when she makes the vegan ghee Mysore Pak . I will surely post that on Vegan First when it happens.
My husband's aunt came to pluck the guava leaves with me. She also saw me making the vegan ghee, but really to tell the fact, people who are in the dairy world cant imagine that something like ghee can be made innovatively too.
"Where there is a will there is always a way" is so true. Nevertheless, she still thinks even after eating the sweet that I put cow ghee in it. I could not really explain that I did all this to arrive at this result. "Some things are best left unsaid."
Method:
1) In a heavy bottom pan/kadai place the besan and mix the nuts and vegan ghee and continue frying in very low flame till the besan becomes dark yellow from a light yellow. It also emits a nice fragrance. By this time the nuts will also be roasted enough.
2) Switch off the gas and to that add the sugar and cardamom powder and mix well
3) When it cools add one/two more tbsp of the vegan ghee and bring it together and make the balls
Alternate options
1) IN cases where you cant find guava leaves, pick a good quality cold pressed coconut oil and the cardamom will mask the coconut flavour
2) If you want a healthier option without sugar/oil, try this version with date paste.
3) If you don't like using coconut oil, use a cold pressed sunflower seed oil
4) One can use coconut sugar, but the outcome may be a little different as that has more moisture.
AUTHOR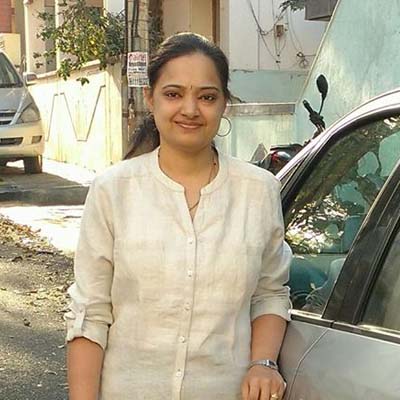 Top recipe contributors