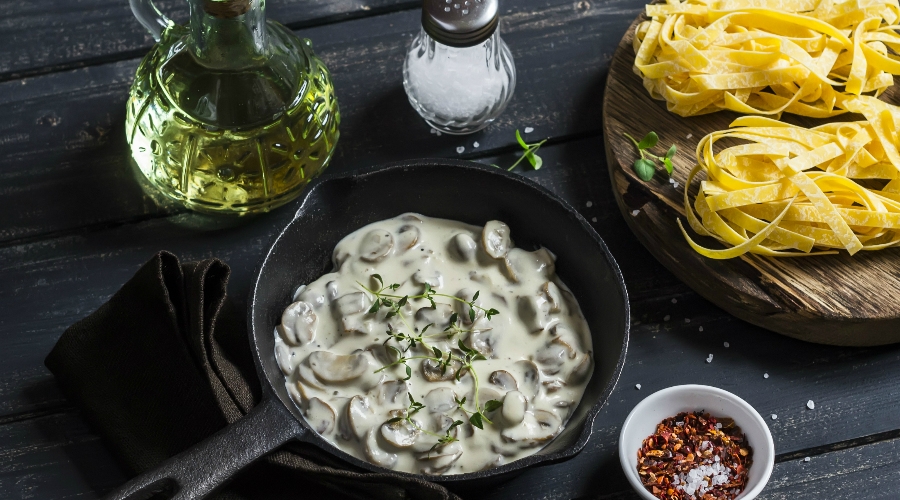 Creamy & Yummy Garlic Mushroom!
Our love for buttered mushrooms is never ending. That's why we're offering you a recipe that has a combined goodness of cashew butter, cream and mushrooms. This creamy garlic mushroom is easy to make, and so so yummy!
Preparation
Prep Time
10 mins
Cook Time
15 mins
Total Time
25 mins
Ingredients
250 g button mushroom, sliced
½ cup cashew cream*
½ cup water
¼ teaspoon cumin powder
¼ teaspoon pepper powder
6-7 garlic cloves, finely chopped
Pinch of turmeric powder
Italian seasoning, to taste
Salt, to taste
Coriander, chopped
Onion, julienne
I was 11 years old when I first saw mushrooms being sold in a vegetable market. And boy, wasn't I excited! I grew up in a small town where edible mushrooms sometimes grew in the damp soil following monsoon showers. Some of my playmates who hailed from the hilly villages of Himachal Pradesh recognized the edible varieties and collected them for dinner. However not everyone--including my parents--were keen on gathering wild mushrooms for cooking even though I badly wanted to eat them.

Now we had shifted to a bigger city and I was taking delight in enjoying the novelties "big city" life offered. Amusement parks, vast glittering marketplaces, black currant ice cream, burger joints... and mushrooms sold in packets. Dad bought one despite mom's protests--she thought all mushrooms were poisonous. I wouldn't be selling it if it were poisonous, quipped the shopkeeper.
Dad made a simple stir fry. Just sliced mushrooms and a few finely minced cloves of garlic sautéed in a little oil, seasoned with salt and pepper. We ate it with toasts slathered with ketchup. Yummy!
I just added a special touch to my favorite dish to make this Creamy Garlic Mushroom.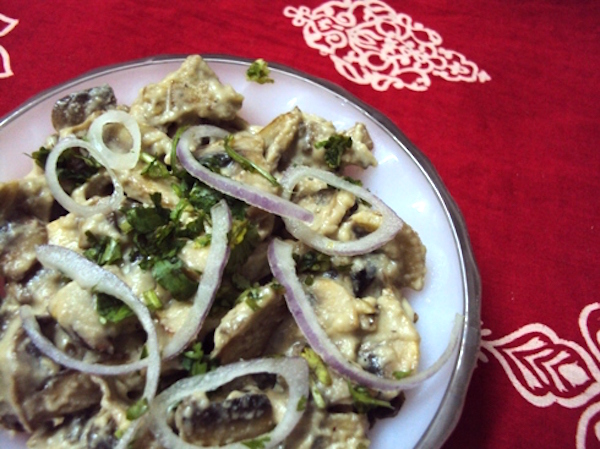 METHOD
1. Heat oil in a heavy bottomed pan and add the mushroom. Cook for a few minutes on medium-high heat till the mushroom slices start turning golden on the sides.
2. Add the garlic and chilli once the mushroom is cooked.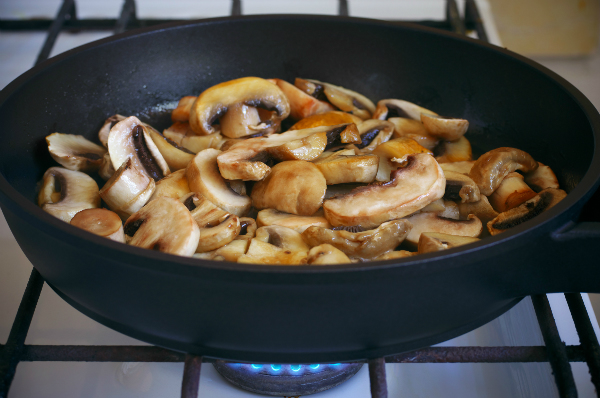 3. Mix in the cashew cream, turmeric powder, cumin powder, pepper powder and salt.
4. Add ½ cup of water and cook for a few more minutes.
5. Spice it up with Italian seasoning and serve hot garnished with onion slices and coriander leaves.
* Other Preparations:
Cashew Cream: Soak ½ cup cashew nuts for a few hours or overnight. Drain and rinse well. Blend into a smooth paste using a few tablespoons of water.
AUTHOR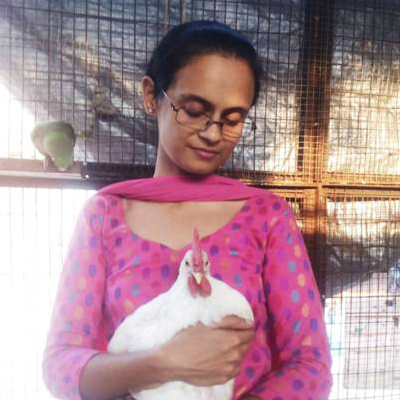 Top recipe contributors