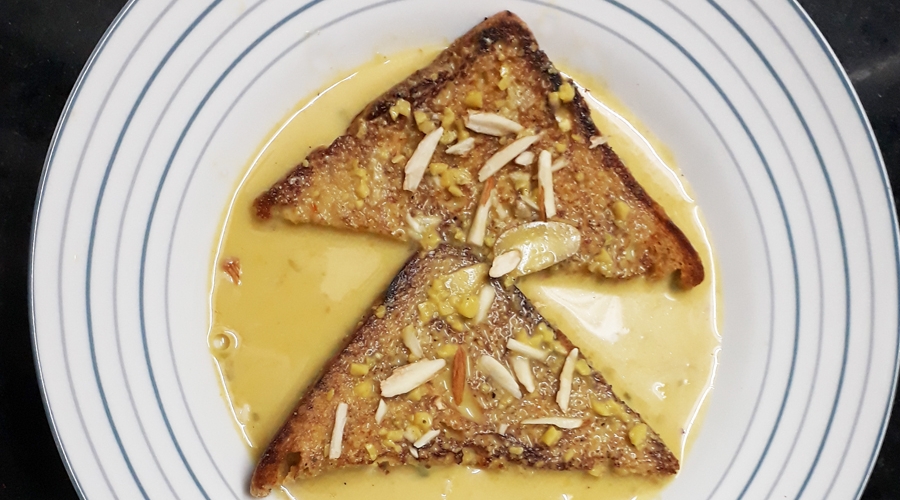 Dairy-free Shahi Tukda Dessert Recipe
A decadent and rich, dairy-free Shahi Tukda dessert recipe made with soy milk.
Preparation
Prep Time
Cook Time
Total Time
Ingredients
3 Slices Whole Wheat Bread
500ml Soy of nut milk
50gms Sugar (or to taste)
2 tsp Milk Masala
1 Tsp Corn Flour (mixed with 2 tbsp of soymilk)
1/4 tsp Cardamom and nutmeg (or to taste)
2 tsp Chopped nuts of your choice
2 or 3 drops rose essence
2 tsp Oil for frying bread (optional)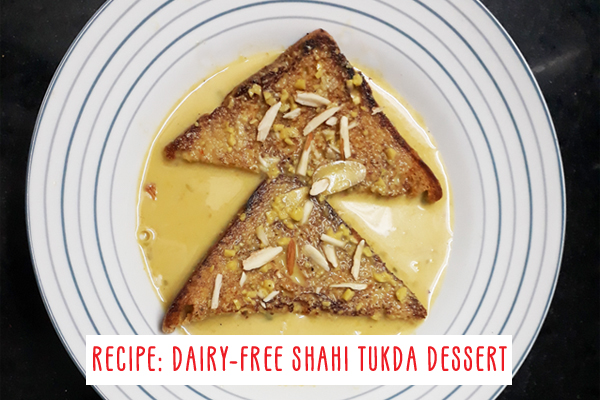 Image courtesy Suvarna Shrotri
Shahi Tukda also known as Double ka Meetha, is a dessert from Hyderabad Telangana and is a royal treat to taste buds. The baked or fried toast gives this dessert a lovely flavour. It has a nice flavour of cardamom and saffron and tastes delicious either warm or chilled.
It's a very simple but rich dairy-free dessert where the main ingredients are bread, milk (we used plant based milk) & dry fruits. In this recipe, the bread is shallow fried to reduce the calorie content, but you can just as easily toast the bread.
Method
1 Mix plant based milk, sugar, milk masala, corn flour mixed milk, cardamom & nutmeg powder and bring it to a boil on medium flame.
2 When it starts boiling reduce flame to low and boil until mixture turns thick but pouring consistency. Stir in between to prevent sticking.
3 Turn off the flame. Add the rose essence and let it cool at room temperature.
4 Cut the bread slices diagonally into 2 or 4 pieces, shallow fry them in a pan on low flame till golden brown and crisp. Transfer them to a plate.
5 Arrange the crisp toast pieces in layers on a serving plate. Pour the flavoured milk on the top ensuring the toast pieces are covered and soak up the juice.
6 Garnish with chopped dry fruits and nuts before serving.
Devour the Yummy dairy-free Shahi Tukda dessert
AUTHOR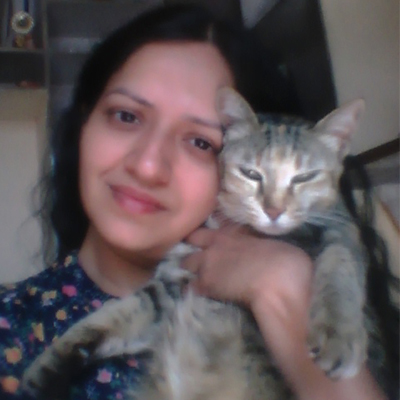 Top recipe contributors