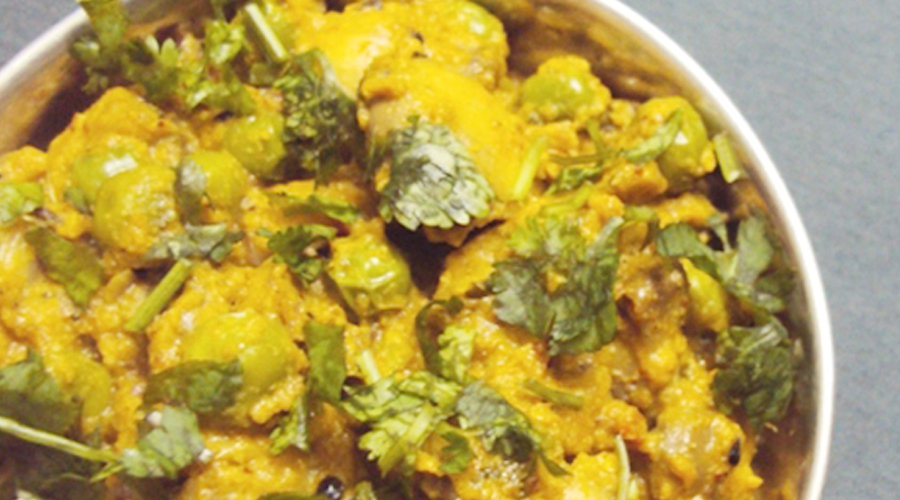 Malai Mushroom Matar - A Flavoursome Dinner Dish!
A perfect combination of creaminess along with the goodness of mushroom and peas, this dish is just the right kind of accompaniment along with your dal and rice.
Preparation
Prep Time
10 mins
Cook Time
15 mins
Total Time
25 mins
Ingredients
250 gms button mushrooms, Quartered
1 cup shelled peas
½ cup cashew cream*
2 medium onions, Coarsely chopped
1 medium tomato, Coarsely chopped
5-6 cloves of garlic, crushed
A small piece of ginger, Crushed
1 tbsp cooking oil
1/4 tsp mustard seeds
1/4 tsp cumin seeds
A small stick of cinnamon
2-3 cloves
1-2 bay leaves
1 pod brown cardamom
1 pod green cardamom
1-2 medium dried red chillies, Broken into pieces
½ tsp garam masala
¼ tsp turmeric powder
¼ tsp cumin powder
¼ tsp pepper powder
Salt, to taste
1 cup water
2 tbsp coriander leaves, Chopped
When I was a little girl, there was this vast mango grove near my house. My young mind conjured up all sorts of romantic things about the "jungle" (as we called it). There would be fairies, pixies, and goblins living on tree tops and burrows, giant strawberries and magical beetles waiting to be discovered, a golden fox hiding somewhere inside the thick foliage. I was sure that one day I would really find something fascinating and magical in the "Enchanted Woods". Yeah, I grew up on a diet of Enid Blyton books.
Often my friends and I ventured into the jungle looking for some adventure. The mango trees with their thick trucks and low hanging branches were perfect for climbing, and it was even more fun if they were laden with raw green mangoes that we could pluck and eat right off the branches. There were flowering shrubs, mostly Lantana bushes speckled with clusters of bright yellow and orange flowers, and tendli vines with ripe red (but gross tasting) berries. On one such trip into the jungle, one of my friends gave a shout of delight while I was busy looking for the elusive golden fox.
"Dharti ka Phool", she squealed, pointing to a cluster of big white mushrooms. Within minutes the girl and her brothers were digging the earth, retrieving chunks of mushroom from the damp soil. Her mom made a delicious subzi with it, my friend told me. Would I like to have lunch with her today? For some reason I said no--and regret that to this day!
Back to the present. In today's city life, there is nothing even remotely fascinating about buying button mushrooms wrapped in polythene from the vegetable market. But maybe we can try to compensate for the fun element by infusing some drama into our cooking experiments with the fungus? This curry is so simple to prepare yet looks like you spent long hours in the kitchen making it!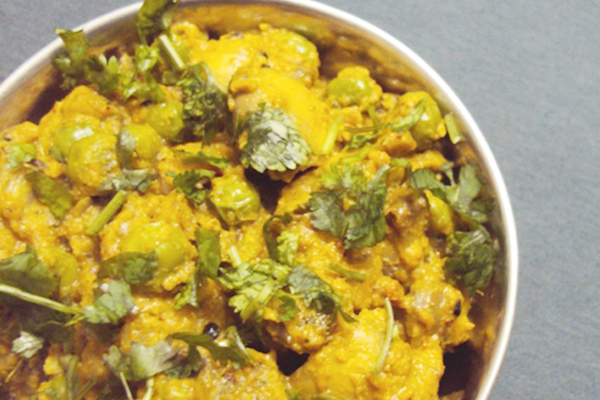 Method:
1. Grind the onion, tomato, garlic and ginger into a paste. Keep aside.
2. Heat the oil in a pressure cooker/kadhai and add the mustard seeds, cumin seeds, cinnamon, cloves, bay leaves, brown cardamom, green cardamom, and dried red chillies.
3. Once the whole spices splutter and release their flavor, add the onion-tomato paste to it. Cook on low-medium heat for a few minutes until most of the moisture evaporates.
4. Add the turmeric powder, garam masala, cumin power, salt, and pepper powder. Cook for another 2-3 minutes and stir in the mushrooms and peas. Add a cup of water and cover the pressure cooker/kadhai. Let the curry cook on medium-high heat for a few minutes until the peas are tender.
5. Add the cashew cream and mix well. Simmer for a few minutes until the gravy reaches the desired consistency. Add more water if required. Garnish with coriander leaves and serve hot.
*To make cashew cream, soak ½ cup cashew nuts for a few hours or overnight. Drain and rinse well. Blend into a smooth paste using a few tablespoons of water.
You can also try making Meatless Dal "Gosht".
AUTHOR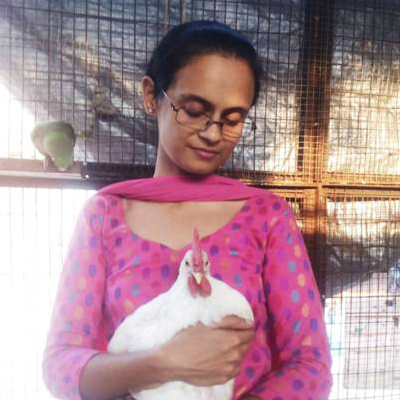 Top recipe contributors