Peanut Butter Chocolate Fudge For The Soul!
Being vegan can have its perks, and this healthy, delectable, and chocolaty peanut butter fudge is here to the rescue. With only a handful of ingredients, you too can replicate this recipe and make delicious fudge at home.
Preparation
Prep Time
5 min
Cook Time
15 min
Total Time
1 hr 20 min
Ingredients
2 Tablespoons Peanut Butter
1-1½ Teaspoons Cocoa Powder (Unsweetened)
½ cup sugar
½ Cup Water
½ Cup Coconut Oil
Pinch Of Salt
1 Sachet Instant Coffee Powder (Optional)
1-2 Tablespoons Chopped Assorted Nuts (Optional)
I was staring at a big bar of Cadbury Dairy Milk chocolate laying in my fridge. For a moment I'm tempted to pick it up and devour it. Should I treat myself to a last piece of this chocolate bar before giving it all up and turning vegan? But my conscience gets the better of my taste buds and I decide to give it away, along with other non-vegan food items in my kitchen and fridge. Goodbye, Dairy Milk; forever.
Fast forward a few months, I discover that Hershey's chocolate syrup doesn't contain milk products; which means, I can eat it! Enjoying a chocolaty treat after a long, long time makes me creative. Why not mix it with some peanut butter? Yummy! Then another thought pops into my mind...is there a way I can make the chocolaty-peanut buttery mess into solid blocks to resemble my past love, Dairy Milk chocolate? What if I used coconut oil which solidifies inside the fridge? I just had to try it out as soon the idea came up, and thankfully, it turned out so well! A few more adjustments and here is the recipe I finally came up with.
Fudgy, decadent, and melt-in-the-mouth delicious. Not like Dairy Milk chocolates which I was out to imitate, but yummy nonetheless.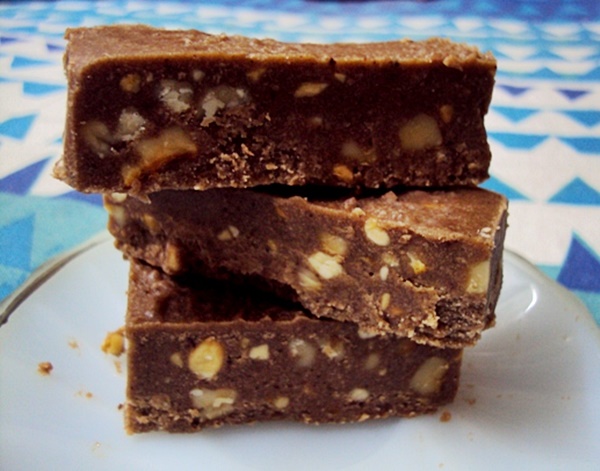 METHOD
1. Combine the sugar and water in a saucepan, and bring to a boil over medium-high heat as you stir occasionally.
2. Lower the heat and let it simmer until the syrup turns light golden colour. Be careful while making the syrup as sugar tends to burn quickly.
3. Transfer the syrup to a stainless steel bowl and add the coconut oil, peanut butter, salt, and cocoa powder to the syrup.
4. Candy making is a delicate process, so we will now cook the fudge over a water bath. Take 2-3 cups of water in a deep bottom saucepan/kadhai and bring to a boil. Now make a double boiler by placing the bowl of ingredients over the boiling water saucepan. The heat from the boiling water will melt the ingredients inside the bowl.
5. Lift the bowl off of the saucepan once all the ingredients have melted.
6. Let the mixture cool down a bit. While it is still warm, add the coffee powder and nuts.
7. Take a spoon and start beating/whisking the mixture. It will turn thick and creamy as you whisk it. Transfer the mixture into a shallow tray and refrigerate till it sets.
To unmold, dip the tray in hot water for a few seconds and invert. Cut into pieces and refrigerate. The fudge melts pretty quickly once it's kept out of the fridge in hot weather.
AUTHOR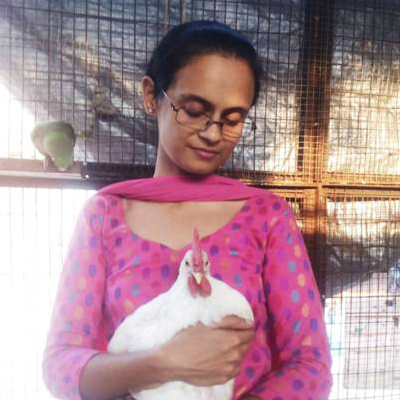 Top recipe contributors