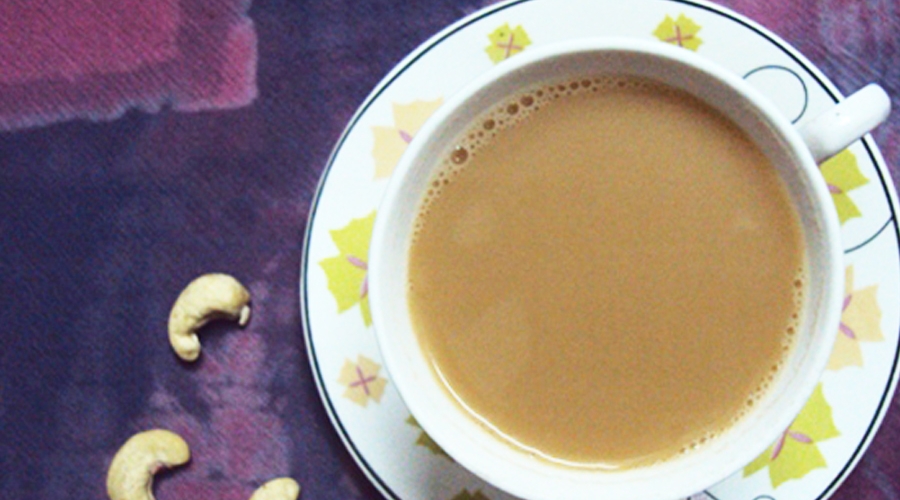 Some Hot Spiced Masala Chai With Cashew Milk
So you want to go vegan but are finding it hard to give up your beloved cuppa? Here's a Vegan Masala Chai to take away all your blues!
Preparation
Prep Time
5 mins
Cook Time
5-8 mins
Total Time
Ingredients
1 cup water
2 teaspoon black tea leaves
A small piece of ginger
1 crushed green cardamom
2 crushed cloves
3-4 crushed peppercorns
crushed Sugar to taste
1 cup cashew milk
So you want to go vegan but are finding it hard to give up your beloved cuppa? It is OK, you are not alone. Very often it is a cup of aromatic masala chai or filter coffee that stands between a wannabe vegan and the gentle world of veganism. During my pre-vegan days I was totally in love with tea, or rather, addicted to it. While considering giving up dairy for good, I seriously wondered how I would manage without the good old chai. At a logical level, I knew addiction to something was just not a valid excuse to continue supporting the cruel and unnecessary dairy industry. But still, The thought of giving up tea was so daunting!
Yeah guys, caffeine is addictive. And that is one of the biggest reasons we find it so difficult to give up tea or coffee. While some people are able to quit caffeine cold turkey, many others are not - the withdrawal symptoms like headaches, irritability, and inability to focus are all very real. Take this from a former tea addict.
It would be great if you are able to overcome your caffeine addiction completely, but it is an unfortunate fact that many of us have become dependent on caffeine for our normal functioning. One practical solution is to shift to black tea/coffee for your caffeine fix while letting go of tea/coffee with milk. You can also try green tea which has a lower caffeine content as compared to black tea/coffee. Better to feed your addiction with a dairy-free beverage if at all you need to indulge it!

A small cup of mildly sweetened cardamom-ginger infused black tea does the trick for me. Experiment with black tea, instant coffee and green tea--and flavoring substances like ginger, cardamom, cinnamon, cloves, lemon, orange peel - to find out what works for you.
While no longer addicted to caffeine (or so I believe!), I sometimes make masala chai with cashew milk, and it tastes amazing! You can also make great tasting filter coffee with cashew milk if coffee is your weakness.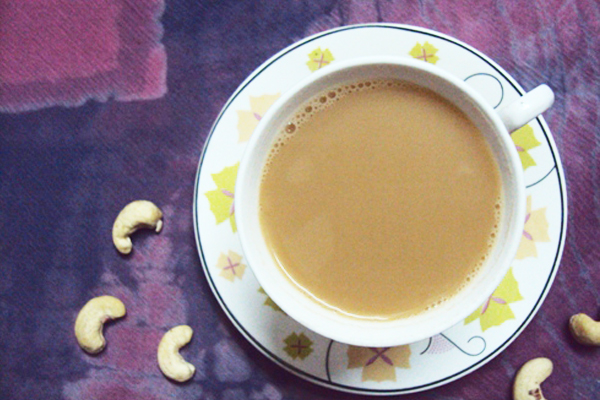 Method:
1. Bring the water to a boil. Add the tea leaves, ginger, cardamom, cloves, and peppercorns. Simmer on low heat for a few minutes until the flavors are well infused. Add sugar.
2. Add the milk and stir to combine. Simmer for a couple of minutes. Strain and serve hot.
The whole spices listed here are just my personal favourites. You can add any, or a combination of green cardamom, brown cardamom, clove, peppercorn, star anise, cinnamon, and fennel. Or you can also make your own chai masala with this recipe.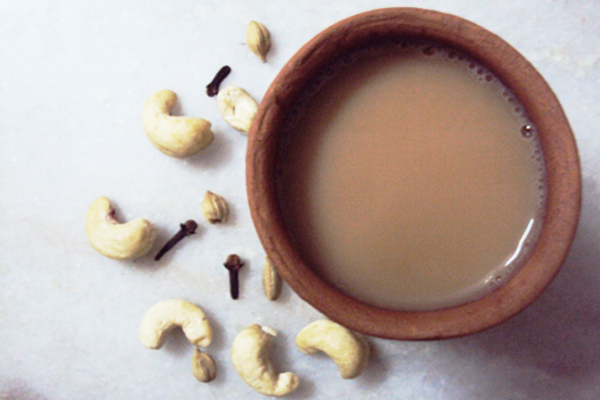 Served the traditional way... In a kulhad.
AUTHOR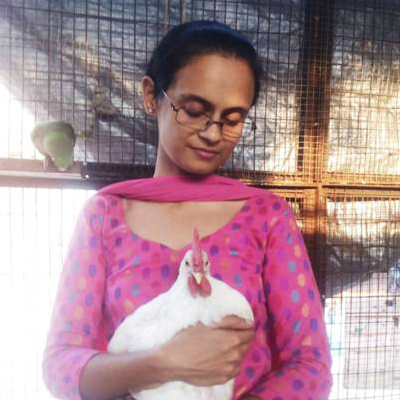 Top recipe contributors