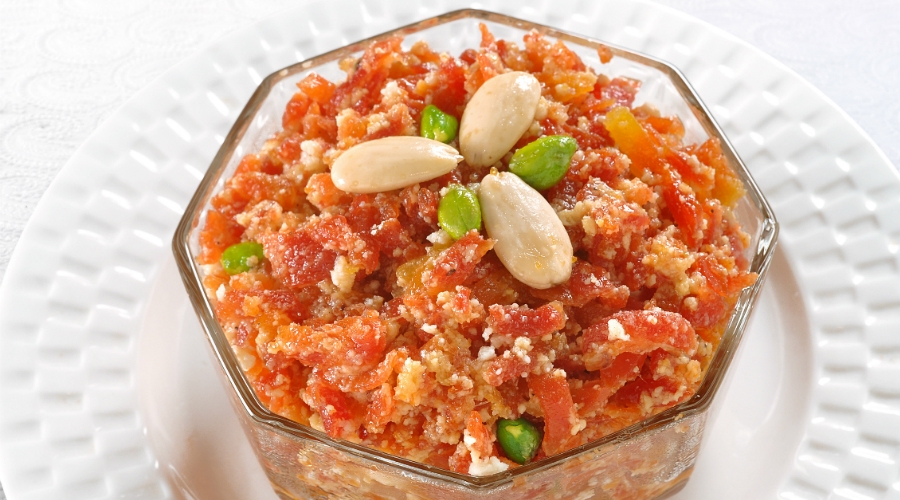 Warm Gajjar Ka Halwa with Cashews!
Gajjar halwa is made across India for all the festival celebrations and is a favorite among many. This rich dessert can be easily made with a few simple ingredients for you, your family, and friends.
Preparation
Prep Time
15 min
Cook Time
25 min
Total Time
40 min
Ingredients
Coconut oil: 1 Tablespoon
Cashew Nuts: 10-12 soaked for a few hours
Water: Half cup
Carrot: Half a kg peeled and coarsely grated
Sugar: Half Cup
Green Cardamoms: 2 Powdered
Roasted nuts: 2 Tablespoons For Garnish
Carrot halwa is one of those Indian desserts that are the easiest to veganize—all you need to do is replace the dairy milk and ghee with plant-based alternatives. Still, I personally find the traditional method of preparing this delicious dessert too tedious. Cooking grated carrots in milk, waiting for it to cook down, not being able to take off your eyes from the pan... I am not so patient! But who said you have to be patient to make yummy sweets at home?
If you love carrot halwa but feel that it's too time consuming to prepare, then this is the recipe for you. It's really simple and won't keep you stuck to the kitchen for long. And it's so rich and tasty that you won't even feel like you are eating a zero-cholesterol dessert! Choose red, juicy carrots for the best result.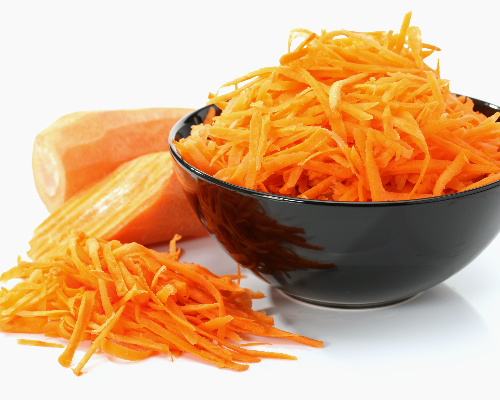 Method:
1. Grind the cashews with 1/2 cup water to form a smooth paste.
2. Heat oil in a saucepan. Add the carrot and cook on medium-high heat for 7-8 minutes, stirring occasionally.
3. Add the sugar and mix well. The carrot will release water. Continue cooking on medium heat until most of the moisture evaporates.
4. Stir in the cashew paste. Cook for a couple of minutes.
5. Mix in the cardamom powder and garnish with chopped roasted nuts.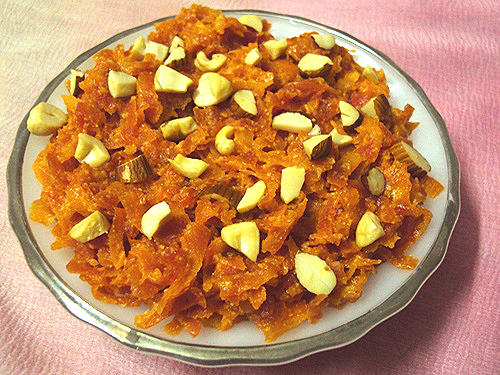 Enjoy the delicious Gajjar Ka Halwa!
AUTHOR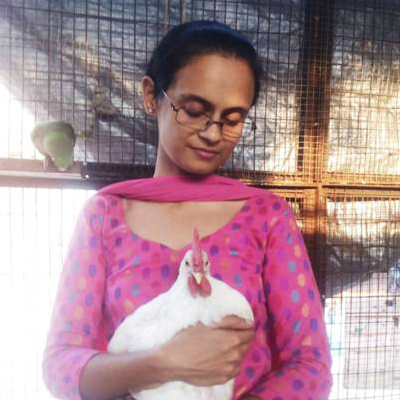 Top recipe contributors