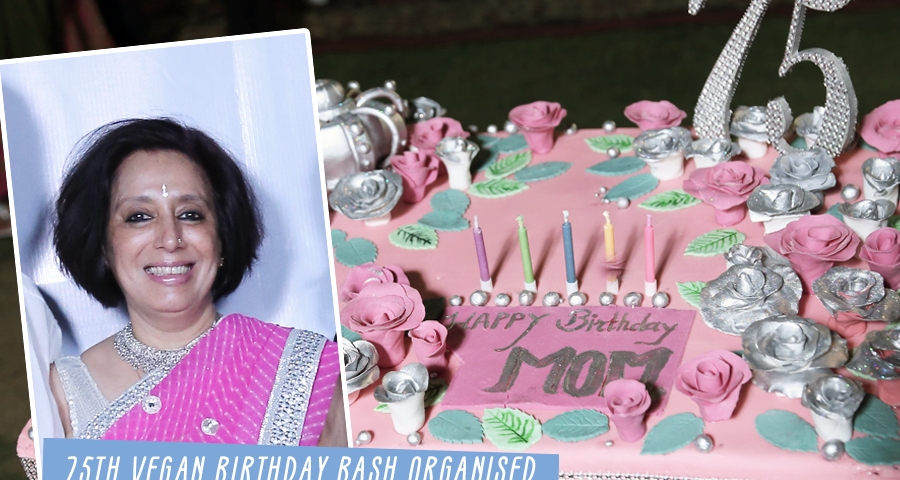 75th Vegan Birthday Bash Organised By Anuradha Sawhney
Anuradha Sawhney, founder of the vegan food service Back to Basics and also the ex-head of PETA India, was given an opportunity to organise a lovely 75th birthday soiree in Delhi. The formal affair was a delight for all, as the food was delicious and completely vegan! The event was a huge success and proceeds raised were given to the Humane Society International, India. Read on for all the exciting details, as recounted by Anuradha Sawhney herself.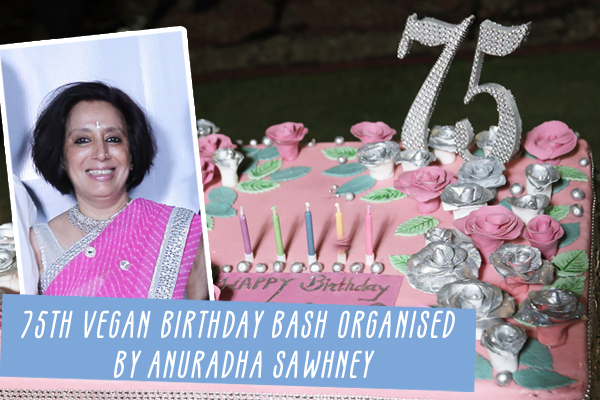 Putting together something of this nature is daunting, no doubt, and it's doubly so when the event is being organised in another city, far from where you live. I started contacting people, asking them for inputs on the type of food guests from Delhi would enjoy. Also, I researched on vegan food manufacturers in the same city. And surprise surprise, I found Vezlay Foods, who have such a wide and varied repertoire of soya based vegan products - true heaven on earth! I wasn't worried about procuring soya milk since Staeta soya milk is available all over the country.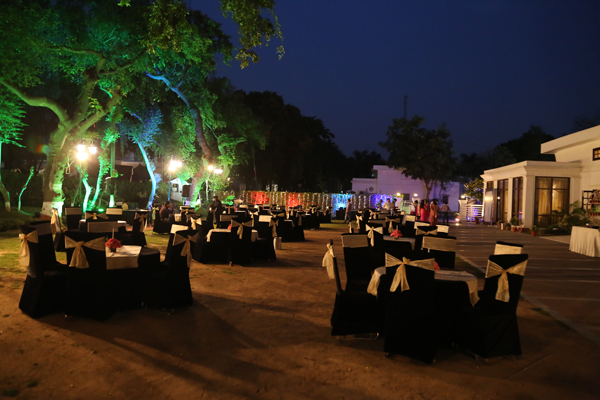 Once this research was over, the whole modalities of organizing the bash was done so smoothly, who would have thought that sitting in Pune, I could have organized such a sumptuous party all the way in Delhi!
How was it done? Easy peasy, when you have caterers like Kwality , who were such champs and did not bat an eyelid when asked by me to make an all vegan menu. Now that's what I like, cooperation, especially when I was sitting over 1200kms away. My biggest worry was the taste of the food, since the dishes were going to be vegan, and they were preparing many of them for the first time. But Avnish Tyagi of Kwality was so reassuring. When I first spoke with him, he told me "though we are in the catering business for a long time and have cooked vegan dishes before, this will be the first all-vegan menu that we are catering for. In the beginning, I was a bit worried but after getting small smart tips from you on substitutions and cooking, like for example your tip on using rice water for making soya curd for vegan food made it easy for us." Avnish told me I did not need to make any trip to Delhi just for the tasting, that the food would be done perfectly. I decided to take a chance and trust him. And guess what happened - the food was not just perfect, it was awesome.
The Menu
I decided to make different food stations instead of a mish mash of dals and chawals and dry vegetables and gravy vegetables! We started with our offering of the famous Kwality channa and vegan bhature, Hyderabadi biryani with cashew saalan, roganjosh with lachha parathas, spaghetti bolognese with a vegan mince, shepherds pie, shawarma (yes, yes we had vegan shawarma from Vezlay Foods), dahi bhalla, 'fish' fingers, sushi, vegetable satay, wasabi mushroom, salt and pepper tofu and lemon coriander soup. There was also a salad counter with beans salad with sesame seeds, apple & celery salad with walnuts and glass noodle salad. For dessert, their famous thin jalebis, tapioca kheer (with Staeta soya milk of course) and chocolate mousse.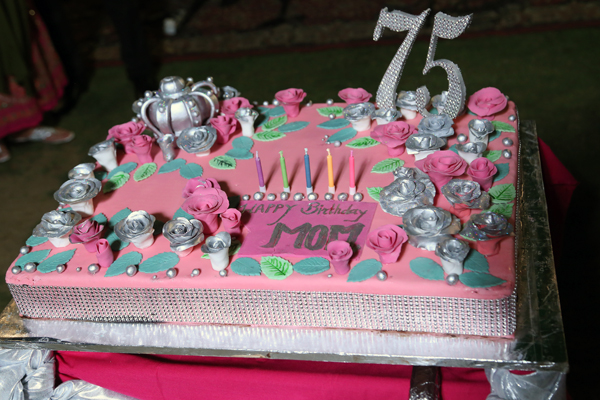 The main highlight though was the cake, it was the showstopper of the evening. It was 7 kgs in weight, two feet in length and 18 inches wide. Gluten free, sugar-free, and it was a peach delight, oops I mean peachy in taste since it was filled with peaches and cream! To give you an idea of how good the cake was - normally no one eats cake, especially the elderly, but this cake was almost finished by the time three-fourths of the guests had eaten! We had to start cutting smaller pieces so everyone could get a bite! Our very own Back to Basics chef Dev Bahadur, flew down from Pune especially to put this masterpiece together. A big thank you goes out to him.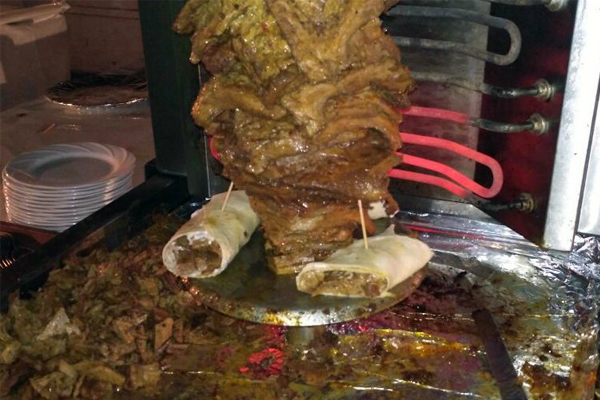 Mr. Pramod Kumar from Vezlay Foods was superb. When I first approached him about the possibility of offering some shawarma at the party, he did not hesitate at all and told me he would be happy to provide it. So for all those who don't know, Vezlay Foods Pvt. Ltd. has introduced a soya based Shawarma. Pramod even sent his shawarma machine to the event. "The taste and texture of shawarma is very close to chicken shawarma. This is one of the reasons why this product of Vezlay is so appreciated by both vegetarians and non-vegetarians. All the guests were spellbound by its look and taste." I can vouch for both, the looks and the taste were really good.
Goodie Bags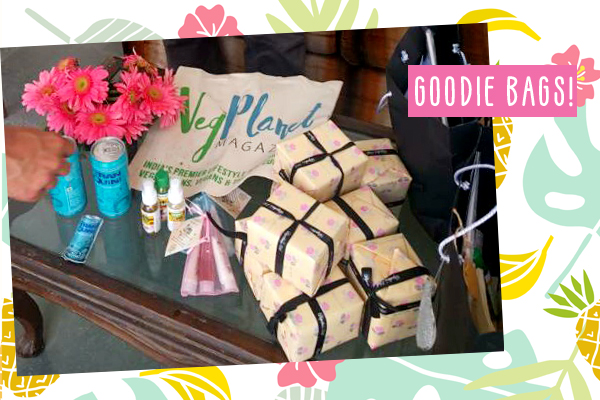 Not only did we offer vegan food, we also offered our guests a goodie bag which was filled with delectable vegan goodies! The aim of this goodie bag was to let people know how many vegan options are available on the market.
Included in the bags was Tranquini Positively Relaxed, which is a herbal relaxation drink that helps relieve one's stress and anxiety and increase focus. And no, it's herbal so no caffeine, artificial colours or other harmful additives. What does Tranquini believe in? Relax, be positive. Good happens. Now isn't that so true? I believe that too and so did someone at the party, since one of the guests they want to stock this drink in their café. How exciting.
VegPlanet, India's newest veg lifestyle magazine was a part of the party. Edited by the awesome Niranjan, who I have known for over 10 years since from when he was an animal activist, when I was heading PETA India, the magazine is a fun read for everyone. Way to go Niranjan! The goodie bag contained a VegPlanet tote bag (which by the way is to die for it's so smart) and a copy of their magazine.
There were herbal sprays to keep one safe from mosquitoes and to clean the house, all these without causing any harm to us or the environment. By Herbal Strategi, these were such a hit that 4 of the guests have already reverted to tell me they are going to get more on their own.
Votre sent in their creme body scrub. Votre is India's patented Bio-Cosmetic brand that offers 100% botanical, vegan & cruelty-free products. This cream is awesome, in fac,t all their products are superb.
If you think that was it, you are wrong! There's more! Natures Co gifted the cutest little pouches filled with separate male and female products! I remember when Natures Co first started and they had approached PETA India for cruelty-free certification. Look how far they have come!
Fundraising
As I mentioned earlier, not only was it a vegan birthday bash, the event was also instrumental in raising almost two lakhs for Humane Society International India! A standing ovation to all the guests who so kindly donated to the charity, instead of buying birthday gifts. Humane Society International India gave T-shirts to every donor as a token of appreciation.
The Little Details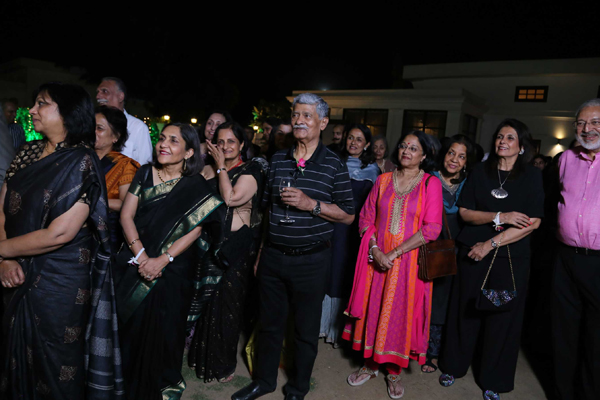 I got delectable chocolates made by Sweet Reality of Pune*. These people were such stars, they made over 1300 chocolates and packed them all individually for me. We also had many personal touches at the party, like personalized wrapping paper, personalized wrapping ribbons and finally a personalized photo booth where all the guests not only had a photo taken but were handed over these photos in a specially made frame. Who organized all this for us? Escapades, headed by the svelte Niti Gupta. Niti not only got the invitations designed but also oversaw every little aspect of the party. A standing ovation to Niti guys. I couldn't have done it without you.
What a great way to celebrate a 75th birthday, it doesn't get better than this! We love hearing and sharing real stories, if you've got one that is just as exciting as this, reach out to us in the comment section!
*Sweet Reality made by Anushree 9970253993
AUTHOR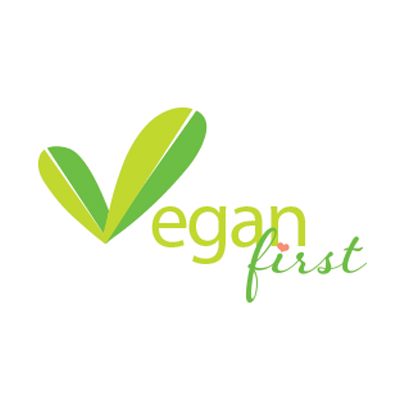 trending
Be a Vegan First Informer
Send us buzzworthy news and updates
related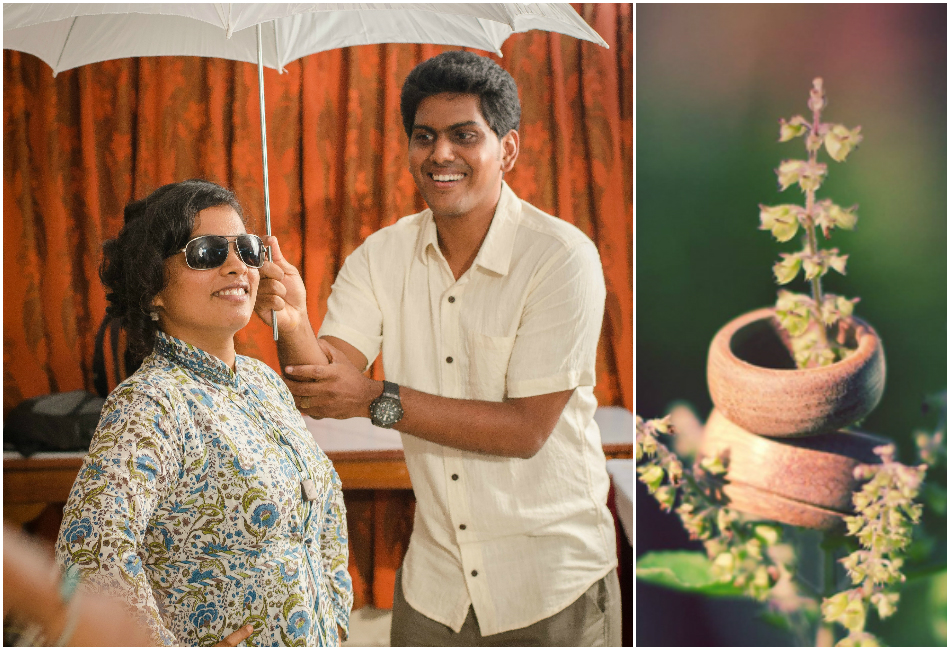 From The Duo Who Had It their Way, A Truly Green Engagement On World Vegan Day!
1.5 K