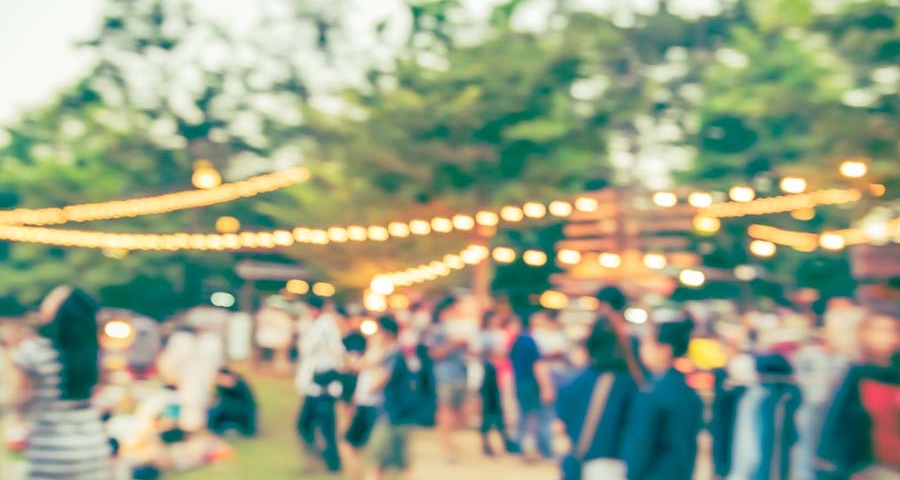 Here's What to Expect at the Ahimsa Festival Mela on the 12th of November
The Ahimsa Festival 2017 which started on the 26th of October, has been happening all around the city of Mumbai and will be ending with a grand closing. The 12th of November which is the day when the main Mela takes place. We're talking about 100+ amazing stalls ranging from vegan food, shopping, brands, awareness and of course we will be there too. Along with the Mela, there will be talks and fashion shows being conducted simultaneously.
Last year, there were over 5000+ people in attendance, so this year will be an even bigger hit! Vegan bites, Down 2 Hearth, Health Nut, Eighty Twenty, Olena, Basil Art and a whole host of others will be at the venue but let's take a closer look at the day's festivities. We want to make sure you don't miss out on too much - Here are our top picks of things you have to attend on the 12th
1. The Fashion Show with Showstopper Ayesha Takia
Being a fashion designer, Monica Chopra (founder of The Eco Trunk) understands the excitement of a beautiful look put together. She founded The Eco Trunk because she feels very passionately about animal rights and the environment and has put together a fashion show highlighting organic, cruelty-free, sustainable materials that glide just as beautifully over the body. Even the makeup that will be used is cruelty-free and vegan. The bags and wallets are upcycled (made from tyre tubes), and the luxurious ones are made from cork material. The jewellery too is upcycled from a sari, and made by the slum women in Mumbai. All of this is available on her website. The models will be wearing outfits from the pret line, such as dresses/ shirts in hemp clothing, organic cotton yoga wear, to formal office-wear, gowns and ethnic wear. The best part is the finale, where Ayesha Takia, a vegan, Bollywood actor and an ardent animal lover will be the showstopper.
The show will start at 6 pm in Hall 1

2. Madhavi Barot's Tofu Stall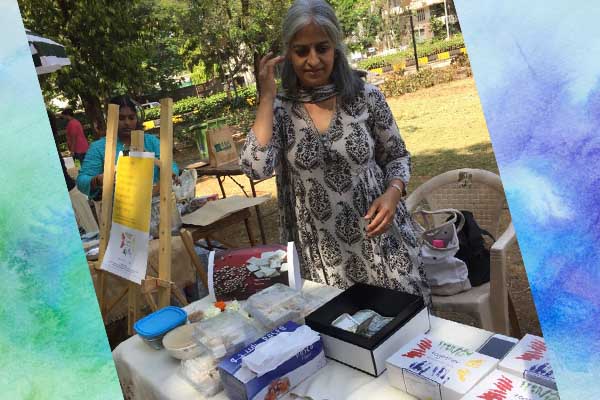 Madhavi Barot changed her life with the SHARAN program and by becoming vegan. She was so inspired by this way of life that she started making and selling her own delicious tofu. Ms Barot has been a regular at Mumbai farmer's market, and this time she'll be at the Ahimsa Festival, with her own stall selling her yummy tofu. Do stop by, to not only buy her produce but to also hear her amazing vegan transition story.
3. Expert and Influencer Talks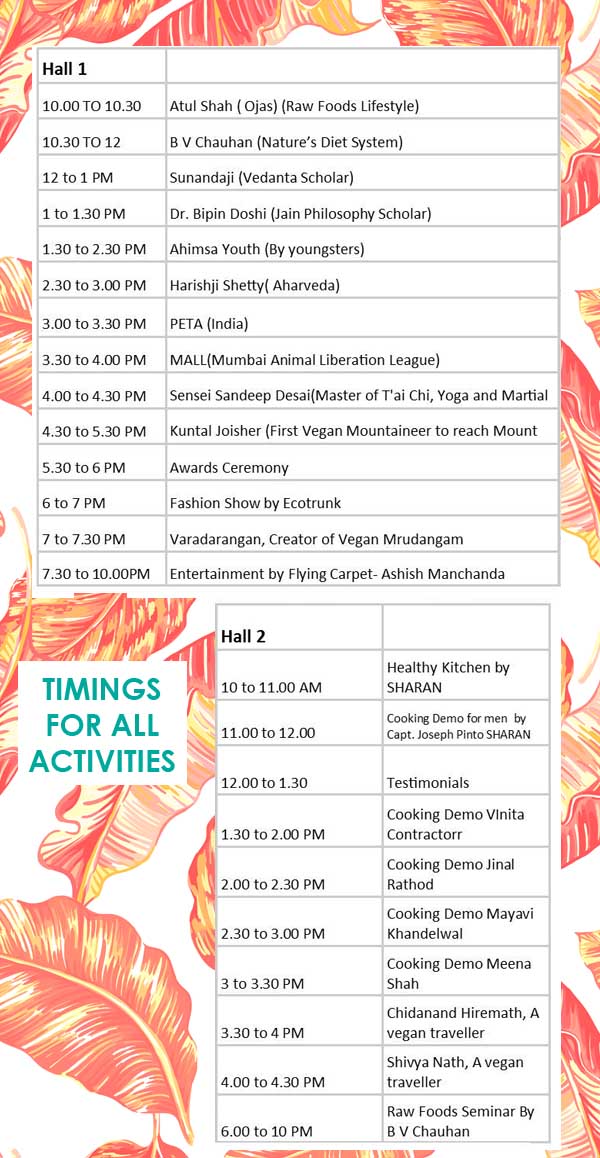 Atul Shah, owner of Raw Food Lifestyle will be kicking off the day's events with a short opening speech about the festival and the successes they've had since the opening ceremony. Make sure you grab a seat at Hall 1 at 10 am.
Kuntal Joisher who is the first Indian vegan mountaineer to summit Mt. Everest will be giving a little talk. He will be recounting his experiences and life as a vegan mountaineer. The talk will be held at hall 1 from 4:30 pm to 5:30 pm.
Shivya Nath will be having a talk of her own on her vegan travels. She is best known for her courageous decision to give up her possessions and explore the world as a vegan female solo-traveller. Her talk will be held at Hall 2 from 4:00 pm to 4:30 pm.
More Info in the picture above.
4. Cowvathi
Shasvathi Siva's vegan cheeses have been highly celebrated ever since her launch a couple of months back. If you haven't had the chance to sample them, you can head on over to her stall. She will have all the favourites from the Vegan Mozeralla to the garlic basil block cheese. Do stop by!
5. Neev Soaps
These all natural, herbal and handmade soaps by the brand Neev Soap are divine. They are completely vegan, made with the highest quality ingredients and keep your skin nourished and clean. Founded by Anurag Jain and Shikha Jain, this brand also provides employment for rural women. Make sure you check them out at the mela.
6. Kadhali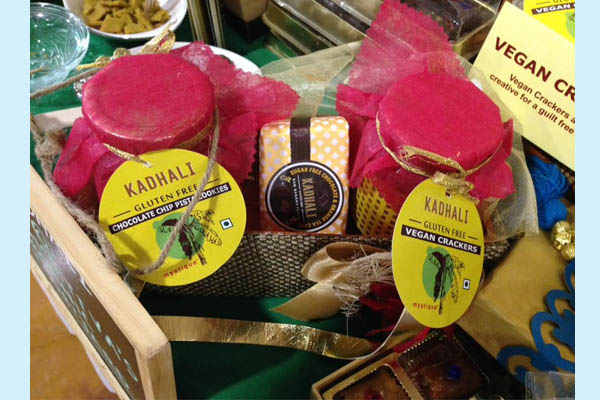 Ms Namrata Shastri who started Kadhali will also be at the mela with her gluten free and grain free products. If you love to bake and experiment with gluten-free dishes then check out her stall as she has an amazing banana flour that is very versatile and can be used in cakes and even pizza bases. There will also be yummy crackers, chocolate chip cookies, cakes etc.
7. Gowma
If you're searching for a leather substitute for your shoes and bags you must put this next brand on your list. Gowma will be bringing their stylish handbags, belts, jackets, laptop bags and shoes (and more) for you to check out and buy. They use high-quality materials to have a flawless finish. So fashion lovers, you must stop by their stall at the mela.
8. Arture Design
Arture Design is known for their high quality and fabulously designed handbags that are made from cork. They will be at the Mela on Sunday with all their latest offerings. We can't wait to see what will be available. Another great brand if you're looking to buy something for an occasion.
9. Grannys Bowl
Cheesy sandwiches or delicious biryani, Grannys Bowl always brings fantastic vegan food to all the event they attend. If you're new to veganism and want to really explore vegan cuisine, we suggest heading to their stall and sampling all the food they have available from the pizzas to the coffees. You must have them on your list.
10. Vegan Butter
Darshini Chedda's vegan butter is always a hit. Creamy, melt in the mouth and amazing on toast, her butter is a must have in your pantry. Darshini also does some herbed butter that can be used with pasta or to make beautiful bruschetta. They have a good shelf life, so you can buy a few and keep them in the fridge for up to a month.
11. Rare Earth Organic Store
Shammi Sethi's Rare Earth will also be having a stall where he will be displaying a huge variety of vegan products from chocolate to cookies, peanut butter to snacks. Rare Earth is India's first vegan physical store with a wide range of products that make it very convinient for any transtioning or establsihed vegan.
There are going to be a whole host of other brands and vegan influencers at the festival. So, bring the family and make it a day of fun. Don't forget to come say hi to us at the Vegan First stall, where we will have a delightful, never-seen-before vegan sweet treat for you to try. Hint – it's creamy and cool!
Like this?
Read: The Ahimsa Festival: The Biggest Indian Vegan Fest is in Mumbai this Year
Read More: Ahimsa Fest: Mumbai's First Vegan Fest Was A Super Success!
AUTHOR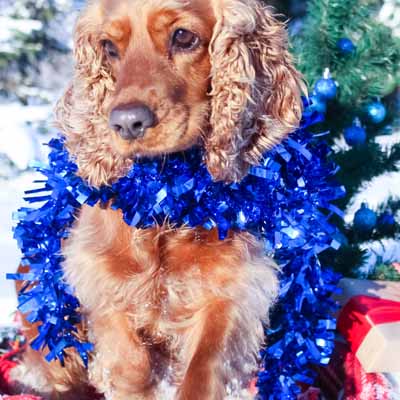 trending
Be a Vegan First Informer
Send us buzzworthy news and updates
related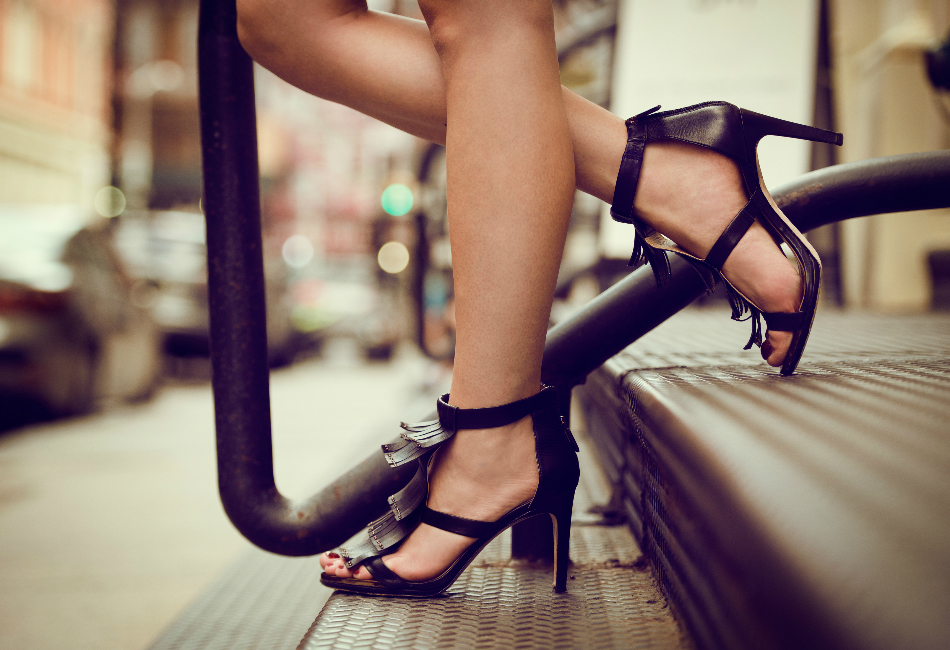 #VeganStories: My Love For Animals Took Over My Love For Shoes!
1.2 K