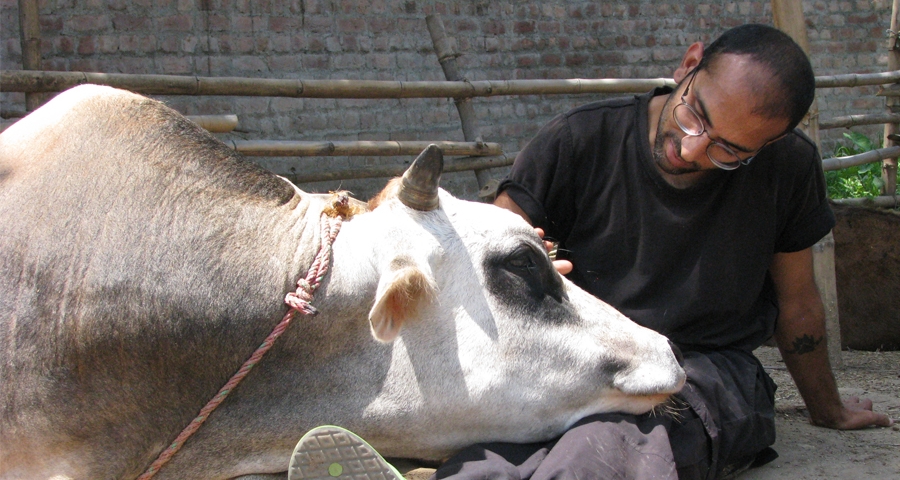 Meet Robin Singh - The Robin Hood for Rescued Animals & Peepal Farm
Welcome to Peepal Farm, an organic vegan farm and stray animal recovery center located in Dhanotu, a quaint little village in Himachal Pradesh, where a small group of dedicated people from diverse nationalities are engaged in helping animals in need while living a lifestyle that is as sustainable as possible.
We catch up with Robin Singh, one of the humans at the farm and the owner of this property.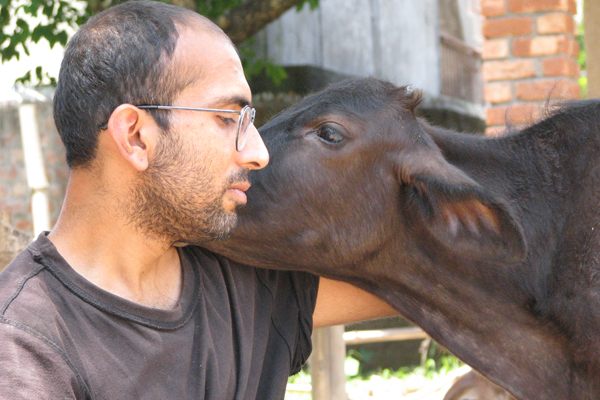 NEK: Robin, what exactly is Peepal Farm?
RS: It is our home where we try to help animals in need. We have our own farm where we try to grow food for ourselves and them. We are attempting to build an intentional community and want more people to join us in doing good work that alleviates the physical suffering of as many animals as possible.
NEK: Why "Peepal" Farm?
RS: We are inspired by the Peepal tree which does not seek permission to grow anywhere. Peepal tree saplings sprout up from unlikely places, even from cracks in concrete structures and are capable of bringing down the very structure once they firmly take root. Similarly we strive to challenge the status quo of using (and abusing) animals for human wants and dismantle existing structures to create a society that is more compassionate towards both humans and non-humans.
NEK: Up until a few years ago you were in the United States, with a successful business. What inspired you to return to India and get involved with animals?
RS: I have always loved animals and as a boy I wanted to do something for their betterment. However as a young man my priorities changed and destiny took me to the United States where I established my own business. I was a successful entrepreneur, but I was dissatisfied; there was something amiss. I returned to India to travel, where after meeting Lorraine in Auroville I re-connected with my childhood dream of wanting to help animals.
NEK: Go on.
RS: Upon returning I spent some time at Auroville in Tamil Nadu. There I worked with a lady who was taking care of several dogs all by herself and helped to start a volunteer program. Following this hands-on experience with dogs I established a sterilization center for stray dogs with some acquaintances in New Delhi. We focus on spaying stray female dogs and perform up to six sterilizations per week.
NEK: When did you establish Peepal Farm?
RS: The farm is a more recent endeavor. I acquired land in Dhanotu after considerable planning. Construction of the buildings started in December 2014, and we began farming in October 2015.
NEK: What about the stray animal recovery center?
RS: The recovery center is a part of the farm where we treat sick and injured stray animals and provide them with a shelter until they are well enough to be released on the streets. Initially we tended to only dogs and gradually started treating other animals including cows and horses. Most of the animals are released once they recover and we have also successfully found homes for many dogs. However there are some animals which cannot be released due to certain reasons and they live with us forever.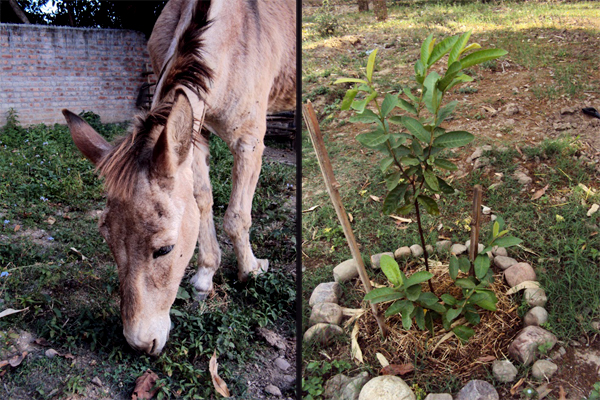 Bela, the resident mule grazing leisurely
NEK: You often stress upon sustainable living. How have you implemented sustainability in the farm?
RS: The buildings in the farm are constructed using the passive solar design which eliminates the need for AC in summers and heaters in winters. The bulk of the construction material used is mud and we buy salvaged wood from local areas.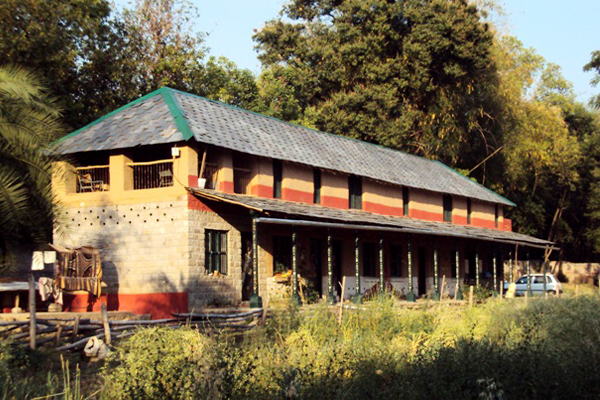 The sustainably built farm stay
We use a lot of bamboo which grows prolifically and is thus sustainable. The roofs are made of scrap material, and the rooms have lots of windows to allow cross ventilation. We are also planning for rain water harvesting. At the farm we adopt organic and natural farming techniques to grow some of our food and procure the bulk of rest from local farmers. In general, we try to minimize our consumption and strive to generate the least amount of trash.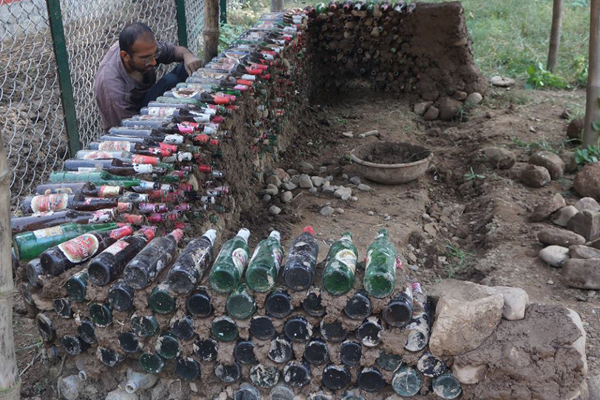 Dog houses in the recovery area made with used bottles and mud.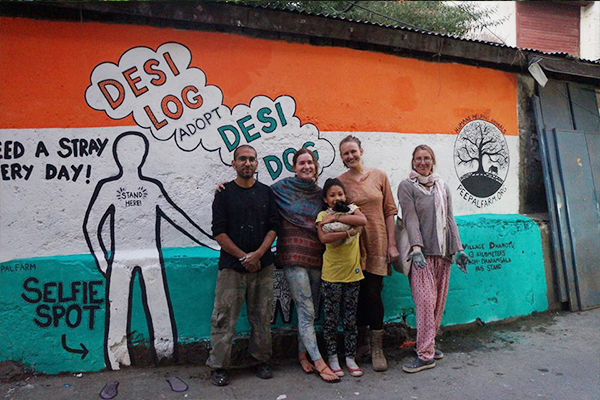 Artwork by volunteers with a message to adopt local stray dogs.
NEK: How do you minimize trash generation?
RS: We try to reuse and recycle whatever we can. The everyday trash is first separated into organic and inorganic materials, and the latter is further sorted into clothes and paper, plastic wrappers, hard plastic, metals, and glass.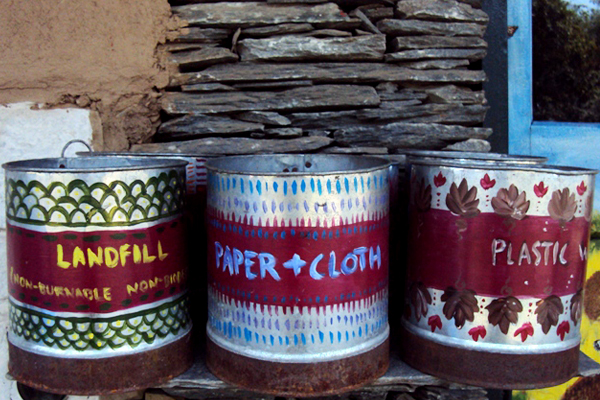 Three of the several trash cans for different kinds of trash
The kitchen scraps like vegetable peels, leftover rotis and rice, etc. are fed to the animals and the other organic waste is used for composting. Pieces of wood, paper and waste clothes are used as fuel for the stove on which the dog food is prepared. The glass and the metal go into the landfill.
NEK: Elaborate on the organic and natural farming techniques adopted in the farm.
RS: Natural farming, often referred to as "Rishi Kheti" in India, is a way of farming that strives for sustainability and avoidance of manufactured equipment and synthetic fertilizers and pesticides. Here we practice no-till farming. Tilling uses bulls or tractors and breaks down the soil ecosystem, kills earthworms, and promotes plant diseases. No-till farming is a natural, ecologically sustainable way of farming. This year we will have our first harvest of wheat grown using the no-till method.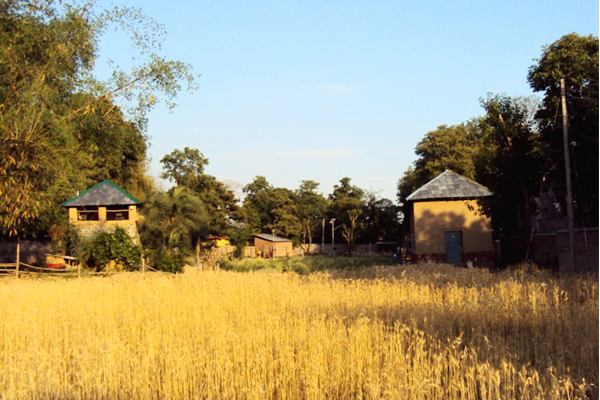 The wheat field, all ripe and golden, ready to be harvested
NEK: What else have you grown on the farm?
RS: We started farming in October 2015 and since then have grown corn, potato, garlic, bok choy, mustard, chard, kale, endive,
cauliflower, onion, tomato, cucumber, squash, gourd (ghiya), pea,okra, carrot, turnip, radish, mint, cilantro, fennel, spinach,
fenugreek, aloe vera, and flax. We also have lots of wild curry leaves growing by itself.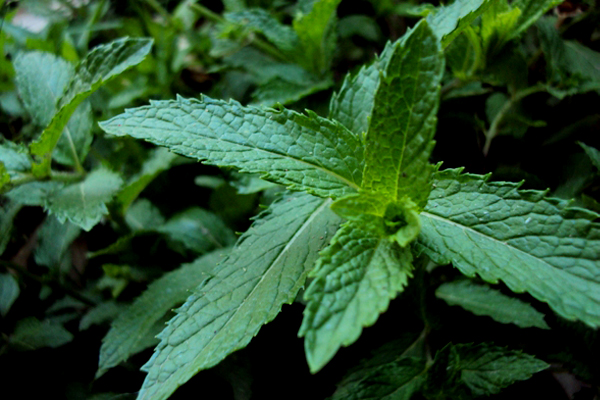 Mint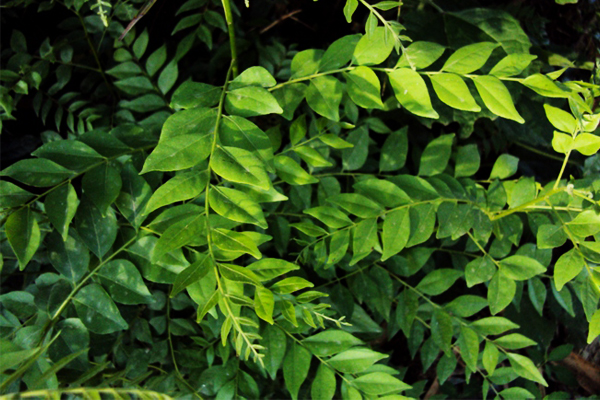 Wild curry leaves
NEK: From where do you procure the seeds? Are the seeds used organic and non-GMO?
RS: We procure most of the seeds locally and also get donations. All the seeds we use are non-GMO though not necessarily organic. We are also saving the seeds from this year's harvest for future use.
NEK: What do you use in lieu of synthetic fertilizers and pesticides?
RS: We use cow dung as a fertilizer. Right now we are focusing on soil restoration. Years of tilling and use of chemical fertilizers and pesticides diminishes the capacity of the soil to naturally support crops. So we have to nourish the soil to replenish its lost fertility. Green mulching and composting are among the methods we use for soil restoration. Recently we have begun using cow urine as a pest repellent.
NEK: Who are the people who help you in managing the farm and in running the stray animal recovery center?
RS: Me and Joellen (she is the co-founder of Peepal Farm) manage the farm with the help of dedicated employees for all critical tasks needed to keep the farm and animals healthy and alive :) The work exchange participants and volunteers take over the animal enrichment and other essential daily tasks and projects.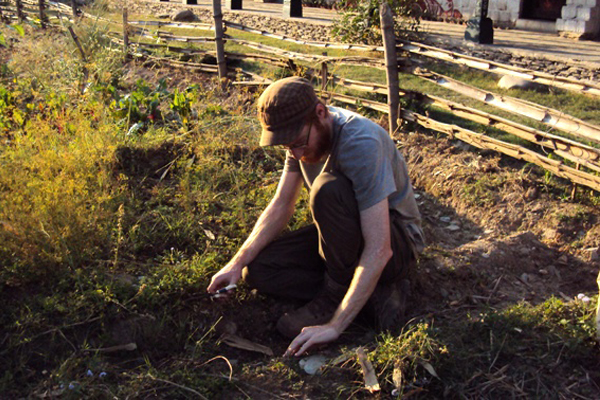 Work-exchange member Matt working in the vegetable garden
NEK: Tell us more about the work-exchange program.
RS: In the work-exchange program we provide accommodation and three vegan meals in exchange for 36 hours of work every week. The work includes farm work, housekeeping tasks, and work related to the maintenance of the stray animal recovery center. In addition many of our work exchange folks also do activism and art work. You can learn more about this program here.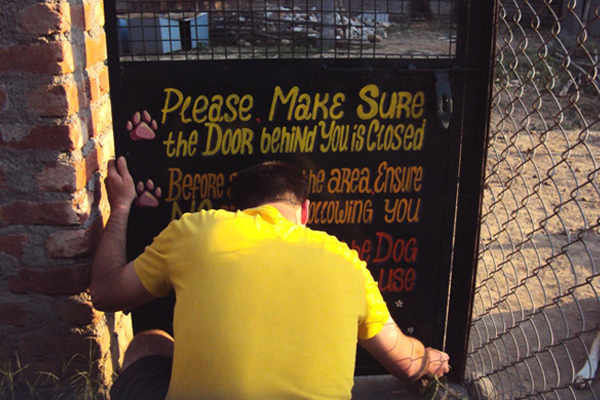 Sergi, a work-exchange member from Spain cleaning the gate of a dog enclosure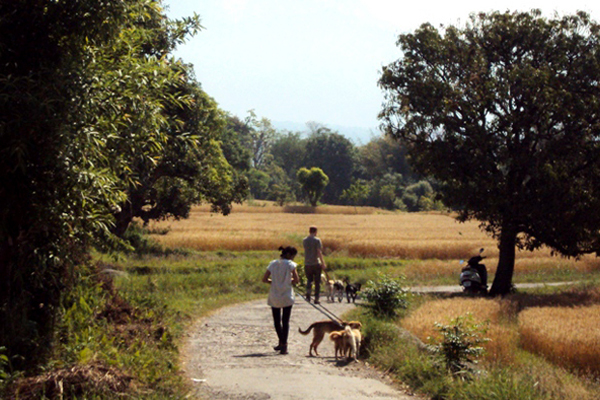 The dogs out for a walk with the work-exchange fellows Matt and Aastha
NEK: What are people looking for when they join this work-exchange program?
RS: They are looking for a change. Somewhere they are dissatisfied with their current situation and are exploring other options. Every human has an innate desire to do meaningful work that benefits others and this program gives them the opportunity to do good for the animals.
NEK: You mention that you provide vegan meals to the work exchange folks. What about the dogs? Are they also fed a vegan diet?
RS: While we do not serve any animal product—meat, eggs, or dairy—to the humans, we do buy milk for the motherless puppies.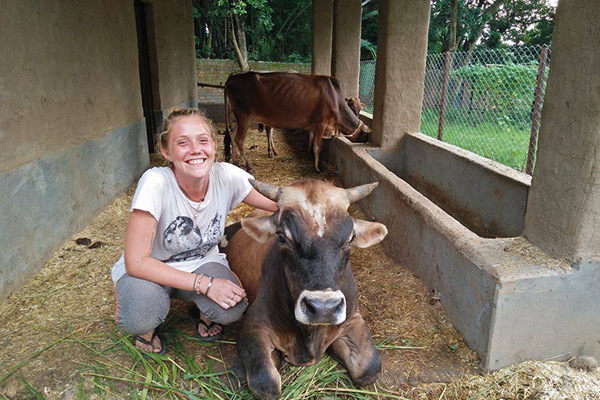 Healing touch of the rescued cows
And there is this local butcher who gives us the leftover bones which he would have otherwise thrown away. We make a soup by boiling the bones in water and give it to the dogs. We also get leftover egg shells from a vendor of boiled eggs. We take only those animal products which are deemed as "waste" to ensure that we are not contributing to the demand for meat or eggs.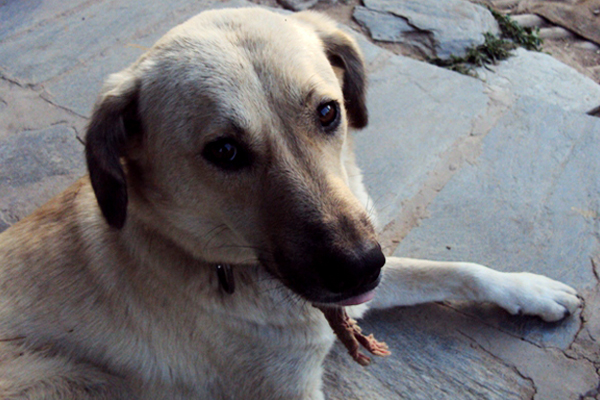 Chambi eats plant-based food most of the time though he also gets bone-soup
NEK: What is your vision for the future?
RS: We are looking forward to create a group of dedicated individuals who can do good and attract long-term solutions for increasing compassion towards humans and non-humans through culture jamming and other measures. In future we aim to expand and intensify our work in animal welfare and animal rights.
Learn more about Peepal Farm here:
AUTHOR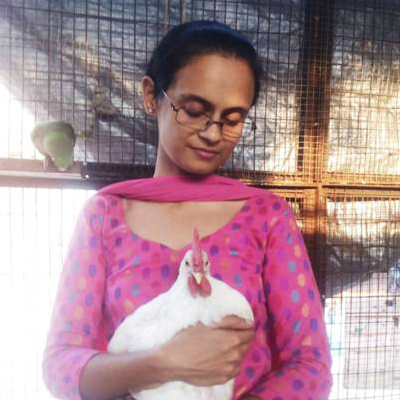 trending
Be a Vegan First Informer
Send us buzzworthy news and updates
related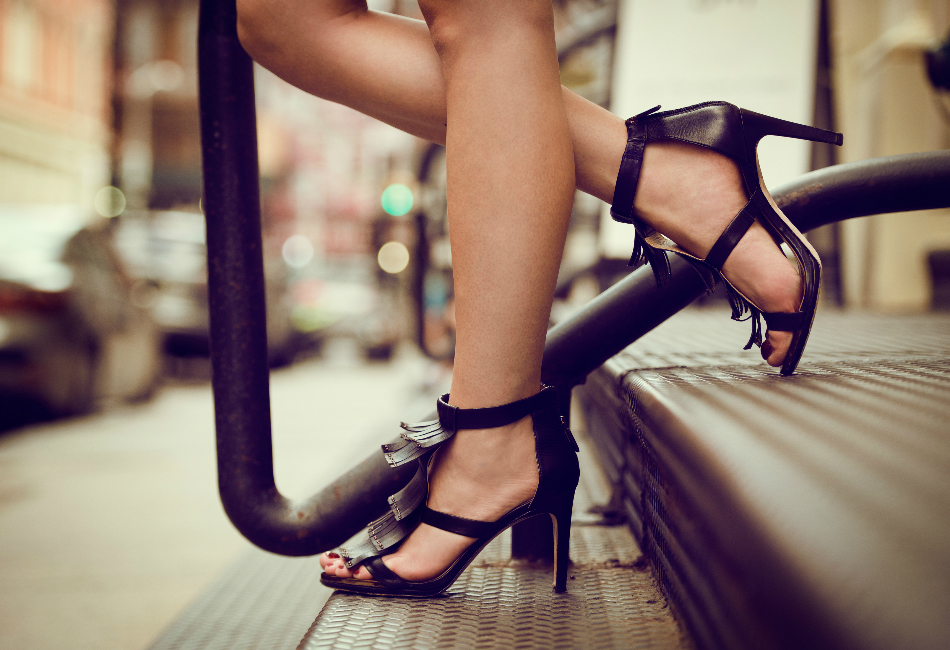 #VeganStories: My Love For Animals Took Over My Love For Shoes!
1.1 K