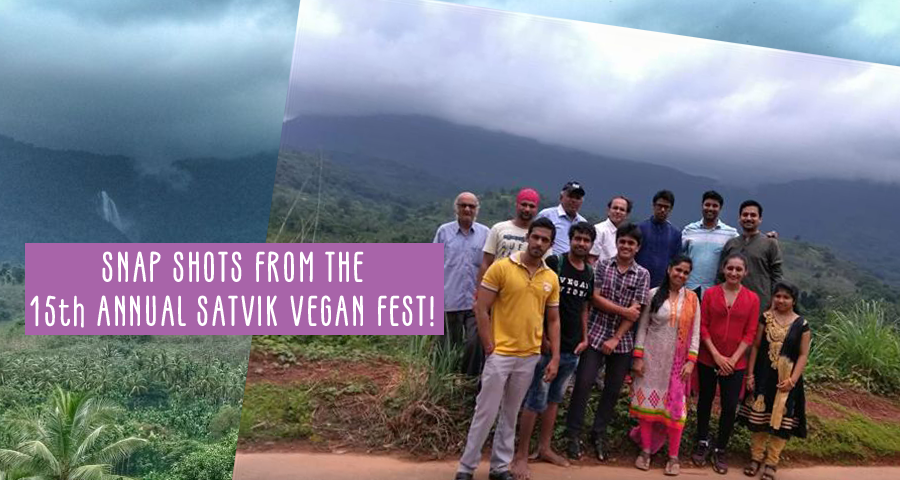 Sneak peek into the 15th Satvik Vegan Fest
Veganism in India is growing by leaps and bounds and there's no doubt about it. The Satvik Vegan Festival organized by Mr. Shankar Narayan just finished their 15 th edition, and it was nothing short of inspiring.
Here's how the two days panned out.
The setting couldn't have been more perfect for a vegan festival. Tucked away in a scenic hamlet surrounded by gurgling freshwater creeks and towering hills amidst lush countryside that's teeming with species of flora and fauna, the 15th Satvik Vegan Fest organised by Satvik Vegan Society (SVS, formerly Indian Vegan Society) on August 12 th and 13 th effortlessly achieved its aim – to serve as a festival where vegans relax and unwind in the lap of Nature. Organised by Mr. Shankar Narayan since many years, the two-day fest hosted talks by speakers, an awards ceremony, yoga, meditation, musical performances, fun games and sight-seeing over soulful vegan food. The venue, Sthitprajna (outside Baindur town), was a place of quietude and solitude with no phone reception, devoid of various types of pollution choking our cities today.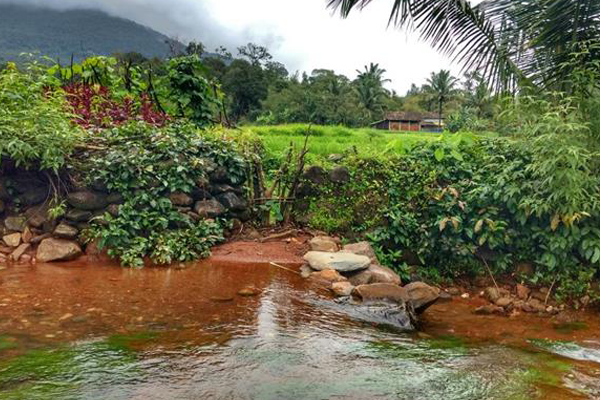 Image Courtesy Satvik Fest

The first day kicked off with vegans from different parts of the country arriving and getting to know each other over breakfast and smoothies, before heading off on a day-long sight seeing tour. After viewing distant waterfalls, the participants visited Wild Woods Resort and Spa where everyone was given a guided tour of various plants native to various other countries, growing on the 26-acre property. The team relished a vegan lunch at a star-hotel by the seaside in Murdeshwar before visiting the temple and the world's second largest statue of Lord Shiva; Kailashnath Mahadev statue. Next, the participants visited the largest of the ancient Jainbasadis (temple) located in Bhatkal town, before visiting a scenic beach nearby where the sight of free-roaming cows and calves foraging on the shore was a welcome treat for the animal lovers. The day came to a close at the venue where every participant exhibited some talent as part of the fun-filled games that were organised.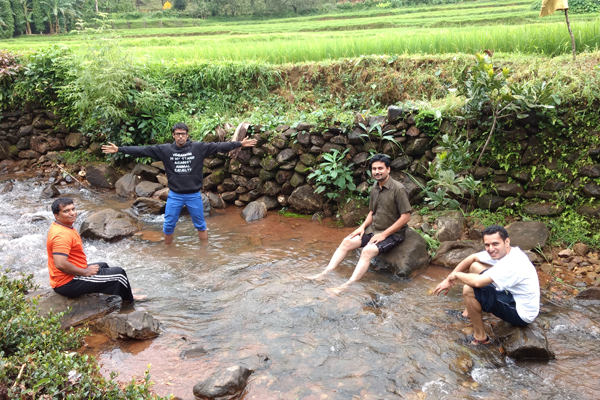 Vegan participants with a waterfall in Western Ghats as the backdrop during the sightseeing tour - Image Courtesy Satvik Fest

Sunday saw a turnout of locals who earnestly listened to the talks delivered by vegan speakers Gaurav Jain of Abhay Daanam bird hospital, vegan activist Altab Hossain and online fitness coach Roshni Sanghvi after treating their taste-buds to some sumptuous sattvic vegan lunch. Gaurav Jain cited religious Jain texts and spoke about ahimsa, souls and transmigration of souls, which was enlightening to say the least. His speech was followed by a talk by Altab Hossain who spoke about veganism lifestyle and fitness, after which coach Roshni interacted with the audience and gave advice on how people suffering from diseases like diabetes, PCOD, cancer, joint pains, etc. could reverse the ailments and heal themselves just by eating right, without medication.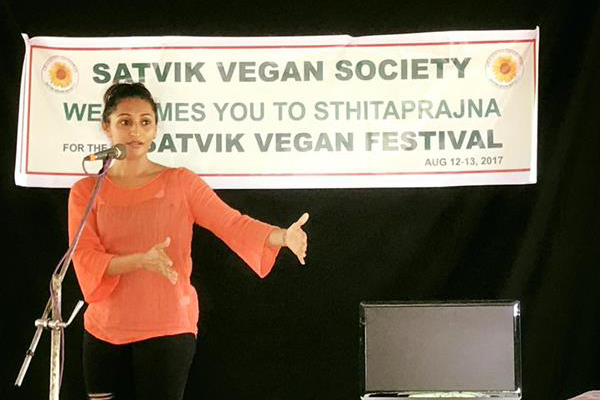 Roshni Sanghvi delivering her talk on stage - Image Courtesy Roshni Sanghvi

After the talks, a 22 minute-long documentary on Kuntal Joisher, the world's first vegan to scale the Everest, titled 'Infinity & Back' was screened. The screening was followed by an award ceremony during which awards were conferred onto vegans present in the festival. Animal activist and researcher Abhishek Raje and vegan activist Altab Hossain were conferred the 'Vegan of the Year 2017' awards. The SVS Progress Award was given to a local volunteer, Deepa, for turning vegan at a young age and influencing others around her to go vegan. All winners were given a vegan shawl, cash prize and certificate. The festival concluded with a speech by Mr Shankar Narayan after the live musical programme.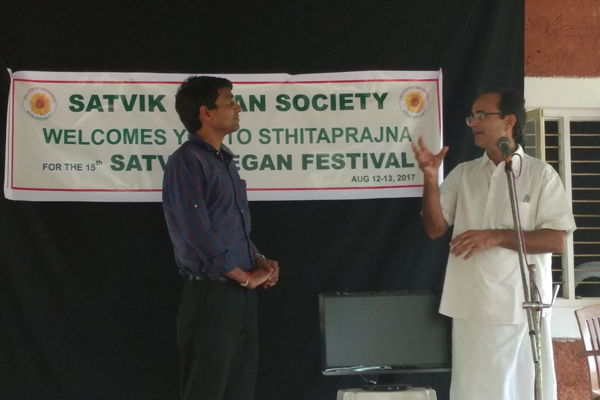 Mr. Shankar Narayan with Gaurav Jain- Image Courtesy Satvik Fest

Summing up, the 15 th edition of the country's oldest vegan festival held the serene environs of the UNSECO World Heritage Site of Western Ghats that fall in Karnataka, was a relaxing festival where vegans got to know each other sans the hectic schedule crammed with workshops and lectures, amidst calls of peacocks, chirping crickets and croaking frogs, far away from the hustle and bustle of human civilisation. The two-day festival including stay, food, participation and attendance was free for all.
Definitely a step in the right direction, we hope for many more such initiatives across the country, thereby taking veganism to the next level!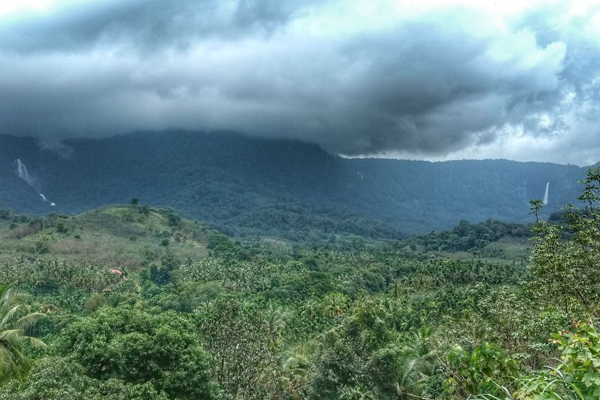 Image Courtesy Satvik Fest
Like this?
Read: Is Your Cooking Oil Killing You Silently?
AUTHOR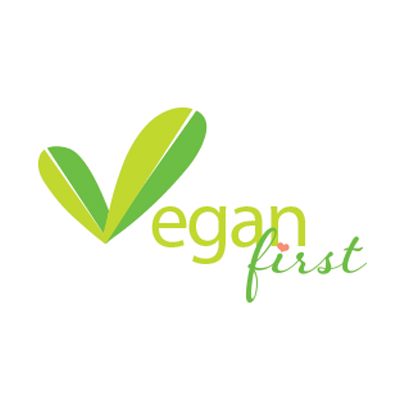 trending
Be a Vegan First Informer
Send us buzzworthy news and updates