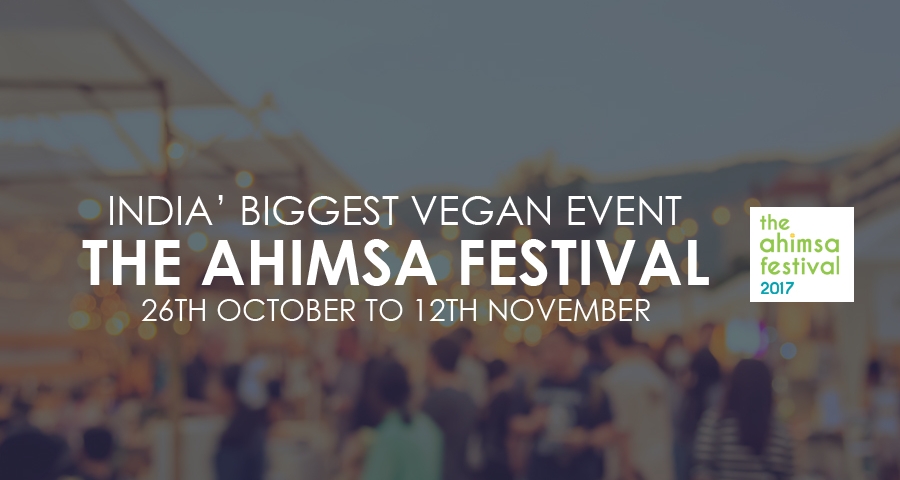 The Ahimsa Festival: The Biggest Indian Vegan Fest is in Mumbai this Year
The Main Ahimsa Festival is on the 12th of November, 10 am to 10 pm. Venue: Khar Education Society. Register here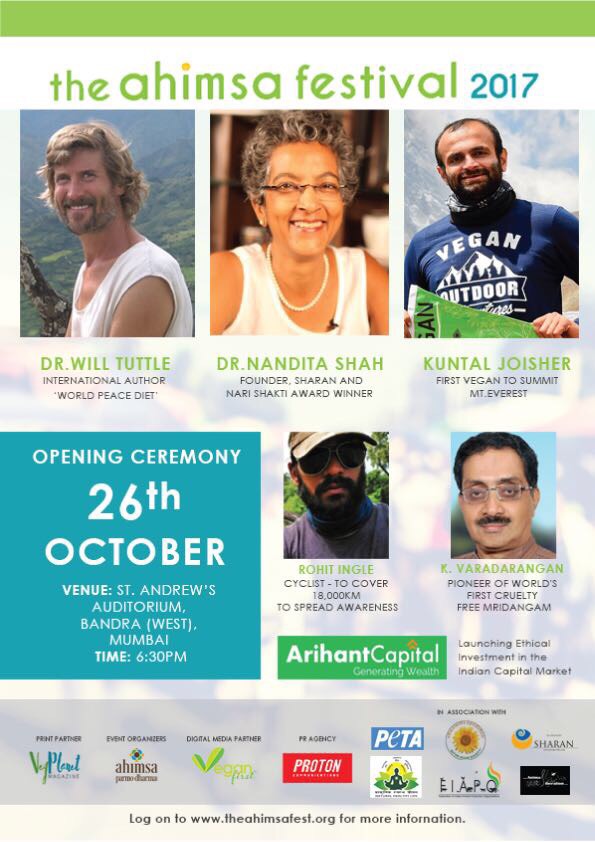 Festival Schedule will be out soon, keep checking back for more details.
There is so much buzz around The Ahimsa Festival this year and it's rightly so. This year the vegan fest is bigger than ever, with over 18 days of events and activities being held across Mumbai's landscape. They even have some of the biggest names speaking at the opening ceremony - namely Maneka Gandhi, Will Tuttle and Dr Nandita Shah. These three speakers are reason enough to head over to Mumbai, however there is so much more. On the 12th of November is the closing ceremony that will host the largest flea market with over 100 stalls! So, let's take a look at all the activity for the 18 days.
1. Popcorn time!
Over the 18 days, there shall be screenings of movies such as What the Health, OKJA and Fat Sick and almost Dead, along with a host of others. If you haven't seen it already, catch Cowspiracy at the SHARAN centre on the 28th of October, which will be followed by a talk by Captain Pinto. These screenings are absolutely free, so do register beforehand. We will be posting the schedule of the fest soon, which will have all the details of the film screenings.
2. For the shopaholics!
As we mentioned before the 12th of November will be the biggest day of the festival, with over 100 stalls. Cruelty-free brands such as Olena, Verdure, Rare earth and more are coming from all over India to offer up the best of vegan clothing, food, shoes, protein supplements, you name it, it will be there! So if you're travelling to Mumbai especially for the festival, stay until the 12th.
3. Eat to your heart's content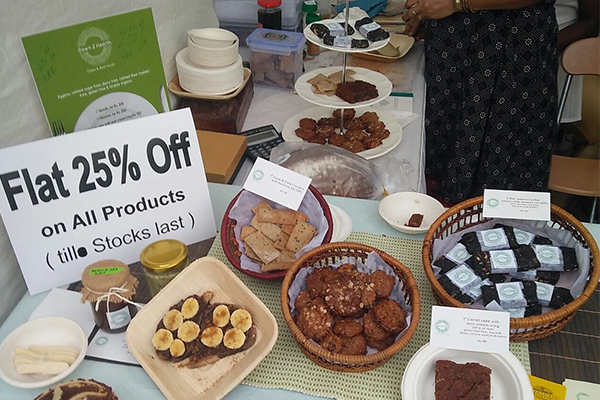 Image Courtesy : Aditya Mehta
Along with the flea market on the 12th, there will also be multiple food stalls with extraordinary vegan food on offer. Come hungry and happy, as you'll really want to try out every dish available. If you're craving some yummy spreads for your morning toast, don't forget to check out Darshni Chheda's vegan butters, they are always a big hit!
3. Spreading the message
If you really want to spread the word and help change people's perspective of animals, then you'll be pleased to know that Ahimsa festival has almost daily outreaches. These will be located in different parts of Mumbai city. The very first one will be held at the Farmers' market in Hypercity, at Malad from 11 am to 1 pm on the 27th of October.
4. The art of vegan cooking
Don't let vegan food intimidate you any more. There are a bunch of cooking classes by many prominent vegan chefs and home cooks. Whether you want a class on how to make gluten-free food with Namrata Shastri or how to make smoothies and meal replacers with Vinita Contractor -There is a class for everything. The schedule is coming out soon, so don't forget to check back for more details.
5. Let's talk about it
The best part of The Ahimsa festival, are the various talks being held by vegan experts. Bring your friends who are transitioning or curious, as these discourses really target specific questions from fitness to health and even the spiritual aspects of a person. Don't miss the talk on 'How to build a top of the world body and mind' with Kuntal Joisher at 11:30 am, held at Aharveda. If you're keen to know about 'Plant-based nutrition and health management', then you must sit in on this talk with a panel of doctors who will be addressing all your concerns. It will be held Aharveda from 11:30 am to 1 pm. As mentioned before all these talks are free to attend, but you must register beforehand.
We're so excited to experience all these different activities and can't wait. We love that everything you experience at The Ahimsa Festival is completely free of cost, so please show your support by turning up and participating in all these amazing events that have been planned. We'll be posting the entire 18-day schedule soon, so remember to keep checking back to Vegan First for updates.
12th November, Flea Market Address: Khar Education Society, S.V Rd, Khar West, Mumbai, Maharashtra 400052
Like this?
Read: Video: All the Excitement from the Pune Vegan Fest
Read More: What to Expect at the Bali Vegan Festival, 2017
Read Even More: Ahimsa Fest: Mumbai's First Vegan Fest Was A Super Success!
AUTHOR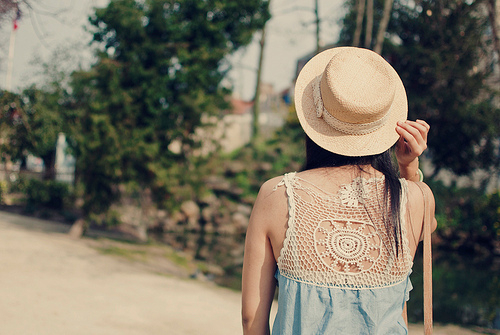 trending
Be a Vegan First Informer
Send us buzzworthy news and updates